It looks like the long wait may finally pay off soon. KIA will most likely bring the KIA Stinger 2023 to Pakistan. KIA fans have been desperate to find this super stylish and efficient performance car in the country. Despite the poor economic condition in local markets, many sedan fans align their expectations with the upcoming vehicles in the local market to break the barriers of the big three. KIA Stinger features an eight-speed automatic transmission with a zero-60 in 4.4 seconds. If these highlights hook you, let us walk you through the KIA Stinger 2023 price in Pakistan, specifications, features, and more.
KIA Stinger 2023 in Pakistan
Currently, KIA hasn't shared a date or month to launch Stinger officially in the local market. However, many reports narrow down to the same information that the company will launch the car soon. Let's explore the KIA Stinger 2023 features and specs to know the car better.
Exterior Features
The stylish exterior gives you a decent look at what you can expect from under the hood. The mesh grille between the headlights gives the car an exotic appearance. The bumper effectively addresses the demands of sports lovers. If you view it from the side, the car will impress you with its aerodynamic design and sporty exterior. The rear end houses rear lamps and a sporty bumper. Overall, KIA Stinger 2023 price in Pakistan might just be able to justify its exterior design.
Interior Features
The interior of the KIA Stinger provides you with everything you expect from a C-segment sedan. From a multi-functional steering wheel to smart entertainment cluster controls, you can have a great experience in each department. The doors have seat adjustment controls on the side panels. The center provides a decent space to hold cups and an unconventional gear lever to shift. From comfort to performance, the Stinger has everything to impress you.
Performance Details
If you check under the hood, the GT-fitted 365-hp twin-turbocharged 3.3-liter V- will surprise you. You can achieve a 12.9-second quarter-mile at a range of around 111 mph. It has been offering the superb testing feature of involving the 255/35ZR-19 Michelin Pilot Sport 4 rear rubber. Moreover, the near-optimal grip/power balance would hence yield a 4.4-second zero-to-60 time.
KIA Stinger Key Features
Lamp Multi-Reflectors Headlamps
Partial Chrome Front Grill
Side Mirrors with Turn Signal
Power Windows
55 Liters Fuel Tank Capacity
KIA Stinger 2023 Price in Pakistan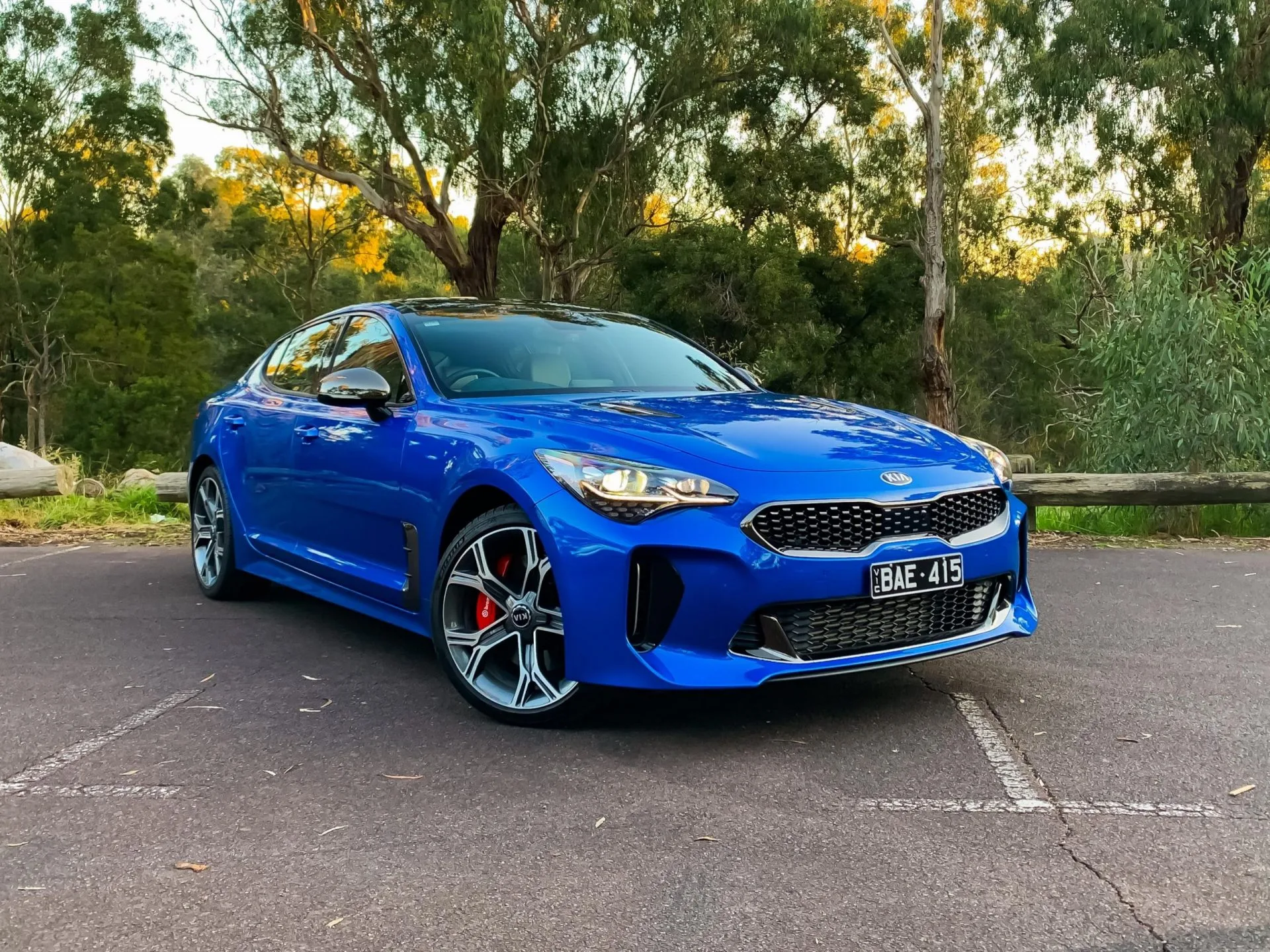 The expected KIA Stinger 2023 price in Pakistan is nearly PKR 8 million. We still await the official word on the launch and price information of the car.
Note: Please note that the above features only cover the international model details. The local model may vary depending on trim types, features, and performance.