Monitoring Desk: Huffington Post reported that the "private" visit of 24 predominantly right-wing European Union parliamentarians to Kashmir was planned and largely executed at the direction of National Security Advisor Ajit Doval.
Huffington Post further reported that idea of NSA Doval had approval and had support of Prime Minister Narendra Modi.
Newspaper reported that the visit, a BJP leader said, was only the first of several such proposed visits to Kashmir.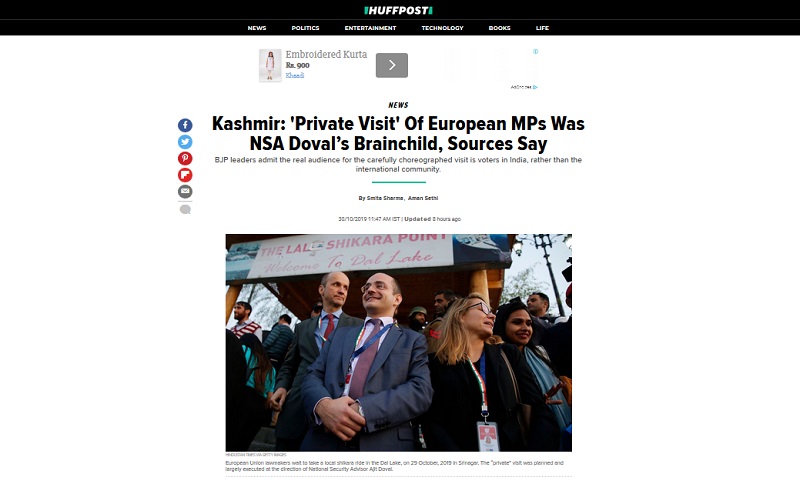 Report further said:
At the surface, the visit was orchestrated to look like it was organised by a private British citizen called Madi Sharma, founder of the Women's Economic and Social Think Tank (WESTT), and supposedly paid for by another Indian think tank called the International Institute of Non-Aligned Studies, according to an invitation sent to British politician Chris Davies.
It may be mentioned that Indian Ministry of External Affairs faced serious embarrassment when much-publicized visit was called as "Unofficial by European Parliament.
Theresa Griffin, a Member of the European Parliament (MEP) for the North West England, categorically stated that "The group of far-right MEPs currently visiting Kashmir (read as Indian Occupied Kashmir) are not in any way an "official" delegation".
In her twitter statement, Theresa Griffin said that the members of the delegation do not speak for the European Parliament.
The Labour Party MEP also demanded an end to the shutdown in Kashmir and the restoration of Constitutional rule of law.