The occupied Kashmir has been reeling under a crippling lockdown and inhuman curfew since the Indian fascist government's unconstitutional and unilateral move of revoking the Articles 370 and 35-A of Indian constitution, stripping the special status of the occupied valley.
The open-air prison for Kashmiris has become a playground for hundreds of thousands of Indian troops who have been pumped into the narrow valleys of the scenic region who are given free rein to unleash a wave of terrorism and commit inhuman acts with complete impunity.
It is reported by international Human Rights organizations and several Fact-Finding Reports released by women's rights organisations of India that Rape is being used as a tool of subjugation of Kashmiris in Indian Occupied Kashmir.
It is one of the terrible and dreadful features of human history that sexual violence against women and girls is being used as a weapon of war and a tactic to brutalize, humiliate, dominate and instill fear.
However, it's a double-edged sword for women in Indian Occupied Kashmir (IOK) – to live in a conflict zone and also experience a constant threat of sexual violence because molestation, rape, and other forms of sexual humiliation and torture have been widely practiced by the Indian security forces on women as they assert their authority on the Kashmiri people.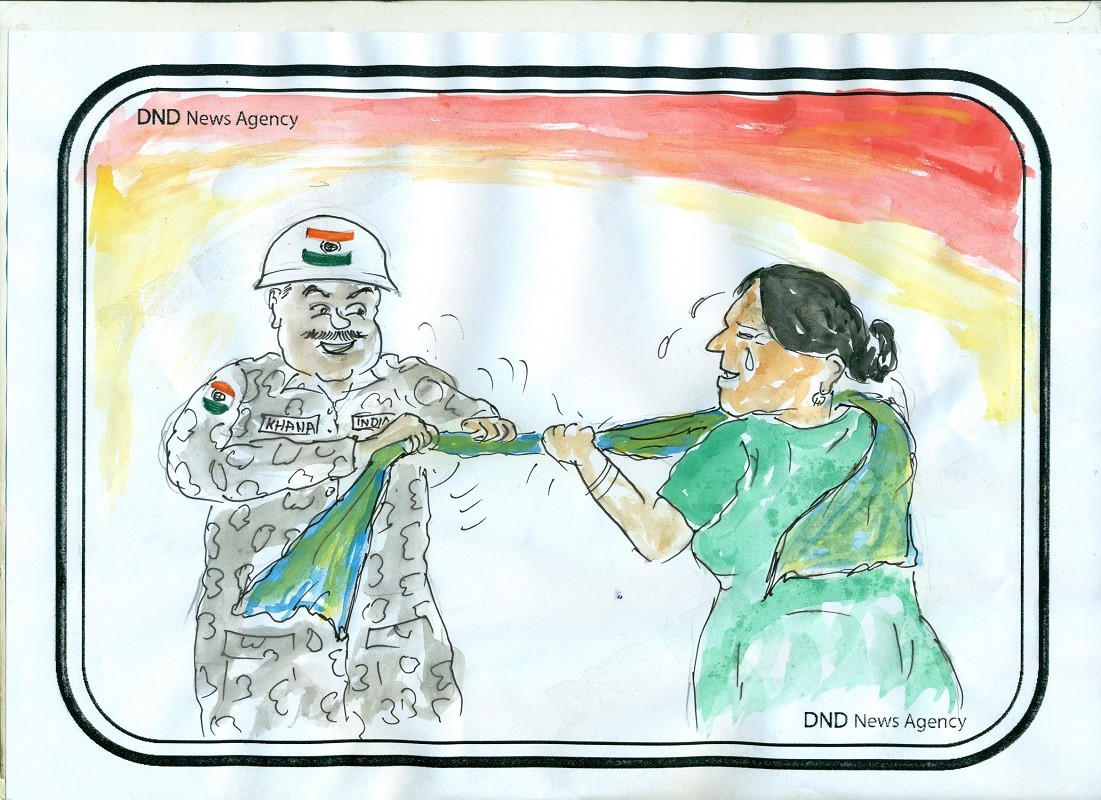 The Indian government's newly enforced law prevents security personnel from being prosecuted. So at the end, not a single army man, police, or paramilitary person has been charged or punished for the sexual abuses of women.
The horrific mass rape of Kashmiri women in Kunan Poshpura villages of IOK on 23 February 1991 is one of many pieces of evidence of systematic use of rape by Indian occupation forces to terrorize the entire population.
The Human Rights Watch has now pointed to something quite shocking and alarming — that the Indian troops are using rape as a method of retaliation against the indigenous population. Recent reports by the UN and other aid agencies also suggest that Indian forces in Kashmir often target women to demoralize the local population who have been demanding an end to the Indian occupation and restoration of the special status of the disputed region. The reports point out that "the frequent rape of Kashmiri women by Indian state security forces routinely goes unpunished."
The Indian forces have been using all tactics to silence the voices of the freedom fighters but the occupied authorities miserably failed to materialize their nefarious designs; hence they ramped up incidents of sexual abuses of Kashmir women.
The abduction and molestation of young women during so-called "cordon-and-search operations" has been used as a punitive tool by Indian occupation forces to punish entire communities.
There has been an unprecedented uptick of violence against women in Kashmir over the last one year, as women are living in fear of their lives due to the night raids by Indian forces and the Jammu and Kashmir police.
These repugnant acts of violence against women are enabled through a pervasive culture of impunity, reinforced by draconian laws such as the Armed Forces Special Powers Act (AFSPA) that shield the Indian security forces from prosecution from their crimes of sexual violence.
However, a legislator from the ruling Bharatiya Janata Party further fanned the fire when he proudly proclaimed that bachelors in the party are welcome to go to Kashmir and marry white-skinned Kashmiri women.
Rape is a by-product of hate and is usually used as a deliberate weapon to instill fear among the minorities and lead them into subjugation. Women and girls are particularly targeted to dominate, disperse or forcibly displace civilian members of a community or ethnic group.
The unrest in Kashmir began close to 70 years ago, going through intense periods of violence, and has yet to cease. Over the years, the rape of Kashmiri women by Indian forces has become a means of collective punishment against the entire population. Human Rights Watch has identified two main scenarios in which Kashmiri women are subject to rape by Indian forces i.e., during search and cordon operations for Kashmiri militants and during reprisal attacks by Indian forces after military ambushes.
The gravity of the situation could be judged from the fact that even amid Covid-19 lockdown, over 16 rape cases and around 64 incidents of molestations have been reported from the occupied region. In the past three decades, around 11,300 women have been victims of rape or gang-rape at the hands of Indian occupation forces in occupied Jammu & Kashmir.
The occupation authorities clamped down inhuman curfew and turned the valley into largest open prisoner since August 5 last year and have cut the valley from the rest of the world in order to hide the continued state atrocities and inhuman acts from the world.
The internet and mobile phone connectivity continue to remain snapped, shops, schools and offices closed and public transport off the roads. Indian forces' presence in every nook and corner of the occupied territory has created an atmosphere of fear and terror.
The United Nations, which was set up to resolve disputes and issues between the nations, has so far failed to stop the rape of women in occupied Kashmir.
According to UN Secretary-General Antonio Guterres, the world stands with the survivors of sexual violence and vows to listen to them and act on their experiences and decisions. However, these claims and promises are not to be implemented practically.
Time ripe the world must wake up to these inhuman war tactics in IOK, in violation of International Humanitarian and Human Rights Law as well as applicable UN Security Council Resolutions.