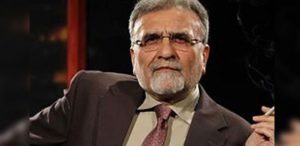 The Journalist Community has expressed solidarity with the veteran Journalist Nusrat Javed who last night claimed to have survived a murder attempt by Prime Minister Imran Khan.
Nusrat Javed wrote on his Twitter account last night that the prime minister tried to kill him but he survived.
However the senior journalist restrained himself to disclose the further details except mentioning the time.
Meanwhile, fellows of his fraternity voiced serious concerns over murder attempt of Nusrat Javed and expressed solidarity with him. They also demanded a thorough investigation into the matter, and asked the government to ensure the safety of journalists in the Country.
This is outrageous. Will someone from the administration give us answers. @javeednusrat https://t.co/5uLeNHYl1E

— Amir Mateen (@AmirMateen2) December 8, 2018
We all are with you https://t.co/sneamd2cG7

— Hamid Mir (@HamidMirPAK) December 8, 2018
The attempt to harm senior journalist @javeednusrat is highly condemnable and needs a probe at the highest level. The campaign to target journalists in #Pakistan is well orchestrated and reaching dangerous levels. #PressUnderAttack pic.twitter.com/NsejpEPyNm

— Arshad Sharif (@arsched) December 8, 2018
Attempt 2 assassinate journalist @javeednusrat is strongly condemned, @PakPMO @ImranKhanPTI must order fair investigation by constituting #JIT which may have rep from MI & ISI @OfficialDGISPR @ShehryarAfridi1 #PTI advised to hold its tongue against #NusratJaved @pressfreedom

— Mateen Haider (@haider_mateen) December 8, 2018
Shameful the attack on Nusrat Javeed sahib – needs to be independently investigated – increasingly becoming dangerous being a journalist in Pakistan

— omar r quraishi (@omar_quraishi) December 8, 2018
Attack on veteran journalist @javeednusrat is highly condemnable. It must be investigated. Government must act to protect journalists and freedom of expression

— Asma Shirazi (@asmashirazi) December 8, 2018
#NusratJaved Condemnable incident. Needs thorough probe and culprits identified. He has levelled serious charges. Need serious attention pic.twitter.com/BSUdrR4OPT

— Syed Talat Hussain (@TalatHussain12) December 8, 2018
Attack on @javednusrat Certainly matter of great concern. Must be investigated at highest level. But alleging that PM IK had ordered all this makes no sense until proven by hard facts.

— Khawar Ghumman (@Ghummans) December 8, 2018
Stay strong @javeednusrat prayers and best wishes your way, in solidarity with you..

— Ayesha Bakhsh (@AyeshaBakhsh) December 8, 2018
Stay safe dear Nusrat Javed. The attackers know they are coward. In this age of technology, only a fool can rely on outdated methods of intimidation involving bullets. There are 1000 ways to silence you but this one is totally not feasible. We are with you @javeednusrat

— Inamullah Khattak (@Khan_Inam1) December 8, 2018
But at the same time, Nusrat Javed also had to face a criticism in social media for his startling accusation against Prime Minister Imran Khan. The people bashed the journalist, saying that he might have leveled the allegation in an abnormal state of mind.
Recently, Nusrat Javed also became a victim among others of massive retrenchment in media, and his program 'Bol Bol Pakistan' was taken off the air by Dawn News.