Key points:
JIT report is inconclusive: Ishaq Dar
I reject all allegations, will submit all financial record to SC: Ishaq Dar

JIT report is a myth: Saad Rafique
JIT report was an Internationally Conspiracy: Saad Rafique
PM Nawaz doesn't own Offshore Company: Saad Rafique
Calibri Fond was created in 2004: Barrister Zafar Ullah
ISLAMABAD, Pakistan: The Finance Minister Ishaq Dar has said that the Joint Investigation Team (JTI) report is inconclusive and the verdict by the Supreme Court is yet to be announced.
While addressing a press conference along with Railways Minister Saad Rafique and Barrister Zafar Ullah at Press Information Department in Islamabad on Tuesday, the finance minister said that the JIT report has a number of deficiencies.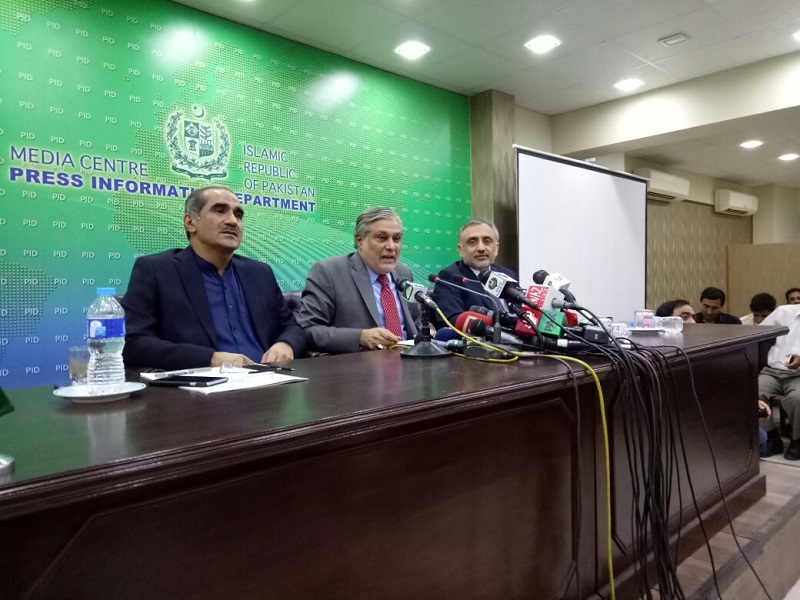 Ishaq Dar said that the JIT report also contains papers used for selling Pakoras as some of its papers even didn't include signatures.
The finance minister said that the JIT itself asked the Supreme Court to decide either were these notable witnesses or not. However, he added, courts have been established on roads since yesterday.
The minister said that the name of Prime Minister Nawaz Sharif has not been linked with any Offshore Company.
While refuting allegations leveled in JIT report, Ishaq Dar said that in contrary to JIT findings, I used to file my income tax returns regularly, and I have all those receipts but my tax record was confiscated in Musharraf regime.
Ishaq Dar said that he would submit all his financial records to the Supreme Court which could be audited from any International firm.
"I reject all the allegations," Ishaq Dar said.
The minister said that his monthly salary is transferred to Hajvery Foundation, Hajvery Trust and an Orphanage.
In his address, the Railways Minister Saad Rafique said that the JIT report is a myth, and was established by International Conspirators. He said that a drama had been staged in Pakistan in the disguise of Panama Papers and its directors were based abroad.
The railways minister said that all respondents were not asked a single question about what was presented to the Supreme Court of Pakistan by the JIT.
Saad Rafique also categorically denied that Prime Minister Nawaz Sharif owns any Offshore Company.
Barrister Zafar Ullah said that the JIT declared Mariyam Nawaz owner of two Offshore Companies Nielsen and Nescoll in the light of Calibri Font which, according to him, was created in 2004.