By Agha Iqrar Haroon
Jabrayil Graveyard, Azerbaijan: When I came out of my vehicle and entered Jabrayil graveyard, I saw huge destruction —- excavated and destroyed graves. The scene was so overwhelming my voice choked in my throat. I could not cry even. Only tears were flowing out of my eyes.
My legs became lifeless and I could not stand anymore. I had no option just to sit near the remains of a grave and keep my eyes closed to feel what could happen here years ago? Why these graves were destroyed? What happened to these dwellers of the locality of the last resting place of human beings. What did happen to those who came here for their ultimate rest in their graves?
While I was sitting there with my eyes closed, I heard a voice that was coming from a nearby grave and only my soul could listen to it. He introduced me as a resident of the city of eternally sleeping dwellers. He said he is nameless because his gravestone was stolen therefore he called himself now "Nameless resident of Graveyard". He wanted to narrate his story and my soul wanted to listen to him. Let me tell you what my soul heard from him. He said:
My name is Nameless as someone took away my gravestone so nobody can recognize who was buried in my grave. I was resting in my grave in Jabrayil central graveyard since I died in 1988. I remembered my funeral day when my whole family including my grandchildren buried with an honour a Muslim deserves after living an honest and simple life. I and my family could not think that one day someone could come, dig my grave, try to find gold teeth I had implanted 10 years before I died.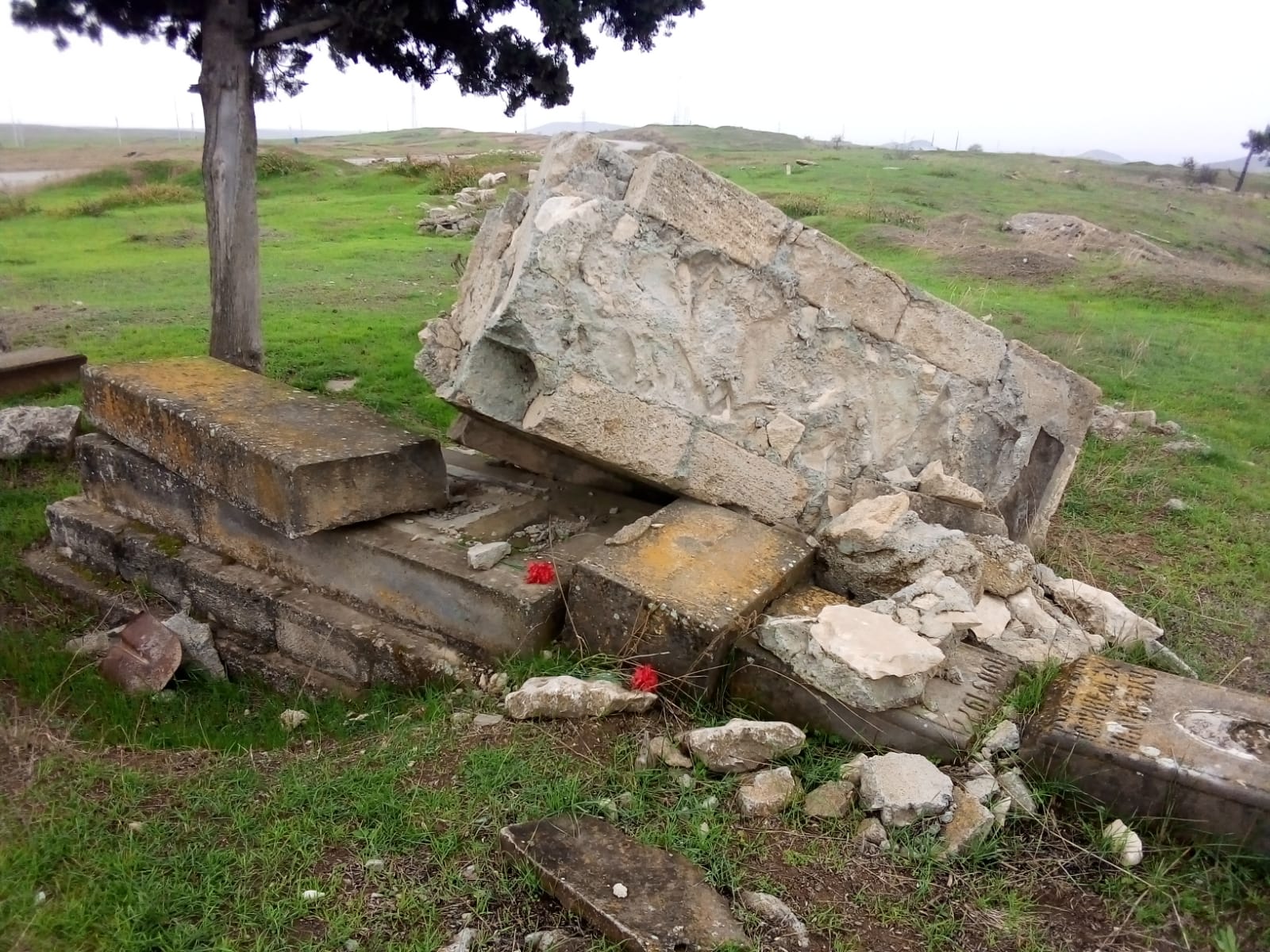 How could a human dig grave of someone just in religious hatred or in quest of taking away a single gold tooth? How could anybody destroy already destroyed persons? But trust me it happened to me after my death when Armenian forces on 23 August 1993 occupied our lands including graveyards during the first Nagorno-Karabakh War and disgraced even dead people by destroying our graves. We could not find peace in our graves because barbaric Armenians were dancing around our graves in the lust of greed for power and gold. Nobody knew what did happen to us unless, on 17 October 2020, Azerbaijani forces liberated areas, and people like you could arrive and see what happened to us even in our graves.
This is not a story of one Nameless rather this is a story of almost every cemetery of lands that were under Armenian occupation.
The damage became more apparent following the liberation of the region by Azerbaijani forces, which led to the return of the displaced Azerbaijanis to Karabakh. I found several "ghost towns" along with newly built road from Baku to Shusha and I saw ruined graves, turned into piles of stones, and wrecked cemeteries since the graveyards have become unrecognizable, causing deep pain for those whose elders were buried in these graves who are just now debris, not graves.
Digging was so intense that there are almost no graves that remain intact and one can find human bones spreading all over the graves.
I cannot find words to describe what I had seen today in several cemeteries and I can imagine the level of barbarisms of Armenians by observing how did their ruin even cemeteries. It is as if they tried to take revenge on the dead. This is the most gruesome way of vandalism. I believe that the international community should see this brutality that Armenia caused for years.