ISLAMABAD, Pakistan: The Institute of Strategic Studies Islamabad (ISSI) organized a Public Talk titled "Pakistan's Macro Economy: Current Situation and the Way Forward" in Islamabad on Thursday.
In his welcome remarks, the Director General ISSI Aizaz Ahmad Chaudhry said that a sound economy is central to good governance and stability of a state.
Aizaz Ahmad Chaudhry further highlighted the present government's policy of according top priority for the re-setting of Pakistan's economy, and said that the strategy of broadening the tax base is probably the most effective remedy to Pakistan's financial ailments.
As the Guest Speaker, the Prime Minister's Advisor on Institutional Reforms & Austerity Dr Ishrat Hussain began his talk by giving an overview of Pakistan's current economic situation in the historical context. He attributed Pakistan's early economic success to institutions of governance which brought about spectacular results.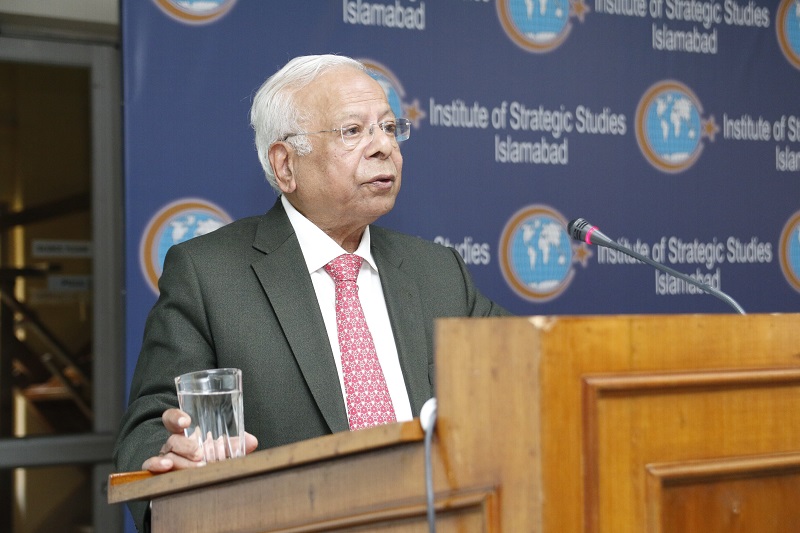 Dr Ishrat Hussain said that the government of Pakistan is trying to improve the current economic situation through macroeconomic stability and its socio-economic uplift programs like Ehsaas Programme.
The advisor on institutional reforms & austerity emphasised on the close collaboration between the state, civil society and markets in order for the benefits of socially inclusive economic growth of the country to reach the common citizens.
In his concluding remarks, the Chairman ISSI Khalid Mahmood said that fine tuning of economy is required by the policy makers to expedite growth & hoped that in the future the situation will become better, especially for the marginalized part of the society.