ISLAMABAD/LAHORE: Amid a growing number of Coronavirus Cases and over non-compliance of SOPs, I-8 and I-10 Sectors in the Federal Capital and a few areas in Punjab's Capital Lahore will be sealed in next few hours.
In a twitter statement on Tuesday, the Deputy Commissioner Islamabad Hamza Shafqaat said that 200 Coronavirus Cases have surfaced in I-8 Sector in a day while in Sector 10, the total number of COVID-19 patients has mounted to 400.
Therefore, Hamza Shafqaat said that a plan is being devised to seal both the Sectors.
The Deputy Commissioner said that a notification in that regard can be issued within the next 24 hours.
اسلام آباد میں بڑھتے ہوئے کیسس کی وجہ سے ہم سیکٹر آئی – 8 ( یہاں ایک دن میں دو سو کیسس نکلے ہیں ) اور سیکٹر آئی -10 ( یہاں ٹوٹل چار سو کیسس ہو چکے ہیں ) کو سیل کرنے کا پلان بنا رہے ہیں ۔ آگئے 24 گھنٹوں میں نوٹیفیکیشن ایشو ہو سکتا ہے ۔

— Deputy Commissioner Islamabad (@dcislamabad) June 16, 2020
In the Islamabad Capital Territory (ICT), a total of 8,857 Coronavirus Cases have so far been registered while 83 patients have succumbed to the disease.
Previously, the district administration sealed Islamabad's Bhara Kahu, Shahzad Town, Rimsha Colony H-9, and Taramri Chowk areas but later the areas were de-sealed following the normalization of the situation.
But Bhara Kahu again along with Ghauri Town, I-8, I-10, G-6, and G-7 Sectors has been identified as the COVID-19 Hotspot, and likely to be sealed soon.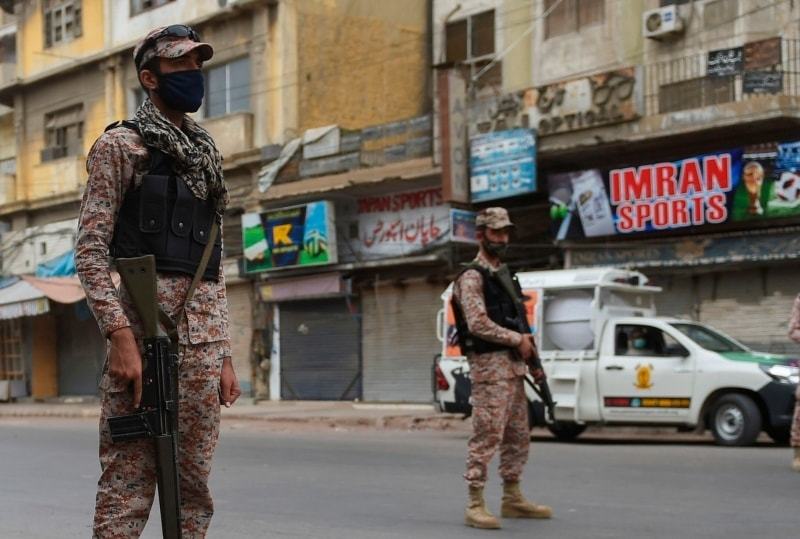 Separately, the Punjab government has also decided to seal COVID-19 Clusters & Hotspots in Lahore including Shadbagh, Allama Iqbal Town, Muzang, Harbanspura, Walled City, Cantt, Shahdara and Nishter Town from 12 midnight today (Tuesday) for the next 14 days.
However, pharmacies and shops of edible items will remain open in the sealed areas.
Out of 54,138 Coronavirus Cases having been detected in Punjab by June 15, 27,361 had been registered in Lahore alone.
In her Press Conference held in Lahore on Monday, the Punjab Health Minister Dr. Yasmin Rashid regretted that despite the government's instructions, the people were not observing the Standard Operation Procedures (SOPs).
Dr. Yasmin Rashid advised the people to strictly follow the SOPs as described by the government.
لاہور میں وزیراعظم عمران خان کی زیر صدارت اجلاس میں وزیراعظم نے SOPs کی خلاف ورزی کرنے والے علاقوں میں "سمارٹ لاک ڈاؤن" اور سختی کرنے کی ہدایت کی تھی.
ان ہدایات کی روشنی میں 2 دن میں لاہور کے ہاٹ سپاٹ ایریاز کی نشاندہی کی گئی جنہیں کل رات 12 بجے سے 14 دن کے لیے بند کیا جائے گا. pic.twitter.com/ao9DT0rF3U

— Health Department Punjab (@HealthPunjabGov) June 15, 2020