Monitoring Desk: With the organisational support of the International Eurasia Press Fund, Baku State University hosted a presentation of the book "Iron Fist-Karabakh War 2020" written by Egyptian scientist, researcher and journalist Ahmed Abdo Tarabik.
EDNews.net reports that the presentation was attended by ambassadors of Arab-speaking countries to Azerbaijan, MPs, political scientists, prominent orientalists and media representatives.
Opening the event, the president of the International Eurasia Press Fund (IEPF) Umud Mirzayev said that Ahmad Tarabik's 320-page book on the Second Karabakh War was published with the organisation and support of the International Eurasia Press Fund.
"My friend, Professor Ahmed Sami Alaidi, a professor at the University of Ayn Shams in Egypt and author of research on Azerbaijan, and I did our best to create this unique collection of facts. It means that it was very significant to publish a collection of facts about this war, which ended with the victory of Azerbaijan, in the form of a book in Arabic. "
U. Mirzayev noted that the second Karabakh war in 2020 created a new strategic line in the Caucasus region.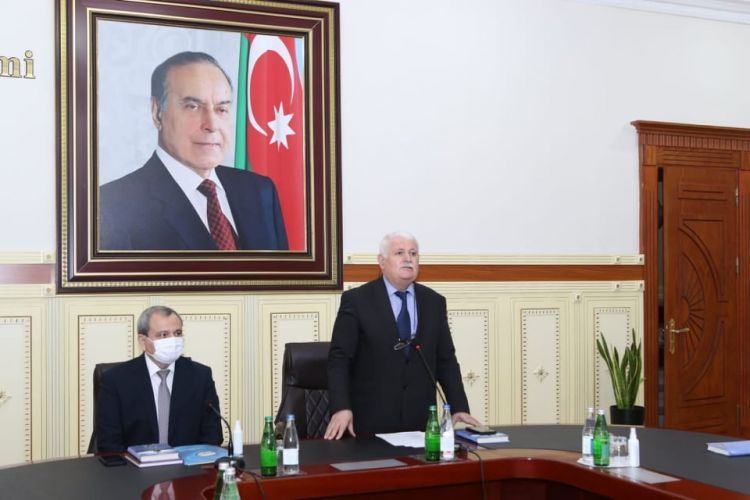 "Thanks to such a struggle, we were reunited with our occupied lands after 30 years. In this struggle, Azerbaijan demonstrated to the world the inviolability of its lands with respect to all international laws. In the book, we can witness the vandalism committed by Armenians for 30 years. The author of the book, Ahmad Tarabik, is well acquainted with the history of Turkey, the South Caucasus and the Caucasus region as a whole. He is the author of many textbooks, articles and books. Based on his experience in this field, this book is considered a reliable source."
According to him, Ahmad Tarabik is a researcher on Asia and the Middle East and "Karabakh: the path to peace in the Caucasus", "1915 events: forecasts for Turkish-Armenian relations", "Kazakhstan: the way to the future", "Uzbekistan: Islamic culture sources "," The events of 1915: the severance of Turkish-Armenian relations ". He is also the author of "Aida Imanguliyeva, Professor of the Department of Arabic Philology, Baku State University, Doctor of Philology: Leader of Research in Oriental Studies" and other important works.