Baku was the host city for the 18th Summit of the Heads of State and Government of the Non-Aligned Movement (NAM) member-states on October 25-26. At the Summit, Baku obtained the chairmanship of the NAM for 2019-2022.
President of Pakistan Arif Alvi also attended the summit. During his visit in Azerbaijan, he met with President of Azerbaijan Ilham Aliyev through which they discussed prospects of cooperation. At the end of his official visit, His Excelency gave an exclusive interview to three mass media in Azerbaijan: The Azerbaijan State News Agency – (AZERTAC), CBC TV Channel and Eurasia Diary – (EDNEWS.NET) addressing several issues, especially pointing out current Upper Karabakh and Kashmir conflicts. Eurasia Diary reports the interview of Pakistani President.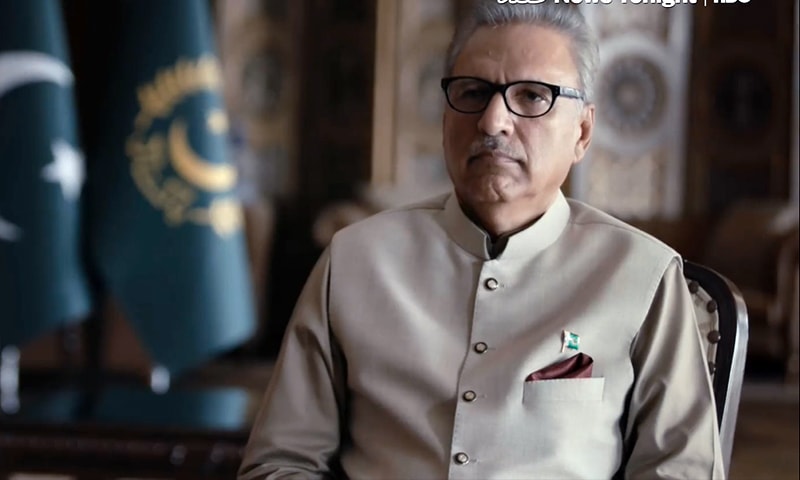 – Dear Mr President, you had a chance to meet with Azerbaijani President Mr Ilham Aliyev and also other leaders as well as discussing some issues. Could you tell us of main issues covering your meeting?
– We had a private meeting with Mr Ilham Aliyev, and also another meeting in a presidential palace. I think the issue of Pakistan and Azerbaijan primarily can be described as close friendship between two countries and two nations. Based on that, there has been good cooperation, we have appreciated the support of the Azerbaijan government and people on Kashmir. There are 11 resolutions of UN for People of Kashmir's right to self-determination that they are not implemented. We also discussed the Upper Karabakh issue. Pakistan is the only country which not recognized Armenia. He also informed me 4 resolutions of UN regarding Upper Karabakh. We also discussed the future of NAM together. I think it is a great sense of respect and responsibility for Azerbaijan to bear presidentship of NAM. The ability to lay down the agenda of world issues of justice and fairness, these tend to be neglected by superpowers rivalry or rivalry between other nations.
We discussed mutual relations between Azerbaijan and Pakistan. Azerbaijan obtained 10 Super Mushshak trainer aircraft. Pakistan defense engineering and construction is on a very important progression setup. We have state of art aircraft JF-17 performed very well. Therefore I can say we have a good cooperation between Azerbaijan and Pakistan.
– Mr President while talking about Upper Karabakh issue which you have already mentioned that you have discussed with President Ilham Aliyev and learned much about it. Concerning Europe, which kind of threat can pose to regional security?
– I think it is exactly similar to Kashmir issue. Hegemonisitc India is dividing its own population, minorities have a bad future in India. Muslims, Buddhists, Christians and Kashmir is also a reflection of this. Pakistan made many times willingness of peace to India, as Prime Minister Imran Khan 5 times took steps towards peace. India is a belligerent keep occupying it. Not Pakistan, they promised plebiscite. Therefore it is a tinder box, can light up any time. Similarly to the Karabakh issue, I think there is greater potential of confrontation than peace. I think current this is a common issue. Pakistan always sides with Azerbaijan.
– Mr President, please tell us about the present situation in Kashmir which has been blockaded for 80 days. What is your attitude to this?
– India went to the UN because Kashmiri people liberated half of Kashmir, they have promised plebiscite, since then there have been tremendous atrocities. Hundred thousand people lost their lives in the past few years There have been rapes, closure of businesses, killing of people. Recently, India had a constitution that made very relevantly independence to Kashmir, they have taken it. Pakistan didn't agree with that article anyway. When they took it back, those Kashmiris who had tied to future with India revolted against India. There is a total blockade, no communication of telephone, cell phones, the Indian government didn't allow foreign observes.
There are 8 million people and India has deployed 900,000 of his forces, this is the most militarized zone. People of Kashmir are in a desperate state. Imagine that for 80 days, there is no food, medicine. That's why the EU and world to take a stance and to force India to step back. India refuses for the last 40-50 years. Now once, they have decided that Kashmir is an integral part of India. This is an immoral situation which is happening. We have appealed to the people of Azerbaijan and countries of the world for fulfilling up the provisions of UN for Kashmiri people. We had a discussion with Mr Preident that NAM should also pick up all issues including Upper Karabakh, Kashmir. We stand with Azerbaijan for fairness and justice. We have deprived of something, we don't have anybodies territories, other people have our territories. We shouldn't allow for.
– How the conference intends to the development of cooperation in the framework of participation in NAM?
– I think the Non-Alignment Movement has been weakened all the years. Because of those who formed the movement, for example, India strongly aligned itself with superpowers. So, the spirit of NAM has weakened. I am strong believer particularly when Azerbaijan has chairmanship, it is good time to inject life into Movement. The best way to inject life is to stand up for the weaker people whose rights have been denied, stand up for situations like the Rohingya where Muslims drawn out of Myanmar and stand up for people of any religion from anywhere is not matter of any particular religion. Today there is an increasing situation of refugees and the creation of disparity between rich and poor have led to countries increasing disparity. Therefore NAM under the leadership of Azerbaijan and cooperation with Pakistan, I think has a good potential to reignite itself to a more effective organization.
– Strong cooperation in the military-technical sphere also possible to foster between Azerbaijan and Pakistan. How are the prospects in this field?
– I think the prospects are very good. I think Pakistan in military hardware is a very strong country. Pakistan has the best military itself in the world. We fought on terrorism. No country has victories that Pakistan has. We lost 70,000 lives. Today in the rest of the world, all these brutal actions in the Middle East rely on airforces which fly over and bombs, and on the ground they have no forces. In Pakistan, our military has worked on the ground, this is well-trained military with the armament that we are producing. Pakistan produces small arms, ammunition, aircraft like Super Mushshak, JF-17 with cooperation with China. In defense cooperation, there is a brilliant prospect. We made an offer for military personnel training and armaments.
We must talk about other opportunities in the economic field and others. We talked about that Pakistan ahs good hospital industry, we have very good doctors. We can exchange the expertiees between two states. We talked about education. In fact, we have good education system. We talked about that Azerbaijan has good skills in oil. And also we mention about transportation fo good via North-South Corridor. Pakistan is an agriculture country. I encourage Azerbaijan to buy mangos. We talked about tourism, aviation flights between Azerbaijan and Pakistan should increase. It is a win-win situation, We are good friends.
Note: This interview is originally published by Eurasia Diary – (EDNEWS.NET).
Its Azeri version is release by AZERTAC, State Run News Agency of Azerbaijan.