ISLAMABAD, Pakistan: The National Security Advisor (NSA) of Pakistan Lt. General (retd) Nasser Khan Janjua on Sunday said media played an immense role in developing perception about any country or nation, reported Dispatch News Desk (DND) news agency from Islamabad.
He added Pakistan was portrayed badly by certain media outlets at international level while the reality was otherwise. "There are allegations on us of playing a 'double game' in Afghanistan. However, these perceptions are not based on reality", said NSA Janjua.
He was of the view that Muslim world would be the future economic bloc, providing maximum human resource, energy resources and connectivity to the world while Pakistan linked South Asia with Central Asia, Iran, Turkey, Gulf countries and as far as Africa and Europe.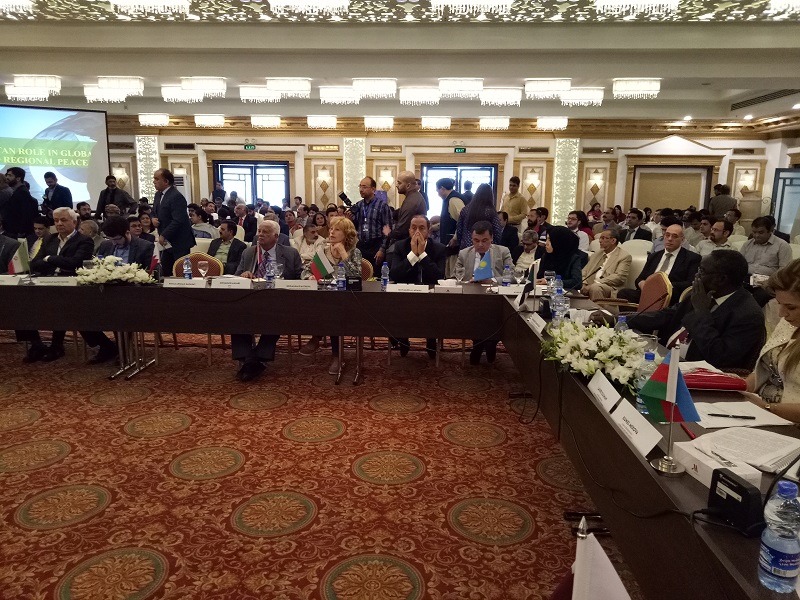 Giving a detailed and in-depth presentation at the inaugural session of two-day International Conference of News Agencies on "Pakistan—-Media Opportunities and Challenges" here on Sunday, National Security Advisor (NSA) was of the view that mass part which was mix of Eurasia and Muslim bloc would be reality of the world and the future economic bloc.
The two-day conference hosted by state-run news agency of Pakistan Associated Press of Pakistan (APP) is being attended by state news agencies from Central Asia, Europe, Africa, Middle East and European countries.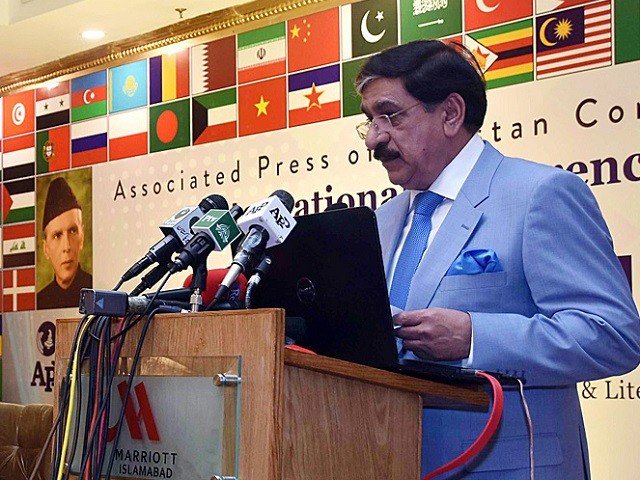 NSA congratulated APP for holding conference that would help to change negative perception created by certain media outlets against and about Pakistan. He said APP took a great initiative to invite representatives of state news agencies from all over the world who would see real face of a beautiful and peace loving Pakistan during their stay in Pakistan.
The security advisor said Pakistan would become a massive trade hub as it would become a trade corridor of the world being a part of China Pakistan Economic Corridor (CPEC).
The former general, who fought against terrorism and won battles in Balochistan and Swat Valley, was of the opinion that former Soviet Union invaded Afghanistan, and if Pakistan did not stand by Afghanistan, could there have been any Afghanistan today? He added Pakistan stood with Afghanistan that ultimately caused establishment of Central Asian Republics (CARs). He said the Eastern European and Central Asian Independent Republics came into being because Pakistan stood with Afghanistan at a very heavy cost.
Nasser Janjua said Pakistan respected the sovereignty and territorial integrity of Afghanistan, and was committed to Afghan peace and stability.
The adviser said at the time of Russian aggression, Pakistan stood by Afghanistan. He said Pakistan had always helped Afghanistan.
Lt. General (retd) Nasser Janjua said after the end of Soviet Union, the United States and the International Community went away. He said the International Community left Pakistan and Afghanistan to face the after affects.
Nasser Janjua said extremist ideologies were on the rise while the presence of Daesh/ISIS was also threatening the entire region.
Turning back towards the instability and extremism being faced by the region, Nasser Janjua said terrorism was their common challenge which they have to fight together. "We are facing common threats," he maintained.
The adviser said it was strange that Pakistan was blamed for terrorism, it had been facing and having suffered loss of 70,000 precious lives and $120 billion to its economy.
Talking about opportunities of regional bloc where Pakistan stands, he said Muslim world  was connected by land like a green piece on earth and comprising of 70 percent of the global population and connected land. "We have resources and if we work together we can provide a great prosper future to our coming generations," he said.
The security adviser said connectivity of the world is (was) possible through the Indian Ocean and Pakistan was the only country that connects China with the Indian Ocean and Iran. He believed that Pakistan had a unique geopolitical positioning.
Sharing experiences of Pakistan, General Janjua said Pakistan had been successful in defeating terrorism as the nation took a resolve against extremism and stood to regain peace from terrorists.
He said Pakistan was on the road of progress, and security and economy were very important for the country's prosperity.
"We are facing a lot of issues. We shall fix everything. Nasser Janjua said Pakistan had suffered a lot in war on terror both in terms of lives lost and damage to economy but the International Community had not looked upon its sacrifices in that war with a positive attitude.
The security advisor was of the opinion that Pakistan had been successful in defeating the nefarious designs of the enemy and proof of that was that militants laid down their arms in sensitive parts of the Country.
Lt. General (retd) Nasser Khan Janjua underlined the importance of spending and investing in the people.
While addressing the conference, the Federal Minister for Information, Broadcasting and National Heritage Mayum Arungzeb congratulated state-run news agency APP for holding the International Conference and briefed participants about democratic history of Pakistan.
Earlier, the Director General of APP Masood Malik while inaugurating the Conference thanked participants and stated that media cooperation and media partnership were inevitable for better understanding and APP would continue its efforts to connect media outlets through it platform.