New Delhi, India: Journalists from Delhi will gather at Delhi Press on September 6 (Wednesday) to protest against the brutal murder of journalist Gauri Lankesh who was shot dead outside her home in Bangalore today.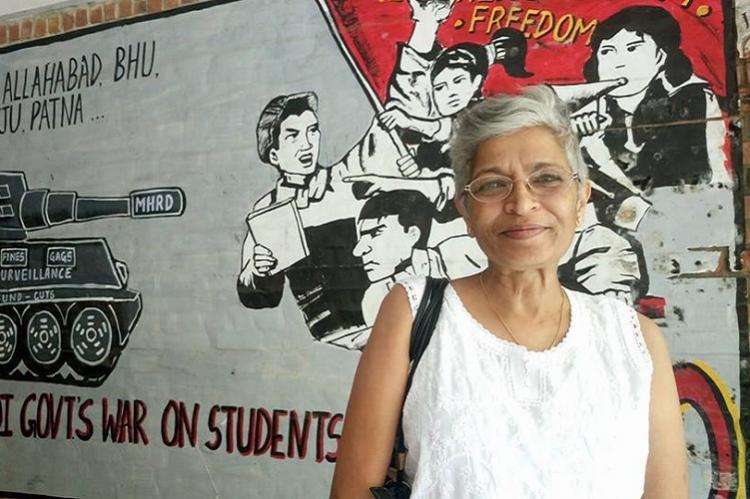 Meanwhile, journalists of Bangalore have already started protests and gathering on roads to protest her murder. She was an icon of liberalism, peace and working journalism. She launched her own successful  tabloid with minimum resources and made the newspaper a success hiring over 50 journalists for the production.
"Brave, Bold and Beautiful journalist is no more among us", said a weeping journalist outside her house when asked to comment over her murder.
A seasoned journalist and a daughter of a veteran journalist Gauri Lankesh had been opposing the Hindutva brigade consistently and with courage despite the threats and the court cases against her.
"A free thinking, liberated, bold, a progressive woman again has been silenced by right-wing forces" said senior journalist Sreemoyee Piu Kundu while talking to national media. She said that India is going through Talibanisation of the society under Modi rule. on
In her personal talks with her friend, she had been expressing fears that she would be silenced with gunshots by BJP politicians.
"She believed in democratic India. All journalists in Delhi who believe in freedom and democracy and the struggle of Gauri Lankesh please gather in protest and in remembrance at Press Club of India, 11 am, Wednesday September 6, 2017", said a message posted in social media groups ran by journalists.
Please join protest tomorrow 11 am at Press Club against the assassination of @gaurilankesh

Rest in power, Gauri Lankesh#GauriLankesh pic.twitter.com/KIEioJUt1f

— Shehla Rashid (@Shehla_Rashid) September 5, 2017
Who was Gauri Lankesh?
Gauri Lankesh was the daughter of journalist P Lankesh. She was a founding editor of Lankesh Patrike and columnist in both Kannada and English. She was known for her vocal criticism against right wing and the way Modi government is fanning hatred among Indians.
Her last twitter message was about Supreme Court asking Center (Modi government) why it wants to deport Rohingya refugees.
Supreme Court asks Centre why it wants to deport Rohingya refugees https://t.co/NPHHYW5U4y via @scroll_in

— Gauri Lankesh (@gaurilankesh) September 5, 2017
Crime Scene
According to initial reports, she was shot point blank when she came out of her car parked outside her home in Bangalore.
She was outspoken while criticizing Modi government and BJP and used to retweeted material exposing the threat Indian society is facing under Modi rule.
Modi Ji is Big Boss | Stand-up Comedy by Abijit Ganguly https://t.co/NHwJLkdRed via @YouTube

— Gauri Lankesh (@gaurilankesh) September 4, 2017
Civilised nations don't throw out refugees. India shd work for Rohingyas' safe return by diplomatically pressing Myanmar to stop persecution https://t.co/oKR43P8ULd

— Shekhar Gupta (@ShekharGupta) September 4, 2017
Modi is his own master. Doesn't need any advisors. It's up to the people to decide if they continue to be fooled. https://t.co/ySd0R2xa3A

— Shabnam hashmi (@ShabnamHashmi) September 4, 2017