ISLAMABAD, Pakistan: The Indian High Commissioner to Pakistan Ajay Bisaria met the Chairman Pakistan Tehreek-e-Insaf (PTI) Imran Khan on Friday in which the latter expressed concern over the human rights violations in Indian Occupied Kashmir.
In the meeting held at the Chairman's Secretariat in Banigala, Imran Khan discussed the need to restart dialogue between Pakistan and India on all outstanding issues including Kashmir.
Imran Khan also expressed the hope that the South Asian Association for Regional Cooperation (SAARC) Summit would be held soon in Islamabad.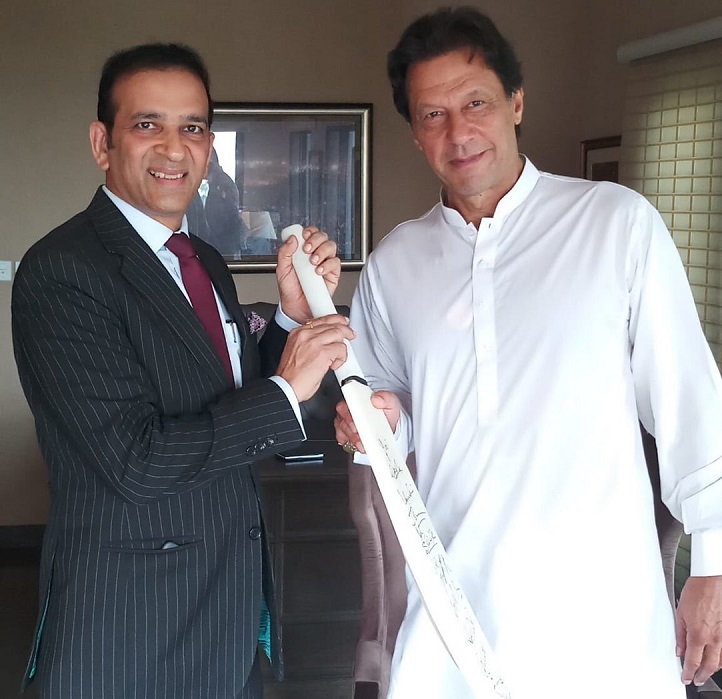 The Indian high commissioner congratulated Imran Khan on his electoral success, and discussed range of issues and prospects of Pak-India relationship.
Ajay Bisaria said that after the Indian Prime Minister Narendra Modi's telephonic conversation with Imran Khan, there was a new optimism in New Delhi that relations between Pakistan and India would move forward positively.
The Chairman PTI welcomed the positive message conveyed by the Indian high commissioner on behalf of his government, and reiterated his hope for both the Countries to move forward for the betterment of the people of the Subcontinent.
The Indian envoy also gifted a Cricket bat to Imran Khan, autographed by the entire Indian Cricket Team.
The PTI Vice Chairman Shah Mehmood Qureshi, the Central Information Secretary Fawad Chaudhry, senior Leader Dr Shireen Mazari, Naeem-Ul-Haq and Dr Shahzad Wasim were also present in the meeting.