Islamabad, Pakistan: Indian American Muslim Council (IAMC) along with several civil and human rights organizations are writing a letter to the United States Commission on International Religious Freedom (USCIRF) to continue to designate India as a Country of Particular Concern (CPC) in 2021 for the rapidly escalating persecution of religious minorities and for the Indian government's complicity in the massive violations of religious freedom.
Last year, the US State Department declined to apply CPC status to India on the grounds that the worsening of religious freedom in India was due to non-state actors, as opposed to state actors. This year the US State Department's report on India, released March 30, 2021, was a scathing account of the ground situation in India, where millions of social and religious minorities, including Muslims, Christians, Dalits, and Adivasis, as well as the 8 million residents of Kashmir, are facing ongoing brutal State repression.
The reasons for designating India as a CPC are more compelling now by an order of magnitude than ever before, and the situation is set to get worse without significant international pressure. We hope that this letter shows that state actors are playing a central role in India's declining religious freedom and that USCIRF's 2021 Annual Report will make this clear.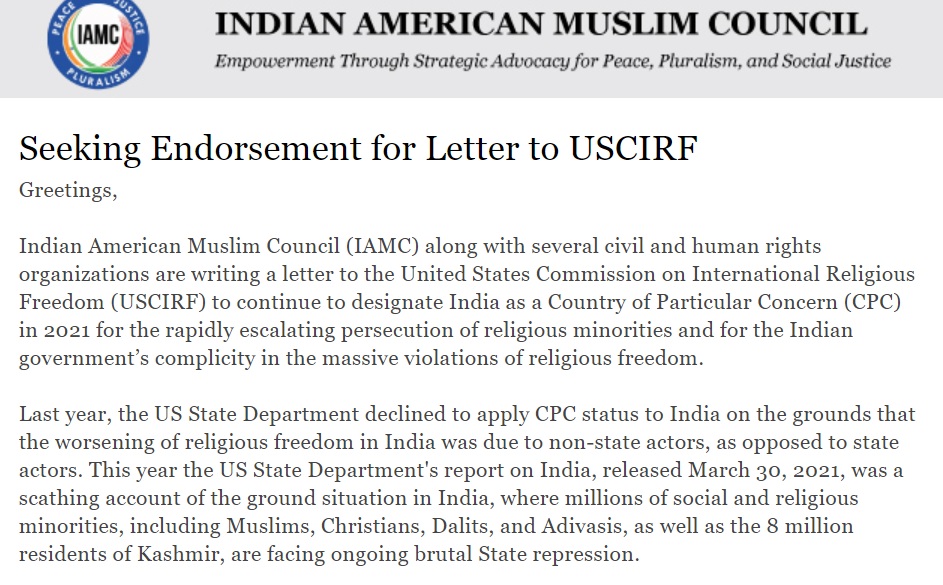 If you are a representative of a civil rights or human rights organization or a civic leader or from academia, please endorse the letter on behalf of yourself and/or your organization:
The following link can be used for endorsing the letter
Seeking Endorsement for Letter to USCIRF (wufoo.com)