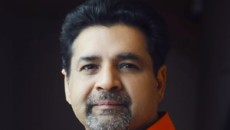 By Agha Iqrar Haroon
South Asian peace-lovers are coming out of the downheartedness they had been feeling due to the diplomatic standoff between India and Pakistan in the recent past. The good news is that Islamabad and New Delhi are sending signals that they wish for peace in the nuclear-loaded region.
According to sociologists, peace means many different things to different people. In the past, peace meant a time without wars, fighting, or the threat of violence. Today, peace is used to refer to a state of harmony, quiet, or calm with no hostility.
The slogan "Kashmir is sold to India" is a lethal weapon that killed Dove carrying a peace message many times in the past.
We have observed that whenever Peace is required by the governments, then it is an achievement and "Positive Diplomatic Move" but if the same is demanded by peace lovers, they are called "Traitors". If Holi is celebrated by the Muslim politicians at some state-sponsored events, then it is called interfaith harmony but if it (Holi) is celebrated by Muslim activists then they are called infidels. If BJP leaders go to the mosques, it is appreciated but if a common Hindu activist goes to the mosque he is inviting his lynching.
Why initiative of peace is "Excellent Initiative" if sponsored at the State-level and the same initiative is a moral crime if it is being initiated by activists?
Is desiring Peace only the State Prerogative?
If peace lovers demand resumptions of trade between India and Pakistan, they are tagged agenda-loaded and traitors but if it is announced by the States then it is a brilliant idea towards normalization of relations?  I suggest that Peacemongers of both sides should come up with some talking points and should meet their respective National Security Advisors—Moeed Yusuf in Pakistan and Ajit Doval in India and tell them that peace activists are their strength and must not be taken as threats.
Beena Sarwar is a journalist, artist, and filmmaker from Pakistan focusing on human rights, gender, media, and peace and the driving force behind the "Aman ki Asha" (Hope for Peace) initiative, which aims to develop peace between the countries of India and Pakistan.
Prior to her current position, Beena has worked as an Assistant Editor at The Star, as Features Editor at The Frontier Post, and was the founding editor of, The News on Sunday in 1993. She holds a BA degree in Art and Literature from Brown University, an MA degree in TV documentary from Goldsmiths College, London and was a Fellow at the Carr Center for Human Rights Policy at Harvard University.
Beena is the second generation of her family contesting state-sponsored popular thoughts, social extremism and had been advocating interfaith harmony, tolerance in society, peace among nations, and a quest for knowledge. Her late father Dr. Sarwar was known as the "hero of the 1953 student movement" – referring to the Demands Day protests in Karachi, that the police brutally suppressed, killing several students and passers-by.
When DND Thought Center contacted Beena Sarwar to share her thoughts with us on the state-supported desire for peace between India and Pakistan, she says that absolute success for any initiative is almost impossible to achieve and absolute Peace does not look achievable. But we can try and work out to make things better for our generations to come.
Beena Sarwar believes we can see the success of the quest to find peace and normalcy between India and Pakistan from a fact that in past times desire for peace was expressed by countable people, mostly by intelligentsia but now this thought is so spread that when "Aman ki Asha" was formulated, several people formed groups with the name of "Aman ki Asha" with the same kind of narrative although such people disappeared with the passage of time the word was spread because every common man wishes Peace between the two neighbors and there is no two contradictory opinions over this demand.
"Our mentors like Asma Jilani Jahangir, Mubashir Hassan, I A Rehman, believed that dialogue and talks are first and foremost step to find a way out from sensitive issues like Kashmir because dialogue and talks provide opportunities and Guftugo band na Baat say Baat Chalay Ali Sardar Jafri poem represents a practical viewpoint. How can we solve the Kashmir issue where you are not talking to each other?" asks Beena.
Beena says:
"Normal relationship means we live together and people (of India and Pakistan) can meet. Trade activities between the two countries have several issues. There are vested interests, monopolies, cartels, groups because every country wants to protect its economic interests.
I was listening to the last interview of late I A Rehman sahib who said that Pakistan needed mechanical hardware whose factory was in Scotland. When the factory was contacted to place an order, Pakistan came to know that franchise of the factor was in India. Order was placed through Indian franchise but machinery came from the United States. Just imagine the cost of such a trade. The majority of Indo-Pak trade is done through the Middle East and other countries' contiguous neighbors but our trade is executed via the third country and this costs colossal loss to the economy of both the countries because cargo cost goes up, therefore, the cost of the product. Initiative taken as State-Level is always helpful and productive because People-to-People contact needs smooth visa processing and this power lies only with states".
Pakistan decided to resume trade activities with India recently but the decision was withdrawn within 24 hours though Trade and Commerce Minister of Pakistan is the Prime Minister Imran Khan who always expresses a clear stance that normalization of the Indo-Pak relationship is the must to mitigate poverty in South Asia. Chief of Pakistan Army Gen Qamar Bajwa has been expressing his desire for peace in the region and normalization of relations between India and Pakistan. Pakistan and India at DGMOs level decided to normalize the situation at borders particularly at Line of Control.
The question is that who is not happy with Indo-Pak normal relations if the civil and military leadership of Pakistan wish smooth and workable relations?
There are two possible answers. One is that India should review its Kashmir Policy because this issue is a psychological standoff between the two neighbors and the second possible answer is also linked with the first conceivable answer. The second answer is that there are sturdy clusters present in civil and military establishments who do not want normalization of Indo-Pak relations and put the Kashmir issue top of the files whenever anyone wishes to go forward towards durable and doable peace. If we follow the traditional media of Pakistan, we find voices against Indo-Pak peace that always come from certain socio-religious groups and the peculiar mindset of writers who had been pushy for war.
The slogan "Kashmir is sold to India" is a lethal weapon that killed Dove carrying a peace message many times in the past. Historic events like Indo-Pak normalization after the 1973 Shimla Accord, Ziaul Haq's Cricket Diplomacy, Benazir's meeting with Rajiv Gandhi, Nawaz Sharif's Lahore Accord, Musharraf's visit to New Delhi, and now an announcement of the resumption of trade between Indian and Pakistan are seen as "secret agendas".
This invisible cluster is actually ruled decision-making process in Pakistan. Alas, the same kind of mindset is also governing power in New Delhi for a long. From Jawaharlal Nehru to Atal Bihari Vajpayee, Indian leadership categorically accepted that Kashmir is a dispute and it would be resolved (Nehru recognized to resolve through UN plebiscite, Indra Gandhi acknowledged through Shimla Accord points, Vajpayee accepted to resolve through bilateral talks). Today's Indian leadership altogether refuses to accept the Kashmir issue as a subject to be discussed. How can India destroy the UNSC record of over 14 resolutions passed to resolve the Kashmir issue? Can India burn all records of the Shimla Accord, Lahore Accord, and Delhi Formula (Musharraf)?
The above-mentioned questions are some of those that can be asked by anybody having a sane approach towards the Kashmir issue.
"When the power of love overcomes the love of power, the world will know peace."
This was said by Jimi Hendrix who was an American musician, singer, and songwriter.
We in South Asia are facing the same situation for ages. The love of power has become so intensified that states want to retain quest and attempt of procuring Peace with them and are not ready to share this innocent desire with their populations.
Should we not come forward and request our states that please let us play our role without being tagged as Traitors because neighbors cannot be changed and nuclear-loaded regions cannot afford the adventurism of war.
Disclaimer:
The views and opinions expressed in this article/Opinion/Comment are those of the author and do not necessarily reflect the official policy or position of the DND Thought Center and Dispatch News Desk (DND). Assumptions made within the analysis are not reflective of the position of the DND Thought Center and Dispatch News Desk News Agency.