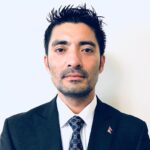 By Kumar Shrestha
On November 20th, the Government of India published its new political map, prepared by the Survey of India, Department of Science and Technology. With this map, India's government quietly annexed an integral part of Nepal's sovereign territory: Limpiadhura, Lipulekh, and the Kalapani Territory influenced by Patel doctrine.
Since this announcement, a group of Nepali student activists has discovered a vast effort by groups linked to the Government of India to revise and manipulate open-source information concerning Nepal's territory, culture, and history. Make no mistake: this effort is ongoing and it is state-sponsored! A careful examination of the manipulated entries on websites such as Wikipedia, Google Maps, Apple Maps, and other open-source material indicates that the group behind these changes –all of which were only made after November 20th, 2019- is also responsible for a similar effort to revise information pertaining to Pakistan. The group's efforts in this regard can be traced back as far as 2016. Nepal has fallen victim to a well-executed propaganda campaign at the hands of the Government of India.
Nepali youths who searched for "Goddess Sita" before November 20th would learn that this Goddess has her birthplace in Janakpur, located in Nepal's Province 2. Since November 20th, the search returned that Sita was born in Sitamarhi, in the Indian state of Bihar
For example, on various maps, Lake Nui –the source of the Mahakali River, Nepal's natural western boundary to India- has been removed, as has the Mahakali River. Yet older maps clearly show Lake Nui and the Mahakali. Furthermore, none of the other bodies of water were omitted on these recently published maps. India's propaganda campaign is not limited to modifying maps. It also amounts to a form of cultural genocide.
As we are well aware, today's youth gleans information about current affairs and shapes its view of historical facts from the Internet. This very information has been manipulated in India's favor.
For example, Nepali youths who searched for "Goddess Sita" before November 20th would learn that this Goddess has her birthplace in Janakpur, located in Nepal's Province 2. Since November 20th, the search returned that Sita was born in Sitamarhi, in the Indian state of Bihar.
Since November 20th, entries about the history of Nepal, including Nepal's Kings Tribhuvan, Mahendra, and Dipendra, the Rana Dynasty, various historic battles, the Treaty of Sugauli, the Civil War, as well as current political figures of Nepal were manipulated. The fact that all of these changes were made by the same group leads to the obvious conclusion that Nepal is under attack.
There is a historical context to this revisionism. In the past, state-sponsored Indian actors removed artifacts and historic building supplies from the site of Buddha's birthplace at Lumbini, Nepal, and used them to erect a "Buddha birthplace" site across the border in India.
Today, we live in the era of cyber warfare, and India has quietly but directly engaged Nepal in just this modern-day form of aggression. It is important to point out that India's latest and ongoing efforts would have gone unnoticed, were it not for the exemplary work of the aforementioned group of Nepali student volunteers and activists.
The bold and unscrupulous actions of the Government of India, from the secret 2015/16 economic blockade for which it admitted responsibility only recently, to the audacious annexation of Nepal's territories, and the cyber warfare conducted against Nepal at this very moment, concern all citizens of Nepal. These are not matters that can only be solved by a few Nepalis – all Nepalis must stand together to fend off India's attacks on the nation's sovereignty.
Nepal government must instruct its representative at the United Nations, to take the aforementioned issues up at the earliest opportunity. A strong statement from Nepal's UN ambassador at the UN General Assembly will send a clear signal to the Government of India that its aggressive actions towards Nepal will not be tolerated or go unnoticed.
On July 24, 2015, Visiting Deputy China International Trade Representative (Vice Minister Level) Zhang Xiangchen briefed media after a meeting with the Prime Minister Sushil Koirala, where he said 'Lipulekh issue will be resolved with the trilateral understanding between Nepal, China, and India'.
The government must seize on this historic moment to appeal to the UN for the return of Nepal's other lost territories, which were not returned after the end of the British Colonial rule in India and the treaty signed between Nepal and British East India Company. The Kingdom of Nepal had ceded conquered territories that spanned from the Tista River in the east to the west of the Sutlej River in the modern Indian state of Himachal Pradesh. Nepal also ceded control over the kingdom of Sikkim.
These territories are rightfully Nepal's and per the Treaty of Sugauli which was never ratified by the king of Nepal and Nepal India Friendship Treaty 1950 which voids all past treaties should have been returned.
In the 2017 legislative elections, Prime Minister K.P. Oli was given a strong mandate to turn Nepal around. Therefore, this solemn task of countering India's aggression falls on him. Nepali people trust his wisdom to guide Nepal in this time of crisis and wish Godspeed in your efforts to defend Nepal's sovereignty.