Islamabad, Pakistan: The United States after leaving Afghanistan has diverted all energies to disturb China's rise and the AUKUS is another attempt to halt Chinese trade routes. AUKUS will also open doors for the nuclearization of Southeast Asia and is an attempt to encircle the Chinese economy and military might and this attempt will affect South Asian countries, particularly Pakistan that is directly involved with the Chinese Belt and Road Initiative (BRI).  
India is a loser if we follow the last quarter's developments of 2021 as the US did not include it in AUKUS, human rights violations in India got international attention and Tehran did not invite India in the October 26 conference indicating that India is not a major stakeholder of the Afghanistan issue.
This was observed in a PTV Current Affairs Show "Sochna Hoga" anchored by Dr. Sajjad Bokhari in which Ch Khadam Mandla, Brig Shahid Janghir, and Prague-based Foreign Affairs expert Shazia Anwer Cheema were participants.
Talking about Human Rights violations in India, participants indicated that there are confirmed reports of Muslim houses being pelted with stones and houses of prominent Muslims being targeted and vandalized in Tripura. The details were provided at a press conference by the Association for Protection of Civil Rights (APCR), where activists from Tripura and members of civil society spoke about the communal incidents of the last week and the current situation of the state. The state and police authorities are creating an illusion of normalcy by deploying police personnel in a few areas and Muslims are raising an issue that the state government does not want to end the violence.
Indian Muslim groups were of the view that the Muslims in the state should be provided security and those responsible for the violence and terror should be punished in order to bring peace to the state.
Prague-based Foreign Affairs expert Shazia Anwer Cheema appreciated Pakistan who has strongly condemned the vandalization of several mosques, houses, and shops of Muslims by radical Hindutva mobs in Tripura, India. She stated that these senseless attacks are continuing since last week and the state machinery has reportedly not only failed to protect Muslims and their properties but remained non-responsive to desperate calls for help by the local Muslim organizations.
"It is reprehensible that the Hindutva driven BJP-RSS combine has a track record of conducting massacres and systemic human rights violations of Muslims under its watch, from Gujarat in 2002 to New Delhi in 2020. In today's India, there is little space for minorities and their way of life. It is equally condemnable that targeted and brutal eviction of Muslims from their decades-old homes in Assam continues unabated," she commented.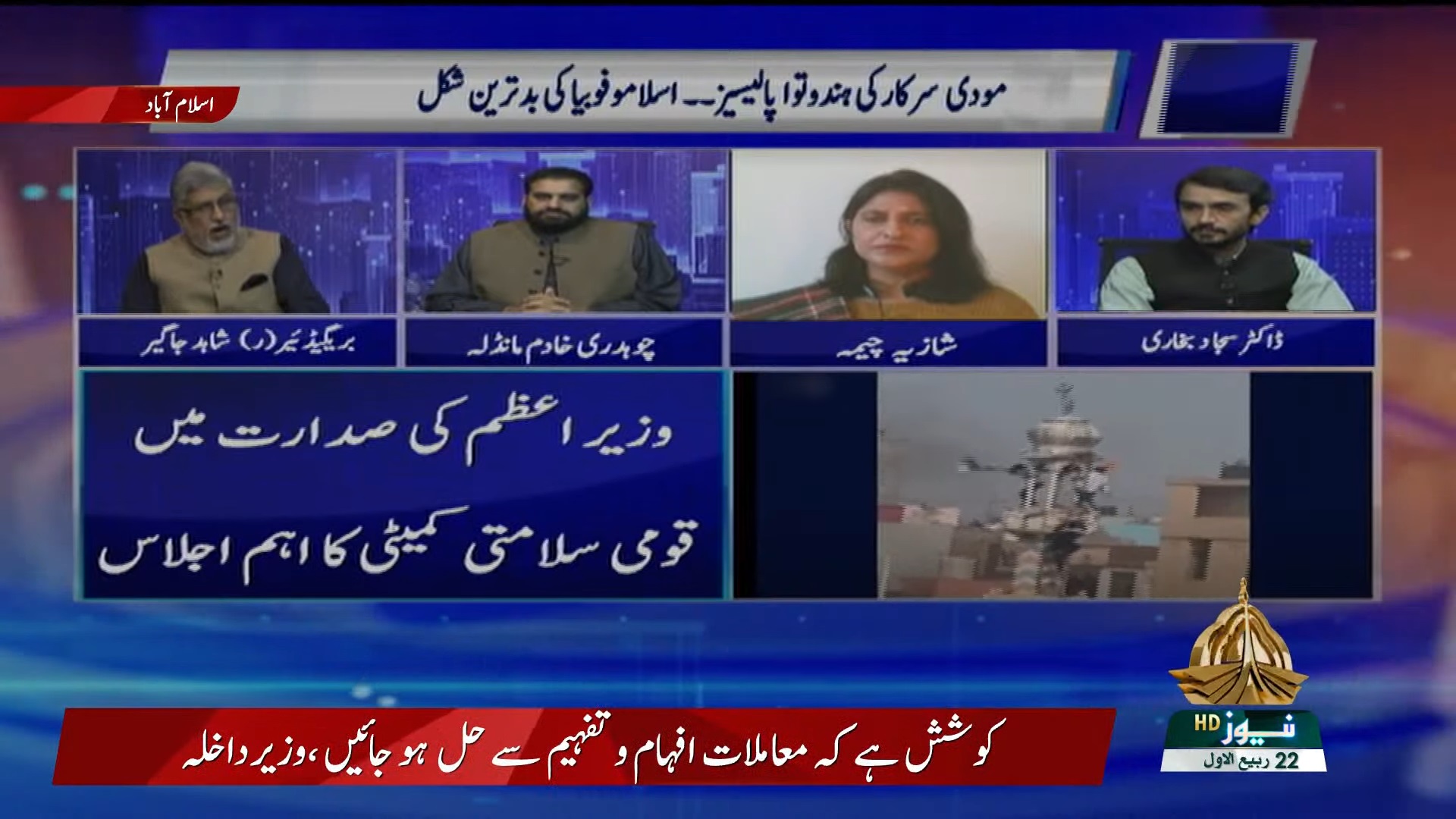 Brig (retd) Shahid was of the view that Australia, the United Kingdom, and the United States on September 15, 2021, formed a multipurpose Military alliance with a drive of Collective security in the region of Indo-Pacific. The Nuclear Nonproliferation Treaty (NPT) does not allow non-nuclear-weapon states to produce highly enriched uranium for naval reactor fuel. Nevertheless, the agreement to transfer the US or UK nuclear submarine technology including highly enriched uranium has been described by experts as an act of nuclear proliferation, therefore a serious strategic concern for the region.
While talking about Indian brutalities, Ch Khadam Mandla stated that India had been involved in human rights violations everywhere from Indian occupied Kashmir to Tripura. He was of the view that the world must give a response to save minorities inside India.
Brig Shahid was of the view that India is becoming a threat to regional peace because it is imploding within and any grave violence will affect regional countries like Bangladesh, Nepal, Pakistan, and the rest of the region.  He stated that India had been running terrorism camps within Afghanistan and terrorism was injected from Afghanistan to Pakistan during the US-sponsored government in Kabul.
Shazia Anwer Cheema while commenting on the US-Pak relationship was of the view that Pakistan must engage with the United States because we have a long history of working together in the region but Pakistan must not be used by the US now while Pakistan should take advantage of this relation. She believed that balance relations with the United States are in favour of Pakistan and we need to work with the United States.
She stated that Pakistan should find opportunities from US Pak relations because any vacuum created by Pakistan in its relation with the United States could be filled by India that is trying to sell its strategic location to US allies but India has failed if we talk about Afghanistan issue because it had no capacity and understanding with the dynamics of Afghan issues. She was of the view that Pakistan Army is battled hardened and Pakistan forces are in the war-like situation for long and that is the reason India is afraid of our armies and would try to harm us indirectly as India knows that it cannot fight with Pakistan in the battleground. "this was the reason India launched a hybrid war on Pakistan but Pakistan with the support of nation won this war.