By Tusbeeha Kamran Cheema
 "You become what you eat," was written on a poster that once hung in our classroom, and we used to laugh about this statement. Evelyn is a fish–Nanna is a meatball– Emma is a bun. Ha, ha, ha.
We did not take that poster seriously, we thought that eating is only to fill the empty stomach.
And then suddenly came the last day of our school, and that day we were emptying our classroom and under a box, we found the old poster "You become what you eat".
And while I was walking there in class and thinking back to my school days, it struck me that the poster might be right.
Maybe we actually become what we eat. Maybe our packed lunch has an impact on our lives? And perhaps It actually forms our identity and makes us who we are.
Some researchers believe that one's identity is innate, but most psychologists agree that identity is formed while growing up. The identity is, they say the result of all the experiences one gets in one's childhood. I'm in 9th class now and when I think back on all the good and bad experiences, I've had in the meal breaks during my school days, so it actually looks like that my packed lunch has had a far greater impact on my personality than I have been aware of.  My meal breaks at school helped to make me who I am today.
I can remember, for example, that time in first grade, when I howled every morning because I wanted to eat chocolate for breakfast. I did not know how unhealthy it was. And I refused to take homemade Pakistani food with me because I was afraid of other might will laugh at me. That experience has also definitely shaped my personality, I think. I chose to adapt. To go more into what others, think and prefer their judgments on my own needs. I became someone who tried hard to fit in.
It was completely different with Evelyn. She was the type who despite the teasing, stubbornly continued with her beef snacks. Evelyn learned to be ok with others' opinions about her life.
Sofi who left the class in the eighth grade never had real food in school. Sometimes she had money that she spent on chocolate milk in the school canteen. Other times a biscuit or a bag of chips. In the early grades, we were jealous of her, for who would not like a bag of chips for lunch?
Later we realized that teachers were not very happy with her lunch. They thought she was neglected at home, and I think eating a bag of chips during meal breaks was forming the Sofi's identity as a neglected child. Eyelen was called a hard banana and she was also a bit of a mess and she continued eating her beef meals, despite all criticism she faced to. Funny enough she was actually the type who never ate bananas and refused to touch carrots.
In England, school children are used eating school meals in a canteen. Food is not always equally healthy. As we can see in various TV shows where cooks are trying to revolutionize school canteens. But the fact that there is school food available, means that the children are served the same. They do not have to choose, they don't get teased (at least not because of the food), they become what one can call unidirectional. I know that Danish people are known for being independent and creative, and I wonder if it (also) has to do something with our packed lunch culture? Like Italian food culture where the extended family gathers around the long table and talks freely for a few hours every night on each other's mouths, and with food in their mouths. It probably influences the Italians' talking culture and who they are.
There is a saying "crow seeks mate", and this is also applicable to the meal breaks. Take a walk around a school yourself and look closely. If it is a school where students are allowed to sit where they want, then they will sit in packed lunch communities. They form their food identities! Fresh lettuce and those eating greens will sit together and say "We are the healthy ones and responsible ones ". In front of a microwave oven, we find those who have homemade pizzas and leftovers from last evening. Up in front of the electric cattle will be standing the noodle group laughing together. Some will be hanging on top of each other in the queue at the school cafeteria. And the rest, they will sit down with their flatmates.
How much packed lunch and identity are connected? is a big question.
I cannot avoid thinking about it. Because the lunch breaks and eating habits at school is a big part of forming our personalities. It's about falling in; it is creating oneself. It is about showing yourself…your identity. And the packed lunch is used for the purpose.
"Look at me, I'm a crazy girl"
"Hello there, shall we go to the fruit stall, I also have money with me?"
Whether it is, it is very creative and creates us and forms us as individuals.
Right now, I am a salami sandwich. I am the only salami sandwich in class, and I sit at the window table and secretly eat my lunch. I am still not sure if it is safe to eat it openly in front of others but I really would like to be the brave type, and have my own opinions and stick to them. Eat freely in front of everyone and show the world my personality and identity, may be in college, may be it is still early to take a bold step like this in school.
Tomorrow I will take biryani for lunch, my favorite food. I am not sure and I am not going to say anything about the experiment, but I'm excited to hear how the fishes, the salads, and buns will react to it.
What do you think?—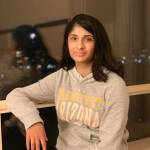 Note: Tusbeeha Kamran Cheema is a regular Contributor of DND News Agency. She is a school student and lives in Copenhagen.