By Agha Iqrar Haroon

If I say that genocide continues under the immoral silence in Indian Occupied Kashmir, many Indian writers and journalists would criticise me because we are still discussing and negotiating that what does genocide actually means?
Over eight million Kashmiris are caged in Indian Occupied Jammu and Kashmir (IOJ&K) since August 5, 2019, having no opportunity of communicating outside the valley. But politicians are discussing whether the communication blockade is partial and complete?
UN Security Council was too powerless that it could not hear Kashmir Case with open doors and in-camera sessions were held when China and Kashmir approached UNSC. WE know closed-door sessions never bring any results or even no news can out of such situation about what was discussed inside closed doors actually?
Being a student of Philosophy, I still understand the theory of the Hypothetical Imperative of Immanuel Kant that tells us how to act in order to achieve a specific goal and the directive of reason.
The International Human Rights Watch Organizations have reported that pellet-gun, rapes, abductions, and arrests are being used as a tool for subjugation in IOJ&K and Kashmiris are facing genocide like situation. But who cares?
Pellet guns used against Kashmiris by Indian forces have snatched their eyes but failed to snatch their desires for freedom. Widows and Half-Widows (married women who do not know whether their husbands are alive or dead because they were abducted by Indian forces years ago) have refused to bow down in front of state terrorism and mothers of martyrs are offering their other sons to sacrifice their lives for their motherland under subjugation. But who cares?
Thousands of young and old Kashmiris have so far been killed, women and even young boys have been abused and raped, and children have been deprived of their right to live a normal life. But who cares?
Indian Occupied Kashmir is a story of the constant failure of International peacekeepers including the United Nations that took responsibility for providing the right of self-determination to Kashmiris through its several resolutions.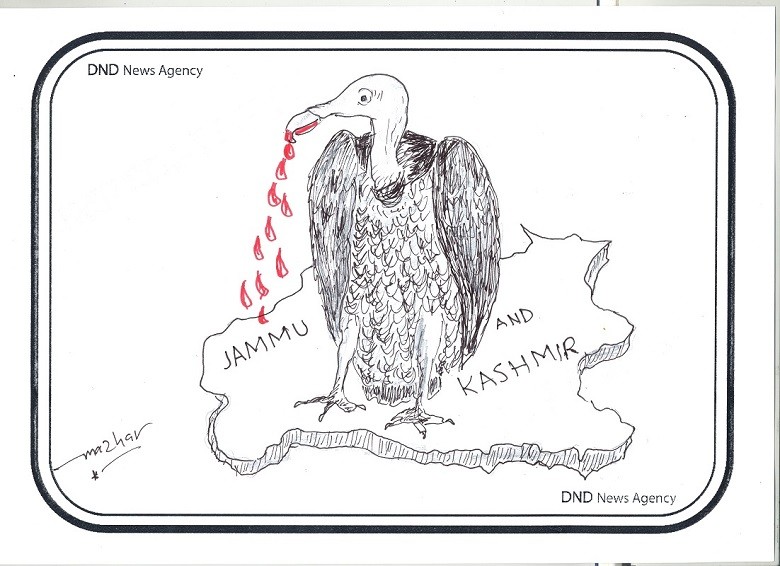 Is it only Kashmir where we can see the failure of International peacekeepers or is it Palestine too?
There are several conflicts but International organizations are silent and allowing aggressors to continue the genocide of oppressed and subjugated people, and let the powerful oppressors expand their dominance.
International disputes are constantly being denied the attention of the United Nations and other peacekeeping organizations because some authoritative countries having the writ of "Veto Power" are behind these conflicts directly or indirectly.
Meanwhile, artificial disputes were injected to create permanent conflicts.
The most unfortunate point with regard to these conflicts is that oppressed nations are not standing together to fight for their rights because their foreign relations stop them to help each other openly.
Human miseries are being denied attention because miseries have been enforced by the powerful or are guarded by any of five permanent members of the United Nations Security Council. What to do to find a place for peace for those who are being purged in silence – An immoral silence that is deeper than the depth of an ocean.
Being a student of Philosophy, I still understand the theory of the Hypothetical Imperative of Immanuel Kant that tells us how to act in order to achieve a specific goal and the directive of reason.
When we assign any particular goal to ourselves, then the goal itself provides a framework to understand how we can achieve this goal. Kant summarizes it as, "Whoever wills the end also wills.
Human being has unique perspectives, desires, personal circumstances, and intended methods to reach their ends. However, Kant also claims that there is at least one end that is universally sought after, and he determines that to be happy.
Kant says that actions are capable of producing good, but they are primarily motivated by a desire to meet specific purposes. I am pragmatic that Kashmiris would later or sooner will achieve their goal that is Freedom—- nothing less and nothing more.