LAHORE, Pakistan: In line with the vision of Prime Minister Imran Khan, Punjab Rozgar Scheme 2020, an employment scheme having the widest range, was initiated in the Province on Thursday by the Chief Minister Sardar Usman Buzdar offering as much as Rs 30 billion to the unemployed youth.
The largest-ever employment scheme in the history of Punjab will help the educated and skilled youth to start the new and old functional business.
Through the Punjab Rozgar Scheme, more than Rs 30 billion will be given on easy installment and more than 1.6 million jobs will be created.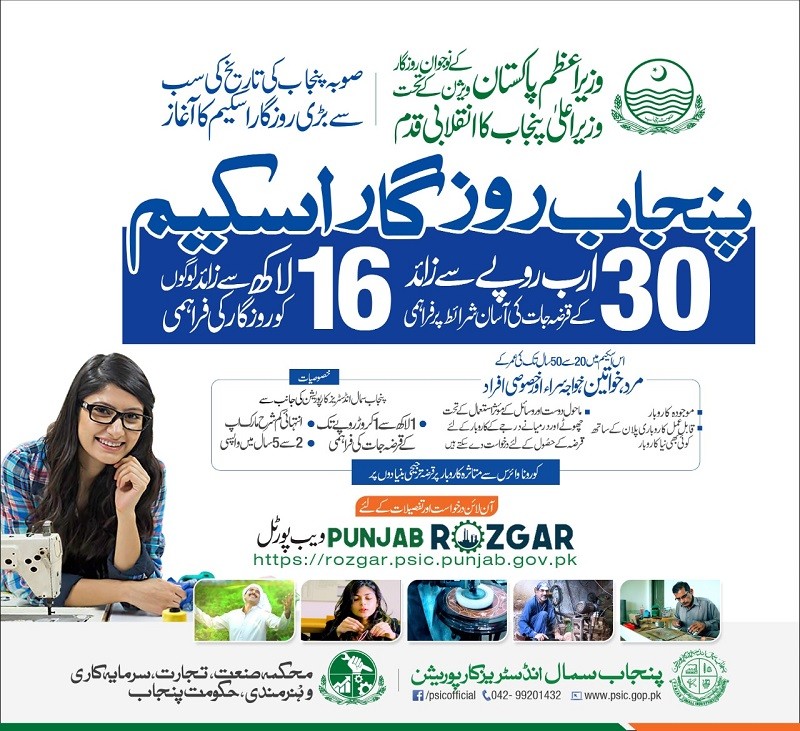 In his address at the Launching Ceremony in Lahore, Usman Buzdar said that soft loan Rs 100,000 to Rs 10,000,000 will be provided to skilled youth.
The Chief Minister said that that men, women, and transgenders aged between 20 to 50 years can apply for the loan.
Usman Buzdar said that the wellbeing of youth is a top priority of the government and loans will be proved at low markup especially to female applicants.
The Punjab Chief Minister said that applicants can apply online and get a loan from the Punjab Small Industries Corporation and Bank of Punjab.
Who Can Apply For Punjab Rozgar Scheme 2020;
Male, female, transgender, and differently-abled person having age 20 to 50 years
Resident of Punjab
Having verified CNIC
Loan Can Be Applied for the Following;
Existing Businesses
Start-ups with Viable Business Plans
Entrepreneur Working for Resource Efficient & Environment-Friendly Interventions
Features of Punjab Rozgar Scheme 2020;
Implemented by Punjab Small Industries Corporation
Lending Rs 100,000 – Rs 10,000,000
Tenure of Loan 2-5 years
Lowest Mark-up Rate
How to Apply for Punjab Rozgar Scheme 2020;
صوبہ پنجاب کی تاریخ کی سب سے بڑی روزگار اسکیم کا آغاز :
▪︎30 ارب روپے سے زائد کے قرضہ جات کی آسان شرائط پر فراہمی
▪︎16 لاکھ سے زائد لوگوں کو روزگار کی فراہمی#پنجاب_روزگار_سکیم pic.twitter.com/8JieCMPYP8

— Government of Punjab (@GOPunjabPK) October 1, 2020