Himalayan Chef in the year 2022 is ready to launch in Pakistan, to provide 100% pure food. The company is investing millions of dollars in the backend for the people to assist them to live a healthier and more pure life. The brand's main goal is to educate people about nutrition and food quality, as well as how these factors affect their lifestyle.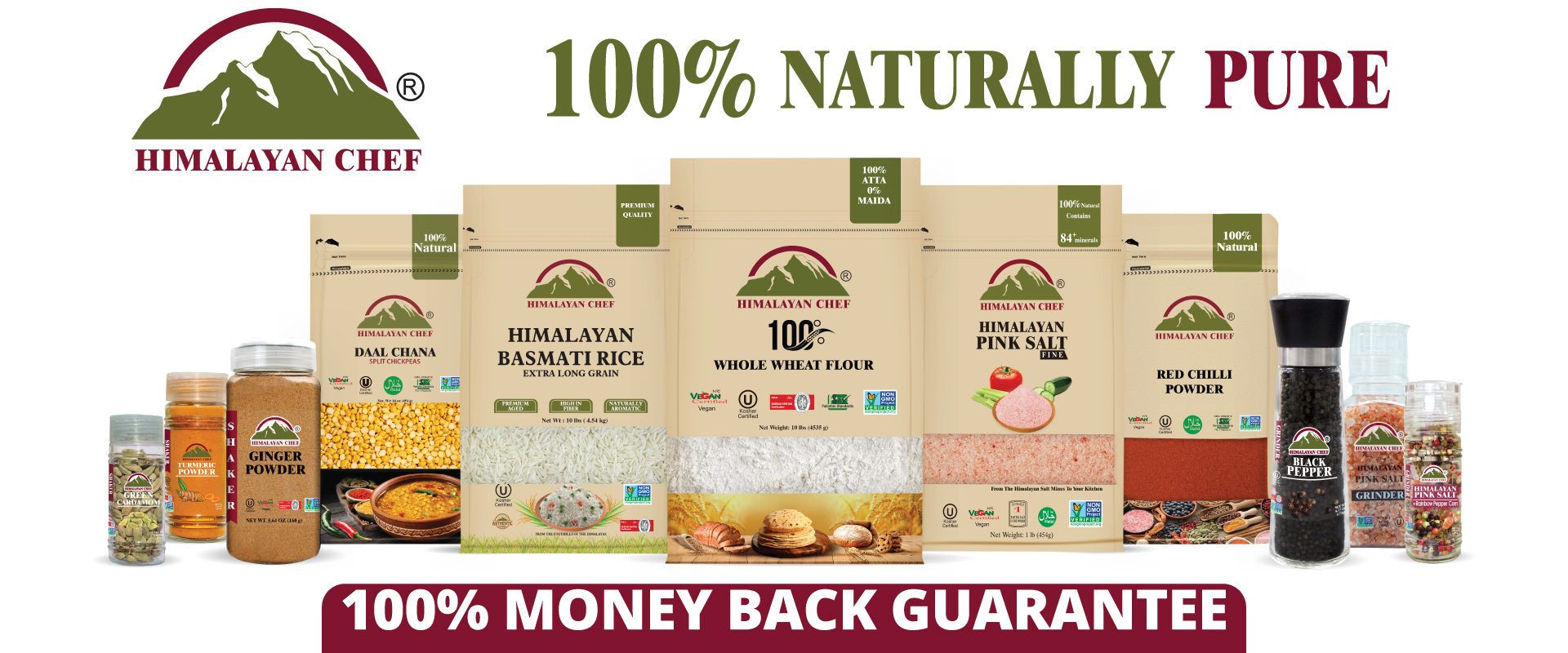 "What you eat makes you who you are. The unnatural foods are easy to prepare and inexpensive. But, these foods are not good for your health, and you have to pay the price in the future. So, pay attention to the food products you choose to eat right now", Says the Nutrition Expert at Himalayan Chef Grocery shopping in Pakistan.
BRAND HISTORY
For almost 25+ years, Himalayan Chef is delivering pure and healthy food around the globe in almost 100+ countries, which includes Germany, Netherlands, Canada, Brazil, South Korea, Dubai, Japan, Bulgaria, Turkey, Philippine, Thailand and Australia. Now, the brand has decided to settle its roots in Pakistan. Their food is ranked first in the globe. Himalayan Chef pink salt is world-famous for its wonderful taste and nutritional properties. It contains 84+ essential nutrients and is rated the best salt in the world. Apart from that, the brand is exporting food products to major countries. They also collaborate with several of the world's leading food salt suppliers, such as Cargill and Morton Salt.
HEALTHY AND PURE FOOD WITH HIMALAYAN CHEF
Processed food has now become a significant component of every family. Chemicals, insecticides, preservatives, colorants, and a few other substances became widely available. Himalayan Chef Aims to reduce the overconsumption of processed foods and unhealthy foods. The brand is available in every home throughout the world. They are easy to transport, convenient, and ready to use, and they have a long shelf life and are less expensive. Most people are unaware of the negative effects of unhealthy and processed foods, but Himalayan Chef leads the market in reducing the negative effects of these bad eating habits with its extensive line of pure, organic, and nutritious food products.
"We have been distanced from pure food. Health problems are increasing day by day due to busy lifestyles and lack of knowledge. We eat so much of the wrong foods and considerably too little of the right ones." says, CEO Himalayan Chef. He further adds "If we focus on the issues and choose healthy alternatives by making the right choices we can achieve a lot."
Our body systems are evolved to absorb nutrients from plant-based substances. But we are consuming food that contains chemicals and preservatives.
It is essential to research and understand the nutritional content of a food product before consuming it. Nutrition Experts and Food Technologists have worked hard to create goods that meet international standards and provide you with information about the nutrients and components in your food.
QUALITY PROMISE
All the products undergo a series of quality checks before packaging. We ensure that they are free of any dangerous substances that could impair a person's health. The Himalayan chef's Grocery store in Pakistan food meets worldwide standards and has BUREA VERITAS Certification, Pakistan Standards, IS0 9001, ISO 14001, BRCGS, PUNJAB FOOD AUTHORITY, NON-GMO Verified, Natural, Vegan, Kosher, Halal, Gluten Free, FDA Certified, Recyclable, Green, USDA Organic, ISO 17025, ISO 9001:2015, PFA, cGMP, GSO 2055-1/2015, Sedex, BRC and BRCGS. Himalayan Chef guarantees that if you are dissatisfied with their products or encounter any problems. They will refund your money in full and keep it pure.
Himalayan Chef brings you organic and natural food directly from their farms. They are packaged in environmentally friendly bags.
The craft packaging with a zipper seal and stand-up quality bag, make sure your food is free from contamination. It ensures that the food is free from other harmful substances.  It has an easy shelf placement; the window helps you to know how much product is remaining. All the products are manufactured with the most innovative technology of the time.
The brand also collaborates with the WBM Foundation to promote environmental sustainability. The craft packaging available is eco-friendly and recyclable, which helps to conserve energy. Aims to protect the environment and doesn't cause any harm to it by reducing plastic and other waste.
BRIEF INFO ABOUT THE CATEGORIES
Basmati Rice: Himalayan Chef Basmati rice is long grain rice with a delicate flavor and flowery aroma. Available in 4 different varieties which include:
1: Regular Basmati Rice
2: Steamed Basmati Rice
3: Parboiled Basmati Rice
4: Super Kernel Basmati Rice 
Spices & Seasonings: Wide range of Spices and seasonings are offered by Himalayan Chef. They are available in craft bags, shakers, and grinders. You can easily find them in the market and grocery stores.
Pink Salt: Pink Salt with 84+ vital minerals, which heals the body and the mind. It adds a delicious taste to every dish. Comes in two different forms Fine and Coarse. 
Flour: Diverse range of Flour, including Whole Wheat, Multigrain, Gram flour, Barley flour, Corn Flour, Maida, Millet Flour, and Rice flour. Carefully made through the milling, without compromising on quality. We ensure that no dangerous compounds come into contact with it.
Pulses: Himalayan Chef Pulses contain many health benefits as they are rich in nutrients; they are low in fat and high in proteins and fiber. Available in craft packaging.
Dry Fruits: Dry fruits are enriched with nutrients and vitamins. They are packed under strict quality control guidelines following all the safety food standards.
Pink Salt Cooking Plates: Cooking plates are made entirely of natural and pure pink salt, assuring that your body receives all the essential elements.
WHERE YOU CAN FIND HIMALAYAN CHEF
You can easily buy the products from the online website www.himalayanchef.pk or can find them all the Supermarkets or online grocery stores. Himalayan Chef is a top seller brand in Amazon and is available on Costco, Safeway, Trader's Joy, Kroger, etc. 
You can have all of your purchases delivered to your door and pay using secure and dependable options such as Jazz cash or Easy Paisa.