Hamza Ali Abbasi and Naimal Khawar Khan got married in a rather surprising way. The couple surprised their fans with a sudden announcement followed by the marriage ceremony itself on 25th August 2019. Many of the fans of both were disappointed to see the eligible bachelors tying the know. However, soon after, the love for the couple surpassed everything and people actually started keeping a tab on what they were both up to together. When they hit us with the surprising good news of a baby, the internet went on a frenzy with much-deserved congratulations.
Hamza Ali Abbasi & Naimal Khawar's Son
On 3rd August 2020, a picture shared by Hamza Ali Abbasi took the internet by storm. The Pyary Afzal actor shared the picture of a cute baby boy (obviously his son) with his name, Muhammad Mustafa Abbasi. Nobody had a clue about this little bundle of joy coming, and this was indeed the best news in one of the most unfavorable times. Here is the picture he shared:
Now on their first anniversary, not even a month after the baby was born, the couple has shared their first family picture and it is every sort of adorable.
The Abbasi Family Picture
Hamza Ali Abbasi and Naimal Khawar celebrated their first anniversary on 25th August 2020. The couple, today, shared their intimate family celebrations with the newborn on their Instagram accounts. How beautiful it is to celebrate such a big event in a small manner with the adorable child.
Here is what Hamza posted on his Instagram account today:
Naimal also shared a similar picture with the caption:
"Couldn't be more grateful to Allah🙏🏻 Anniversary ♥️"
Here is the picture:
Baby Mustafa Steals The Show
In both their posts on the Instagram account, a rather unfazed and completely clueless Muhammad Mustafa Abbasi steals the show. He looks not only cute but the perfect copy of his father and mother. The picture is every level of heartwarming beautiful it can get.
Naimal also shared a picture on her Instagram story with the text:
"Mustafa stealing the show."
He indeed steals the show. Look how cute his expressions are here: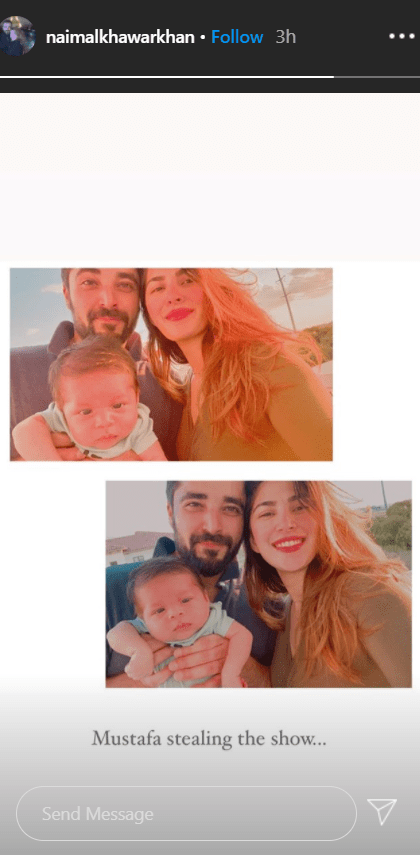 Nonetheless, we wish this adorable couple and the beautiful family lots and lots of congratulations on their first anniversary. We also hope to see more of the little baby Mustafa on their Instagram accounts. Can't get any precious than this.