ISLAMABAD, Pakistan: The Leader of Hezb-e-Islami of Afghanistan Gulbuddin Hekmatyar visited the Ministry of Foreign Affairs in Islamabad on Monday, and met the Foreign Minister Shah Mahmood Qureshi.
During the meeting, the two dignitaries discussed Pakistan-Afghanistan bilateral relations and the Afghan peace process.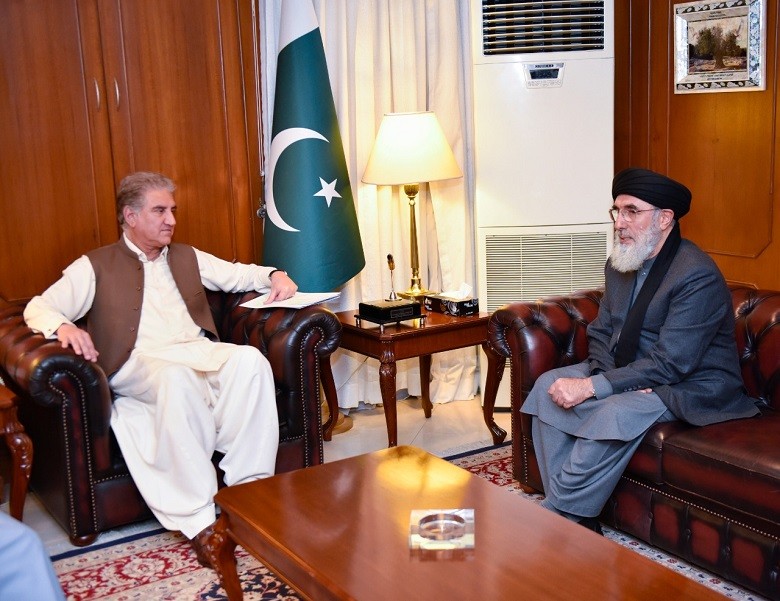 Talking to the visiting dignitary, the foreign minister said that Pakistan has been playing its reconciliatory role in Afghan peace process with sincerity.
The foreign minister said that Prime Minister Imran Khan categorically said that the only way for durable peace in Afghanistan is Afghan-owned political dialogue. He said that we are happy that Pakistan's perspective is being appreciated at global level today.
Shah Mahmood Qureshi said that peace and stability in the region is linked to long-lasting peace in Afghanistan.
Qureshi said that the Afghan leadership has a unique opportunity in the form of intra-Afghan talks to restore peace in Afghanistan.
The minister reiterates that Pakistan will continue its efforts for peace in the region including Afghanistan.
The Hezb-e-Islami leader said that we consider Pakistan as our second home.
Earlier in the day, Gulbuddin Hekmatyar along with a delegation reached Islamabad on a three-day visit to Pakistan.
During the visit, Gulbuddin Hekmatyar will also meet President Dr. Arif Alvi, Prime Minister Imran Khan, the Chairman Senate Sadiq Sanjrani, the Speaker National Assembly Asad Qaiser, and other dignitaries.
The Hezb-e-Islami leader will also deliver a talk at a policy think-tank and interact with the media.
The visit by the Hezb-e-Islami leader to Pakistan will further strengthen bilateral ties and people-to-people linkages between the two brotherly Countries and help advance efforts for peace and stability.
His visit will also provide an opportunity for an exchange of views on the ongoing Afghan peace process.