Islamabad, Pakistan: Social media platforms producing political content can be dangerous enough to ruin the career of someone and even European politicians are worried about this political cyber gaming and strongly believe that there is a dire need to regulate online political content on social media platforms (Facebook—Twitter—Instagram.
On November 8, the European Parliament Committee on Internal Market and Consumer Protection conducted a Public Hearing where the whistleblower Frances Haugen was invited to give testimony on the negative impact of social media products on users.
The situation is extremely dangerous in developing countries like Pakistan and India where such social media platforms caused murders and suicides. They have become the battlegrounds of hatemongering, spreading disinformation, and producing Fake News. Even writers known once as responsible are trapped or wish to be trapped in this web of misinformation and fake news.
Gul Bukhari is a known name in the media world of Pakistan having over 418,000 followers on Twitter. She usually produces interesting content through her Twitter messages and her messages are sometimes used as tips for journalists.
On November 4, she tweeted that Nasir Janjua revealed some sensitive facts while talking to someone at the residence of politician Awais Leghari at the time of the Dera Ghazi Khan jalsa. She did not clarify who this Nasir Janjua is?  The majority of journalists and writers thought she was referring to Lt Gen (retd) Nasir Janjua who had been National Security Advisor of Pakistan during the tenure of the PML (N) government. Therefore, a large number of journalists including this scribe contacted Lt Gen (retd) Nasir Janjua for his clarification/opinion.
In his conversation with me he said:
Thank you very much for sharing this ill-founded gossip with me which is circulating since yesterday.
I feel very "Bad and Sad "about it as it is wrongly being associated with me.  This is absolutely rubbish and nonsense and I have nothing to do with it.
As I know, there is one of my namesake who always does something and people relate it to me. Every now and then my name is misused in some fake news and tweeter by someone. I am not very sure even that Ma'am Bukhari is referring to whom ??? as my rank does not appear in her tweet.
All my life I have never had a tweeter account. I have never been to DGK ever.
I am spending my retired life in complete anonymity and have gotten nothing to do with politics. Yes, I do go to some institutions for lectures to pass on to the next generation, little that I know.
Meanwhile, Awais Leghari also tweeted that stated that: "This is wrongfully reported. Nasir Janjua was neither present at my place, nor has he ever visited our place in DG Khan".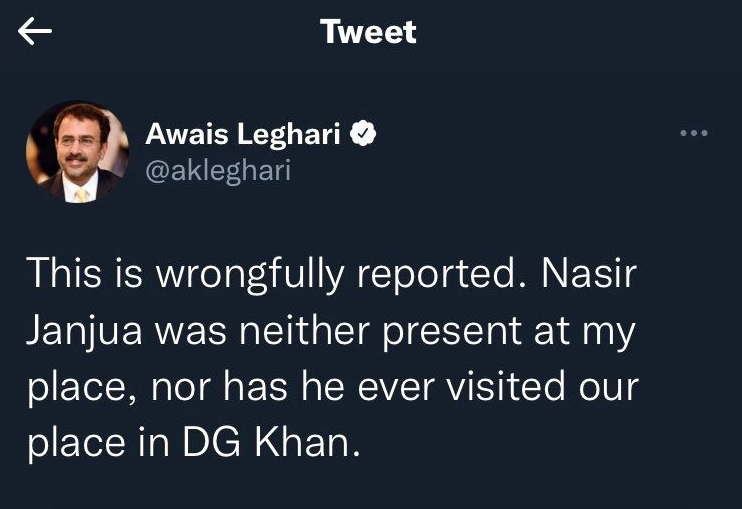 Several journalists in Islamabad know that there is one person in Islamabad who is a friend of former Prime Minister Nawaz Sharif and his name is also Nasir Janjua and he is a political and socialize personality.
Lt Gen (retd) Nasir Janjua while talking to this scribe questioned that why do journalist not ask someone before citing his or her name and where are basic norms of spreading information (reporting/writing articles/using the information at social media platforms) because the ethical journalism requires to get the version of person before citing or narrating anything while using his/her name?
We understand that individuals, politicians, and political parties feel threatened with a new kind of "Perception Building" against individuals, political systems, and democracies and the most vulnerable are people living in South Asia. We understand a "deceit game with deceptive tools" is being played against many countries, against several political parties, and against a number of individuals through Social Media Campaigning in South Asia. Therefore, senior journalists and writers must be careful because their error of judgment can land them to the group who has certain motives while writing comments/articles/news etc.
In this news, the Twitter message of Gul Bukhari is not included because this message falls under spreading misinformation about sensitive institutions of Pakistan while the responding message of Awais Leghari is included.