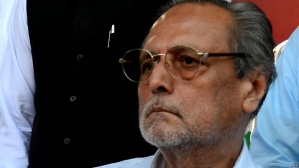 ISLAMABAD, Pakistan: The federal government has decided to initiate criminal proceedings against Justice (retd) Wajihuddin Ahmed for hurling baseless allegations against Prime Minister Imran Khan, the Minister for Information and Broadcasting Chaudhary Fawad Hussain told.
While addressing a News Conference in Islamabad on Thursday, the information minister said that notices have been issued to those TV Channels which aired these fake news.
Chaudhry Fawad Hussain said that it is very unfortunate that the sanctity of the Prime Minister's Office has not been maintained and even some media outlets became part of the smear campaign.
یہ مت سمجھیں کہ عمران خان دیانتدار آدمی ہیں، جہانگیر ترین پہلے عمران خان صاحب کے گھریلو اخراجات کیلئے 30 لاکھ روپے ماہانہ دیا کرتے تھے، بعد میں خرچ کے لئے یہ رقم بڑھا کر 50 لاکھ روپے کر دی گئی۔ تحریک انصاف کے سابق رکن اور سپریم کورٹ کے سابق جج جسٹس وجیہہ الدین احمد کا انکشاف pic.twitter.com/rWT2E7jU6C

— Ameer Abbas (@ameerabbas84) December 13, 2021
In a recent BOL News programme 'Tabdeeli', Justice (retd) Wajihuddin Ahmed alleged that the now-estranged Pakistan Tehreek-e-Insaf (PTI) leader Jahangir Khan Tareen used to provide funds of up to Rs 5 million per month for now-Prime Minister Imran Khan's household expenses.
However, Jahangir Tareen denied allegations leveled by Wajihuddin Ahmed.
Regardless of the current status of my relationship with Imran khan, the truth must be told. I did whatever was in my capacity to help PTI in the quest to build a new Pakistan but I never gave a penny for the household expenses of Bani Gala. Just want to set the record straight.

— Jahangir Khan Tareen (@JahangirKTareen) December 15, 2021
The information minister said that no one should be allowed to defame any person or institution through baseless allegations. He said that if strict action is not taken these fake news will weaken the entire system of the state.
The minister said that the government appeals to the judiciary to ensure the dignity of institutions as unfortunately the defamation cases in Courts are not taken and pursued seriously.
Chaudhry Fawad Hussain also said that Special Division Benches be established in District And Provincial Courts to pursue cases related to defamation so that dignity and liberty of person provided under the Constitution of Pakistan be ensured in letter and spirit.
The minister said that the media laws proposed by the government are those which are internationally implemented and laws have become necessary to curtail the unabated maligning on media.