In Dubai, the gold prices fell as the trading resumed in the market on Thursday morning.
The 24-Karat gold was trading at Dh246.0 per gram as compared to the last night's close of Dh246.75 per gram.
The 22-Karat, 21-Karat and 18-Karat were trading at Dh227.75, Dh220.5 and Dh189.0 per gram respectively.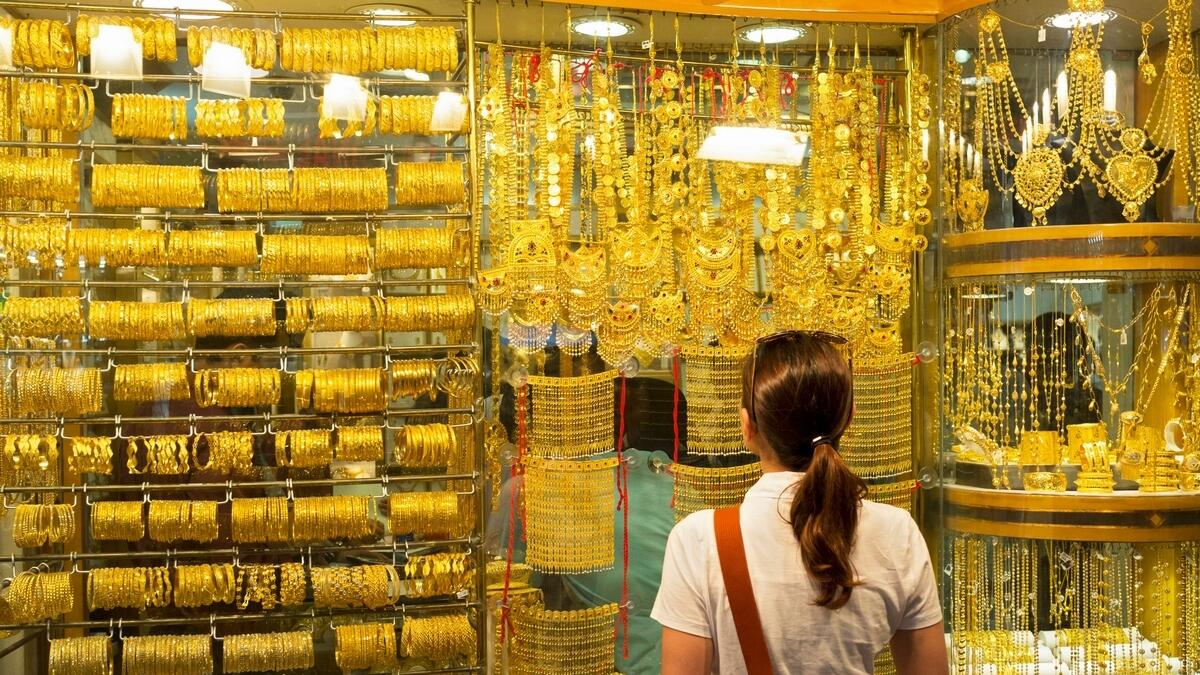 UAE Gold Rate (AED) as of May 11, 2023
| | | |
| --- | --- | --- |
| Type | Morning | Yesterday |
| Ounce | 7,453.77 | 7,442.76 |
| 24K | 246.00 | 245.50 |
| 22K | 227.75 | 227.25 |
| 21K | 220.50 | 220.00 |
| 18K | 189.00 | 188.75 |
Source: Dubai Gold & Jewellery Group
UAE Gold Rate (AED) in Past 10 Days
| | | | | | |
| --- | --- | --- | --- | --- | --- |
| Date | Ounce | 24K | 22K | 21K | 18K |
| May 11 | 7,453.77 | 246.00 | 227.75 | 220.50 | 189.00 |
| May 10 | 7,483.13 | 246.75 | 228.50 | 221.25 | 189.75 |
| May 09 | 7,442.76 | 245.50 | 227.25 | 220.00 | 188.75 |
| May 08 | 7,428.08 | 245.00 | 227.00 | 219.75 | 188.25 |
| May 07 | 7,409.73 | 244.50 | 226.25 | 219.00 | 187.75 |
| May 06 | 7,409.73 | 244.50 | 226.25 | 219.00 | 187.75 |
| May 05 | 7,358.35 | 242.75 | 224.75 | 217.50 | 186.50 |
| May 04 | 7,501.48 | 247.50 | 229.25 | 221.75 | 190.00 |
| May 03 | 7,398.72 | 244.00 | 226.00 | 218.75 | 187.50 |
| May 02 | 7,376.70 | 243.25 | 225.25 | 218.00 | 187.00 |
Currency Rates in UAE Dirhams (Rates in 1 Dirham) as of May 11, 2023
| | | |
| --- | --- | --- |
| Currency | Symbol | Rate |
| US Dollar | USD | Dh3.66 |
| Euro | EUR | Dh4.01 |
| British Pound Sterling | GBP | Dh4.61 |
| Japanese Yen | JPY | Dh0.027 |
| Canadian Dollar | CAD | Dh2.71 |
| Australian Dollar | AUD | Dh2.46 |
| Saudi Riyal | SAR | Dh0.97 |
| Qatari Riyal | QAR | Dh1.01 |
| Kuwaiti Dinar | KWD | Dh11.98 |
| Pakistani Rupee | PKR | Dh0.012 |
| Indian Rupee | INR | Dh0.044 |
| Chinese Yuan | CNY | Dh0.52 |
| Bangladeshi Taka | BDT | Dh0.034 |