By Agha Iqrar Haroon
Baku, Azerbaijan: The liberated city of Fuzuli is around 300 KM away from the capital Baku and I traveled all the way to reach Fuzuli by road to see this historic city which is named after the great poet and philosopher Fuzuli.
The city was known as Qarabulaq until 1827 then it was renamed Karyagino in honor of Russian colonel Pavel Karyagin. It was an administrative unit of Dzhebrail Uyezd during the Russian Empire. The town was renamed Füzuli in honor of the poet Fuzuli in 1959. During the Soviet years, the city was the administrative center of the Füzuli raion of Azerbaijan SSR.
Mahammad bin Suleyman better known by his pen name Fuzuli (1494 – 1556), was an Azerbaijani, of the Bayat tribes of Oghuz, poet, writer, and thinker. Fuzuli wrote his collected poems (divan) in three different languages: in his native Azerbaijani, Arabic, and Persian.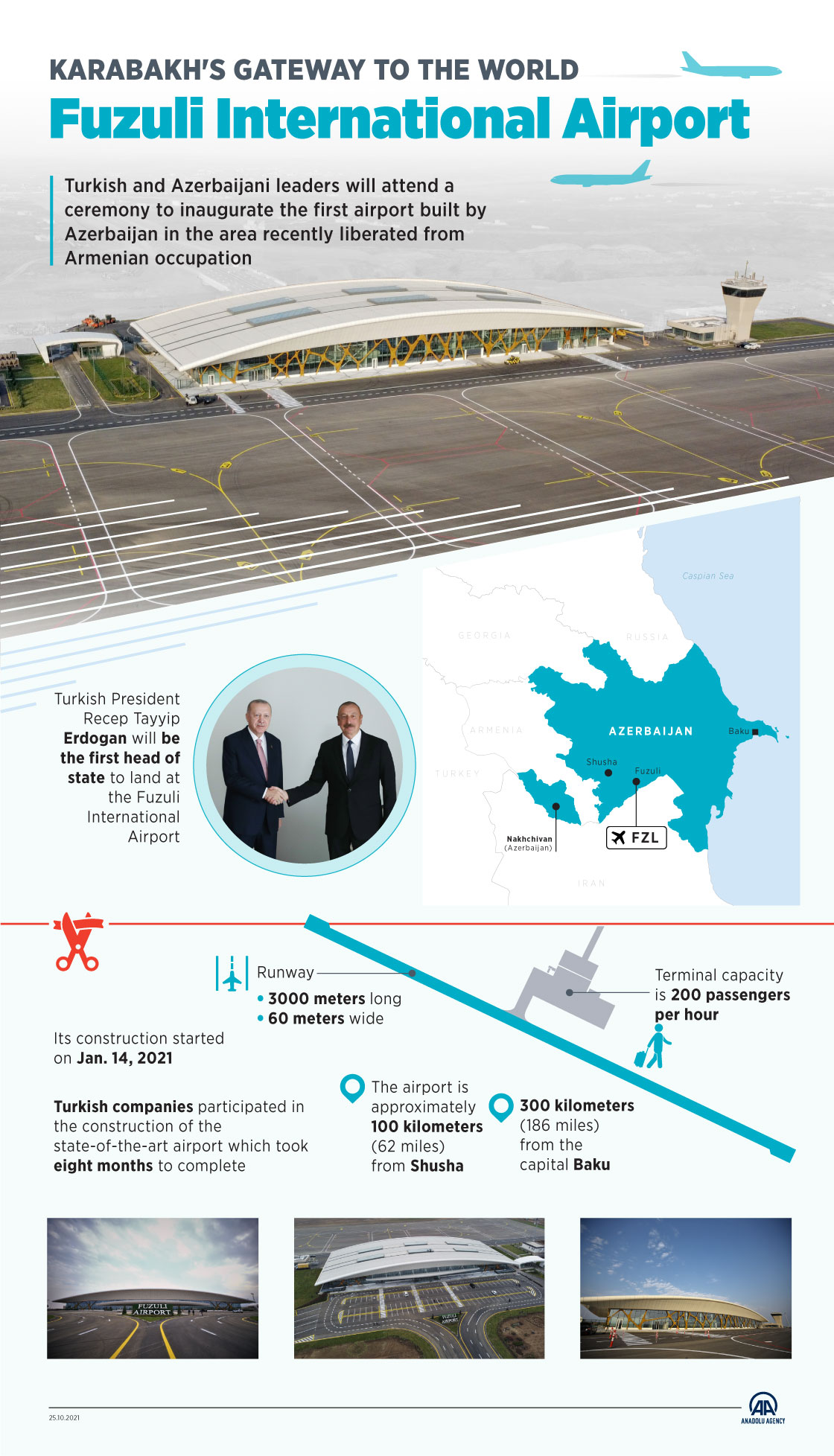 The liberation of Fuzuli from the illegal occupation of Armenia wrote a new history during the 44-days war and President Ilham Aliyev immediately started construction works all over liberated Karabakh including Fuzuli that has now an international Airport that was constructed in record minimum time for the construction of any international airport in the world.
The runway of the airport is 3,000 meters (9,843 feet) long and 60 meters (197 feet) wide. Its terminal can serve 200 passengers per hour and all wide-body aircraft, including large cargo aircraft, can use this airport. The construction was started on January 14, 2021, and was inaugurated on October 2021, 26 by the presidents of Azerbaijan (Ilham Aliyev) and of Turkey (Recep Tayyip Erdogan). According to available data, the construction cost of the airport was 75 million manats ($44 million).
The airport is 100 KM away from the historic city of Shusha and will be the gateway of tourism in the entire region.
The airport has already been assigned a three-letter code by the International Air Transport Association (IATA) consisting of letters of the Latin alphabet – FZL. It may be mentioned that the IATA airport codes are significant passenger and cargo transportation as such codes are used by airlines, ticket agencies, and international booking systems.
During a briefing, I came to know that the Fuzuli airport is constructed in accordance with the highest international standards, and the first test flight to Fuzuli was performed on September 5, 2021, when the largest passenger aircraft of AZAL, Airbus A340-500, landed at the airport. Its apron area is 60 thousand square meters; it is designed for the parking of eight aircrafts. The Air Traffic Control (ATC) tower is equipped with automated ATC systems that would help for the night landing of all kinds of aircrafts.
It may be mentioned that the construction of international airports in Lachin and Zangilan districts is also underway.