By Agha Iqrar Haroon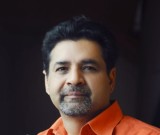 Millions of Kashmiris are denied of their right of self determination in Indian Occupied Kahsmir (IoK).
Pellet-gun shots used against them by Indian forces have snatched their eyes but failed to snub their desires for freedom. There is a saying that "You can snatch eyes of someone but cannot snatch dreams from someone".
Thousands of young and old Kashmiris are killed, women are abused and raped, and children are deprived of right of education as educational institutions are denying admissions to Muslim students in Indian occupied Kashmir.
Indian occupied Kashmir is a story of constant failure of International peacekeepers including United Nations that took responsibility for providing the right of self determination to Kashmiris through its resolutions.
Is it only Kashmir where we can see failure of International peacekeepers or is it Palestine too? Today, I believe that there are several areas of conflicts about which the International organisations are silent and allowing aggressors to continue the genocide of oppressed people and let the powerful to expand their dominance. It's unfortunate to say that story of criminal silence of United Nations does not end in Palestine because bloodline is also seen in conflict areas including Eastern Ukraine and of course also in Nagorno-Karabakh. In these four cases mentioned above —- artificial disputes were injected to create permanent conflicts. These constant disputes are constantly being denied the attention of United Nations and other peacekeeping organisations.
The Nagorno-Karabakh conflict is a territorial and ethnic conflict between Armenia and Azerbaijan over the region of Nagorno-Karabakh and seven surrounding districts, which are de facto controlled by the self-declared Republic of Artsakh but are Internationally recognized as de jure part of Azerbaijan. Karabakh crises has several similarities with Kashmir issue as well as with injected conflict in Eastern Ukraine.
Self-declared Republic of Artsakh of Nagorno-Karabakh has also several similarities with self-declared Donetsk and Lugansk regions of Eastern Ukraine. Self-declared Republic of Artsakh forcefully occupied areas in the middle of Azerbaijan while self-declared Donetsk and Lugansk regions occupied eastern areas of Ukraine by force. Both cases have direct and indirect links with alleged involvement of the Russian Federation for making these territories as "conflict areas" and "disputed lands".
The conflict of Karabakh has its origin in the early 20th century when Nagorno-Karabakh region was made an Autonomous Oblast in Soviet Azerbaijan by the decision of Joseph Stalin. The present conflict began in 1988 (before collapse of former USSR) when the Karabakh Armenians demanded to get control of Karabakh from Soviet Azerbaijan to Soviet Armenia, and year 1988 reported several events of tension between Azris and Armenians. According to published documents, two Azerbaijani trainee female students in Stepanakert hospital were allegedly raped by Armenians and the event was reported on February 20, 1988. On February 22, 1988, a direct confrontation between Azerbaijanis and Armenians, near the town of Askeran (located on the road between Stepanakert and Agdam) in Nagorno-Karabakh, degenerated into a skirmish. During the clashes two Azerbaijani youths were killed. On February 27, 1988, while speaking on Baku's central television, the Soviet Deputy Procurator Alexander Katusev reported that "two inhabitants of the Agdam district fell victim to murder" and gave their Muslim names.
In late 1991, Armenian made militias and launched offensives to capture Armenian-populated villages.
According to an available document (from the archive of Moscow-based Human Rights organization Memorial), Armenian armed forces killed several thousand residents of Azerbaijani villages in the former Shahumian, Hadrut, Martakert, Askeran, Martuni, and thousands of Azerbaijanis had to leave their homes which were burnt by the Armenian militants. There were instances of serious violence against the civilian population (in particular, in the village Meshali). It was evident that Armenia and Azerbaijan would lock in a conflict after getting independence and at last Armenia and Azerbaijan locked in a full fledged war in 1994. Later a ceasefire was signed that brought relevant peace for two decades but Armenia continued to show aggressive posture towards Azerbaijani living in Armenian occupied areas and kept eating out Azerbaijani territory.
April 2016 war between the two countries made situation further tensed and an OSCE Minsk Group was established at the time of ceasefire to decide the future of this conflict area.
I had an opportunity to understand Karabakh crises more deeply during my recent visit to the office of the Centre for Strategic Studies under the President of the Republic of Azerbaijan situated in Baku.
Having an opportunity of listening the World renewed researcher Dr Gulshan Pashayeva was a life time experience. Dr Gulshan is currently a deputy director at Centre and known for her grip over World conflicts including Karabakh Conflict. She previously worked for the United Nations Office in Azerbaijan as National Programme Coordinator for the UN Women (UNIFEM) project Women for Conflict Prevention and Peace-building in the Caucasus (2001–2006), and as Public Information Associate for the United Nations Department of Public Information (UNDPI). From 1996 to 2001, Dr Gulshan Pashayeva directed the NGO Conflict Research Center and taught at various state and private universities in Azerbaijan. She was awarded a Fulbright Postdoctoral Fellowship and conducted post-doctoral six-month research at the Fletcher School of Law and Diplomacy of Tufts University in 1998/99. Dr Gulshan Pashayeva is specialised in conflict resolution and security studies, as well as gender and language policy. She is the author of more than 90 publications.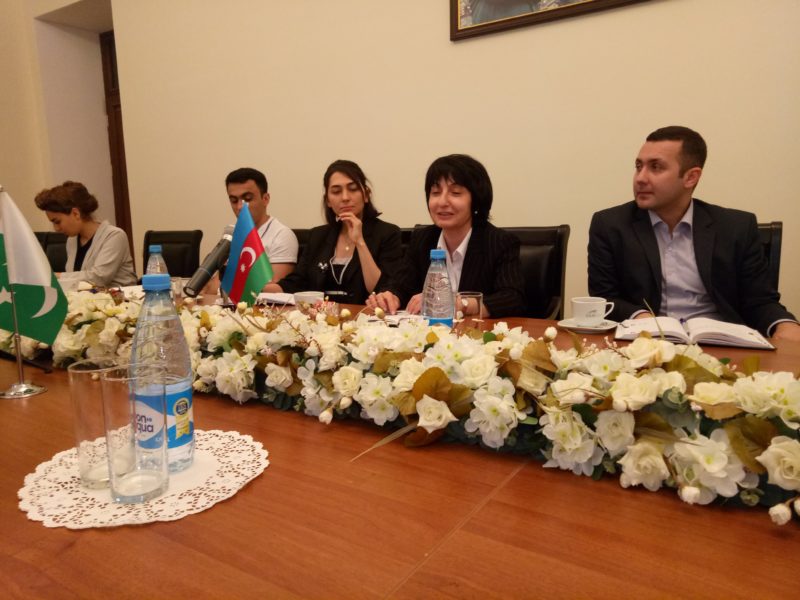 In her briefing, Dr Gulshan Pashayeva told the visiting group that 15th meeting of the Cooperation Council between the EU and the Republic of Azerbaijan was held in Brussels on February 9, 2018 with an agenda to review burning issues including the state of unresolved Armenian-Azerbaijani conflict over Nagorno-Karabakh.
It is pertinent to mention that following the ceasefire agreement achieved between the conflicting parties in May 1994, two Azerbaijani Presidents and three Armenian Presidents had been consecutively involved in the Nagorno-Karabakh negotiation process for more than 20 years. However, there is no settlement in sight so far.
It may also be mentioned that serious escalation of violence had also occurred along the Line of Contact (like Line of Control between Pakistan and India) since 2014, and the deadliest and the largest in scale was the fierce fighting that broke out in early April 2016. As a result of this alteration a few strategic heights were retaken by Azerbaijani armed forces for the first time since 1994.
Russia's stepped-up mediation efforts were instrumental in achieving a ceasefire and intensifying negotiation process. Subsequently, three summits were held between the Azerbaijani and Armenian presidents – in Vienna and St. Petersburg in May and June 2016, and in Geneva in October 2017.
The OSCE Minsk Group Co-chairs also arranged two meetings of Azerbaijani and Armenian foreign ministers in Vienna on December 6, 2017 and in Krakow on January 18, 2018.
There are some positive dynamics that has been observed in the Nagorno-Karabakh negotiation process in the recent past. For example, Geneva summit was held in a constructive atmosphere and the presidents agreed to adopt measures for the intensification of the negotiation process and to take additional steps for the reduction of tension along the LoC. However, conflict resolution looks still far from reality.
Azerbaijani people are of the view that the leadership of the OSCE Minsk Group Co-Chair countries – USA, France and Russia as well as this Group's permanent members – Germany, Italy, Sweden, Finland, Turkey and Belarus should take relevant actions to speed up the early political settlement of this conflict and a united and firm stance is needed from negotiators to snub Armenia's occupation of Nagorno-Karabakh and its surrounding regions.
There are thousands of IDPs living inside Azerbaijan and their return to their homes is the responsibility of negotiators.
When I came out of the office of Centre for Strategic Studies after receiving an in-depth briefing from Dr Gulshan, I strongly felt that human miseries are (were) denied attention if miseries are (were) enforced by powerful or are (were) guarded by any of five permanent members of the United Nations Security Council. What to do to find a place for peace for those who are being purged in silence —- A silence which is deeper than the depth of an ocean.
Disclaimer:
The views and opinions expressed in this article/Opinion/Comment are those of the author and do not necessarily reflect the official policy or position of the Dispatch News Desk (DND). Assumptions made within the analysis are not reflective of the position of Dispatch News Desk.