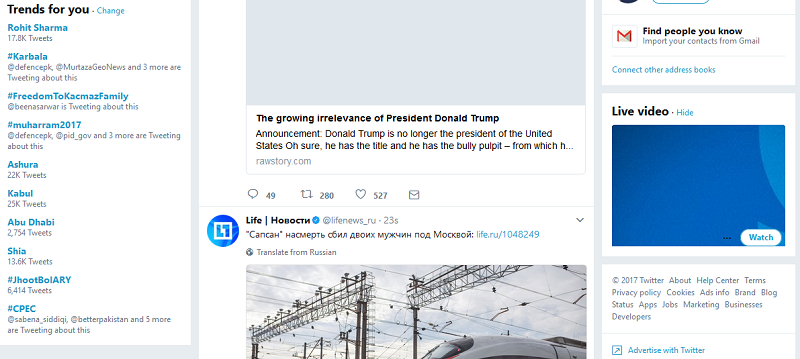 Lahore, Pakistan: Freedom To Kacmaz Family and Release Kacmaz Family became trends on social media in Pakistan on Saturday and Sunday.
Demand for the release of Turkish teacher and his family is increasing day by day and civil society of Pakistan is protesting against abduction of Turk teacher Mesut Kacmaz and his family from their house in Wapda Town, Lahore last week.
Pakistan started closing down Pak-Turk International School system in the country after failed coup in Turkey because Turkish schools were under a group of Muhammed Fethullah Gülen Hocaefendi who according to Turkish government was behind failed coup against Turkish president Recep Tayyip Erdoğan.
Mesut Kacmaz his wife Meral Kacmaz and their two daughters Huda and Huma were picked up allegedly by Lahore police from their home on Wednesday September 29, 2017.
Turkish government has close relations with Pakistan government and both countries are engage in bilateral investments particularly in the province of Punjab. Turkish president Recep Tayyip Erdoğan is considered as personal friend of Chief minister Punjab Shahbaz Sharif.
It may be mentioned that Kacmaz family was (is) living in Pakistan under UN Human Rights protection.
Punjab government and Lahore Police are keeping quiet and there is no answer from them about who had abducted this family or family has been taken in protective custody. Turkish families living in Lahore believe that Punjab government would deport Kacmaz family to Turkey where they would be arrested.
#Pakistan do the right thing #FreedomToKacmazFamily #Turkey #democracy #Refugees #humanity https://t.co/ssVGoWVKp5

— beena sarwar (@beenasarwar) October 1, 2017
Saqib nisar sb, you are the CJ responsible for providing justice. On the day of judgment this will be a heavy burdon you have to carry…. https://t.co/Eju0jGjOxC

— Zaid Hamid (@ZaidZamanHamid) October 1, 2017
A successful teacher Mr. Kacmaz and his family kidnapped in Lahor, Pakistan
Nobody hears from them @ImranKhanPTI#FreedomToKacmazFamily pic.twitter.com/eAIUlNqnO9

— Hasan Cücük (@HasanCucuk) October 1, 2017
KACMAZ Family sacrificed their 10 years to educate future generation of PAKISTAN! #FreedomToKacmazFamily @hrw @TalatHussain12 @beenasarwar pic.twitter.com/4CMeBaVquo

— Canan Ateş 🍀🍃 (@cananates17) October 1, 2017