Islamabad, Pakistan: Though the narrative of former Prime Minister Imran Khan is based on national respect and a conspiracy theory that the United States has voted him out of his office, the facts speak otherwise and a letter that came to the surface indicates that the PTI government had been cursing Pakistan's foreign service diplomats for not having contact with the then-new President Joe Biden.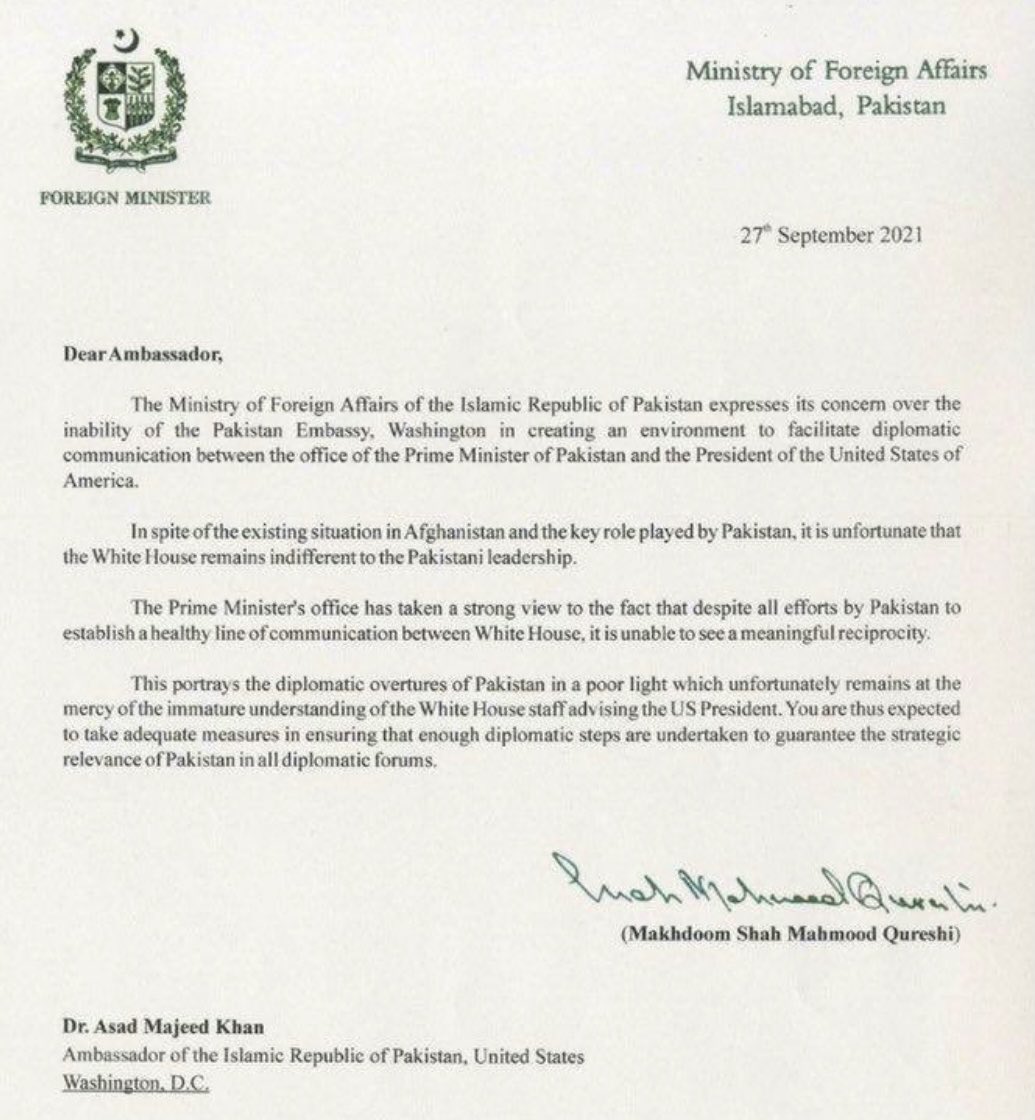 A correspondence signed by the former Foreign Minister Shah Mahmood Qurashi to the then Ambassador in the United States Asad Majeed showed displeasure of Mr. Qurashi for not receiving a telephone call from President Biden to former Prime Minister Imran Khan.
The correspondence dated September 27, 2021, said that Foreign Office in Islamabad was not happy about the inability of Embassy staff for not arranging a telephonic call of President Biden to the then Prime Minister Imran Khan.
Now former Prime Minister Imran Khan said that he sacrificed his position for national respect and that he did not give due respect to the United States therefore the US hatched a conspiracy against him. However, the letter speaks otherwise and indicates that Pakistan was desperate for receiving a telephone call from President Biden that he did not make, resulting in displeasure and anger that was faced by the staff of Pakistan's Embassy in Washington.
Senior journalist Hamid Mir has already twisted that Pakistan's Foreign Office looked desperate when US President refused to call former Prime Minister Imran Khan.
وائٹ ہاؤس سے ایک ٹیلی فون کال کا سوال تھا بابا ، یہ خط شاہ محمود قریشی نے 27 ستمبر 2021 کو امریکہ میں پاکستان کے سفیر اسد مجید کو لکھا اور برہمی کا اظہار کرتے ہوئے کہا کہ ابھی تک امریکی صدر اور وزیراعظم کے درمیان رابطہ کیوں نہیں کرایا؟ سفیر پر زور دیا گیا کہ یہ رابطہ جلدی کرائیں pic.twitter.com/SAXpcsirt9

— Hamid Mir (@HamidMirPAK) April 24, 2022

It may be mentioned that Pakistan's former Prime Minister Imran Khan also did not attend the Democracy Summit held by the US President because he had indications that President Biden could raise the issue of media censorship and harsh conduct of the Pakistan government against its opponents and journalists. His National Security Advisor whom Khan brought from the United States also expressed his desperation over the same issue.