By Shazia Anwer Cheema
Striving for a better life is a cognitive phenomenon, which creates an inevitable psychological state for people living in third-world countries to move abroad. This is a psychological state in which journey to developed countries sometimes becomes the sole mission of their lives.
We see young talented, educated, and even illiterate and middle-aged people in their continuous pursuit of finding a way out of their own countries.  That gives two options to them— the legal and illegal process of going abroad. The legal process could be getting a study visa, finding a spouse, and seeking asylum. The illegal way is being trafficked inhumanly to the shiny, shimmery first world.
The most expensive and tiring legal process is getting a study visa, by that, of course getting admission to a college or university, is a slow and painful procedure and even does not guarantee in the end that you will be allowed to stay forever or not. Let's not get into the detail of it, I will write a complete write-up on this subject some other time. The second legal option is finding somebody who is already a citizen of one's country of interest, pretentiously fall in love with him or her, and pretend to live happily ever after.
The young population of Indian Punjab and Pakistani Punjab is at the top of the list of those who want to go to the USA, Canada, Australia, and Europe. For more than three decades' Punjabi boys are continuously settling abroad either being traffic illegally or in some legal ways. As the influx of immigration grows higher, the rules and regulations for immigration are getting more complicated and expensive.
On the other hand, the ironically, male population from Indian and Pakistani Punjab stop getting an education in the pursuit of one and only desire of life which does not require a proper degree for example for driving a taxi in Canada or doing any odd job. This situation creates a disinterest toward formal education among the male population of both the side of Punjab. Even more ironically women of Indian Punjab preferred getting a college and university degree to get a suitable NRI spouse, does not matter if he is illiterate, his being settled in Canada is a higher degree than Ph.D. Cliche turned into anti-cliché when the "first world" immigration policy had changed and now does not need just cheap labor from poor countries, in result all under-matriculate Punjabi boy's destiny seems to doom until one ray of hope brings life back into them.
That beacon of hope, for now, is all those "over and extra" qualified female population, because according to a new shift in immigration trend it is much easier for an educated person to get a study visa in the name of further education. This scenario creates a huge market for matchmakers, and the deals are being made "if a girl can clear IELTs with 6 + bands and gets admission in a university abroad the expected groom and his family will handle all the expenses on one condition that after settling abroad the girl will apply for her spouse to get a visa. These types of unexplained, unnamed business marriages were going on quietly until recently when an Indian Punjabi boy committed suicide after the girl being settle abroad at his expense refused to invite him on a spouse visa.
The third legal way of pursuing the dream of a better life is seeking asylum. Asylum-targeted countries are of course those that are in one way or other NATO Allies. With a better economy, they talk big things, such as humanity, safety, human rights, a war for peace even animal rights, and stuff like that. So asylum is all about being human and humanity, which also creates a lucrative market in South Asia. To my firsthand knowledge, a Lahore-based Law Firm (name withheld) deals with immigration cases based on religious discrimination, threats, and individual human choices. They advise their Muslim clients to spread rumors related to their faith, in the second step they advise the client to file a phony police report about someone wants to kill him or her, the third step is being a member of an Islamabad based Atheist and Agnostic association and last step of it is publishing a fake news in any local newspaper about the client has been attacked by a group of people. So, the recipe of running for life is complete. This law firms' job is to apply for asylum on enough available pieces of evidence, but remember this entire process has nothing to do with your faith, you can pursue your dream for a better life by keeping your faith fully intact, it is just hustling which is sellable in the NATO humanity market.
Another opportunity of seeking asylum at your dream destination is the refugee scenario. Its true that poverty is the mother of a hustler but try not to take credit for that. This refugee opportunity is all creation of the West.
I know from this point forward I am going to sound racist, biased, or even insensitive, but I am ready to take it by claiming that less than 40% of refugees are those who fled from their homelands unwillingly because of some crafted wars or threats while other 60% find it an opportunity of a lifetime and flee the country legally by becoming a full responsibility of the host humane country from day one. I was trying to establish this fact long ago when I worked as a volunteer in an asylum center in Denmark but could not escape the western humanity definition and did not want to tag myself insensitive until I read the news which is the crux of what I am trying to establish here.
The news is related to the current Afghan situation, where on one side western media is crying their eyes off for the mortality and humanity crisis in Afghanistan by posting pictures of people running after the airplanes and even trying to climb up to get out of the havoc of Taliban. The news I found, that I wish to share with you in support of my opinion mentioned above, is that a Pakistani truck driver, driving a Truck from Peshawar to Kabul as a routine part of his job, saw an airplane and accompanying chaos on Kabul Airport, could not resist his long-forgotten dream of roaming in LA; jumped into the plane and landed directly to the USA without taking his clothes, shoes off, without police and medical record, without long queues of security and passport clearance and above all without spending a single penny.
It is a time of taking a deep breath for the "war for peace lover NATO allies" and admit that being economically superior cannot make a better hustler. On the contrary, poverty gives birth to a hustler which can turn the table for all humane, peace lover pawns, and that makes me wonder how many of them fleeing from War or flying to fulfill their lifetime dream. Future generations will study NATO Alliance at a specific time and point under the title of "Art of Failure".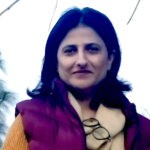 Note: The writer Shazia Anwer Cheema is a Prague-based Foreign Affairs expert writing for national and international media outlets. She is a Ph.D. Scholar of semiotics and Philosophy of Communication at Charles University Prague. She heads the DND Thought Center. She can be reached at her: Twitter @ShaziaAnwerCh  Email: shaziaanwer@yahoo.com
The views and opinions expressed in this article/Opinion/Comment are those of the author and do not necessarily reflect the official policy or position of the DND Thought Center and Dispatch News Desk (DND). Assumptions made within the analysis are not reflective of the position of the DND Thought Center and Dispatch News Desk News Agency.