By Hamid Khan Wazir
KOHAT, Pakistan: In what appears to be great development, the first batch of technologically-trained students has graduated from Huawei ICT Academy at Kohat University of Science and Technology (KUST).
The HCIA Certification Exam was conducted last week where 66 candidates enrolled in the first batch of training from which 55 took the exam, 48 passed and got the HCIA Certification.
This Certification covers network fundamentals like connection methods of popular networks, their construction etc.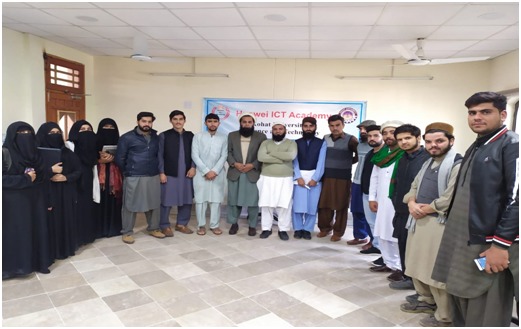 The academy at Kohat University of Science and Technology located in Khyber Pakhtunkhwa's Kohat District was inaugurated in May 2019 by the Federal Minister Shehryar Khan Afridi and the Director of Huawei's Enterprise Business Department Wang Xuesong with the aim to deliver technology trainings, encourage students to get certified and develop talent with practical skills for the ICT industry and community.
It also vowed to address the challenges of ICT Professional's shortage in the region through joint research, education and training programs.
The institution has seen and educated many promising students over the short span of 6 months of operating in the city. The 48 students from this underrepresented area have now been legitimized with the potential to help their local communities, and equip them with basic ICT knowledge.
In this batch, 8 women enrolled and 4 graduated who, along with their male peers are now able to construct simple networks, integrate voice, cloud, security, along with a variety of other technical tasks that will no doubt make them valuable to their future organizations and to Pakistan.
Kohat is not the most educated region of Pakistan, making it all the more important to establish network infrastructure here and start to bridge the huge divide between academia and industry.
Huawei Pakistan has successfully collaborated with 15 public and private sector universities in its ICT program in all provinces of Pakistan. Last year, the Academy trained over 12,500 students globally, among them, 5,000 students received certifications for their skills.
Technological education can bring more equality in society on all levels. Especially in places where there is less education for women, this sort of avenue provides more opportunities for women to enroll and join the tech world.