ISLAMABAD, Pakistan: In the wake of the growing number of Coronavirus Cases in the Country, the federal government has decided to put restrictions on public gatherings that are not associated with businesses.
While addressing a Press Briefing after presiding over a meeting of the National Coordination Committee (NCC) on COVID-19 in Islamabad on Monday, the prime minister said that all public gatherings and processions will be banned throughout the Country while marriage ceremonies will take place in open areas instead of marriage halls.
The prime minister further said that marriage ceremonies will be limited to allow 300 people maximum.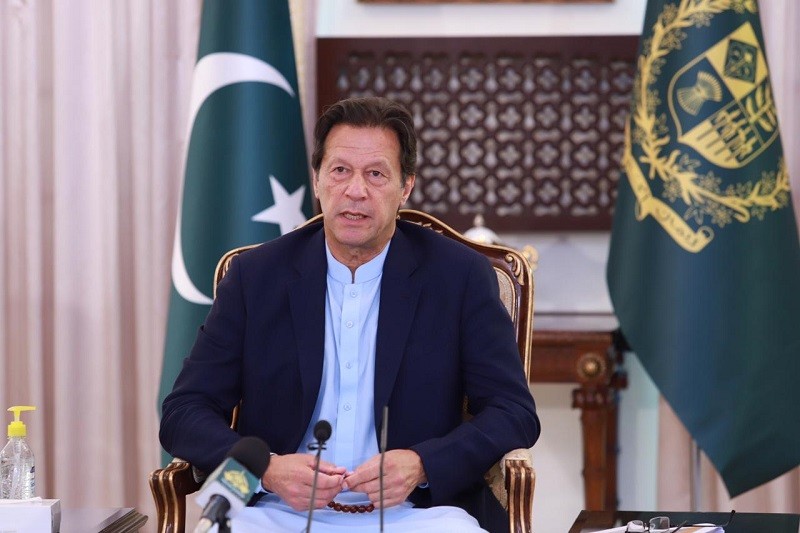 Imran Khan said that decisions regarding the closure of Schools and Educational Institutions will be taken after a week, observing international trends and an increase in Coronavirus Cases in the Country.
Regretting that in the last few days Coronavirus Cases in Pakistan have increased by four times, he warned of an increasing burden on hospitals and existing health facilities if the people do not follow standard operating procedures seriously.
The prime minister urged the nation to strictly observe Standard Operating Procedures (SOPs) against Coronavirus to contain the spread of the second wave of the pandemic.
If the people follow SOPs in letter and spirit, the spread of disease could be curtailed, he said.
The prime minister asked the Tigers Force and the general public to update the government administration regarding any kind of violations to SOPs.
The NCC agreed on the following measures focusing on the highest risk activities for the spread of COVID-19 while trying to minimize the impact on economic activity;
Large gatherings: A ban on all outdoor gatherings of more than 300 persons is to be implemented. The prime minister announced a moratorium on political gatherings of his own party starting with the cancellation of an upcoming event in Rashakai, Khyber Pakhtunkhwa.
Weddings: No indoor events to be allowed; only outdoor events with a maximum of 300 guests will be allowed.
Restaurants: Indoor dining will be allowed for the present but will be reviewed after a week. In the meantime, the public is strongly encouraged to use either outdoor dining or takeaway options. This is in view of the high risk of transmission of the virus in closed indoor settings, especially when masks are taken off during eating.
Educational Institutions": The option of early/extended winter vacations will be reviewed in a week's time in consultation with provinces/federating units and the federal ministry of education.
Reiteration of the need to use masks in all closed and crowded spaces and its enforcement by local authorities as previously decided.
Earlier on Sunday, 2,128 new infections were registered which took the number of Coronavirus Cases having surfaced to date across the Country to 359,032.
So far 7,160 COVID-19 patients have breathed their last in the Country while battling the virus.