By Agha Iqrar Haroon
Former COAS Gen Qamar Javed Bajwa handed over command of the Pakistan Army today to new COAS Gen Asim Munir after completing his six-year tenure that was engulfed in controversies despite his brilliant performance.
Sitting in the impressive ceremony held at GHQ lawns (Hockey Ground), I was thinking that year 2022 is unique that has already taught several important lessons to the civil and military leadership of Pakistan. I can not stop appreciating former COAS Gen (retd) Qamar Bajwa for several reasons including his strong nerves because he was still in the race till the end. Traditional political parties had been blaming him for political engineering while former prime minister Imran Khan has been abusing him for not helping him when he critically needed him in April this year to mitigate a vote of no confidence against him. He faced the brunt of both sides of the political divide with a smiling face and paid for several things he did not do actually.
Gen Qamar Bajwa was accused of many things someone else did in favor of Imran Khan and Army's role came at center of every discussion during Faizabad Dharna
Gen Qamar Bajwa time and again said that Army in February 2021 decided to refrain from indulging in politics and would maintain its apolitical role in the future as well. I believe Pakistan Army had to decide to get out from marshland (at least for the time being) where the project Imran had ultimately dragged the military into.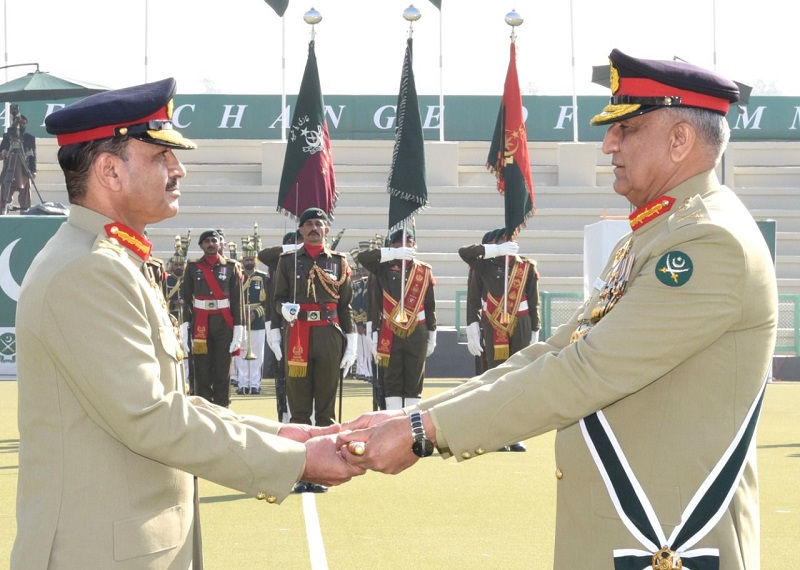 Politicians hold Gen (retd) Qamar Bajwa responsible for project Imran although he has nothing to do with it because the project was allegedly initiated around 2006 and several generals including Hameed Gul (a mentor of Imran Khan), Ahmed Shuja Pasha, and Zaheerul Islam had allegedly been part of this project when Gen Kiyani and Gen Raheel Sharif were commanding the army as COAS.
Arm-twisting of politicians as well as journalists triggered the thought that the army as an institution was behind engineering Imran Khan's rule by tailoring results of the 2018 general elections and then supporting the dictatorial rule of Imran Khan
The role of the Pakistan Army in the launching of the alleged "project Imran" was registered from the very day of Faizabad Dharna (8 November 2017 – 18 December 2017). Then unending harassment and arm-twisting of politicians as well as journalists were two main reasons for dragging the Army into controversies by the politicians, academicians, writers, and journalists who claimed that the army as an institution was behind engineering Imran Khan's rule by tailoring results of the 2018 general elections and then supporting the dictatorial rule of Imran Khan.
I believe Army has a number of professionals who could manage everything silently and covertly instead of putting itself in a lead role. The army had been managing politics for 70 years but after the formation of IJI, it was the second time that everybody in Pakistan witnessed a blunt move.
The controversial speech of former Justice of Islamabad High Court Shaukat Aziz Siddiqui in Rawalpindi Bar on July 21, 2018, and his allegations against the prime intelligence agency made the situation further grave. Consequently, Justice was removed on the recommendations of the Supreme Judicial Council (SJC) that recommended Justice Siddiqui's removal for his remarks about alleged interference by the country's premier spy agency in the judicial proceedings.
Unfortunately, Gen Qamar Bajwa had to face the wrath of PTI leadership after PDM presented a vote of no confidence against Imran Khan in the National Assembly and he was consequently voted out from the office of the prime minister in April 2022. These circumstances, at last, reached their pinnacle and first time in the history of Pakistan the Director General Inter Service Public Relations (ISPR) of the Pakistan Army and Director General Inter Service Intelligence (ISI) held a joint press conference on October 27, 2022, and explained their position in reference to alleged sheer involvement of Pakistan Army into politics.
I believe it is not fair to hold Gen Qamar Bajwa for whatever mess Imran Khan spread in the country because this so-called "project Imran Khan" was neither started during Gen Bajwa's tenure nor he had been handling mishandling of media and politicians. Rather we must appreciate him that he has the guts and courage to accept what the Army had been doing in the political arena and he decided to refrain from further meddling in politics.
Whatever Gen Qamar Bajwa has done for his country would be remembered for a long time and his candid, courageous, frank and straightforward, and truthful confession about the role Pakistan Army had been playing in the political arena made him a lofty personality among others who had no heart to accept realities spreading over 70 years' history of Pakistan.
It would not be fair-minded if we do not appreciate what has been doing for this country in different arenas including his proactive military diplomacy, and operations against terrorists and separatist elements must be appreciated.
A writer in an article titled "COAS Qamar Bajwa, Public Diplomacy, Military Diplomacy, and the Permanent State" rightly indicated:
Shuttling from one country to another for firefighting, COAS Gen Bajwa tried his best to tell the world that all Pakistanis are not as bad-mouthed as the PTI team. For the sake of mitigating disasters in civilian diplomacy, COAS continued in his last six years' tenure to enhance Military Diplomacy with everybody that matters in global affairs. Specifically, it focused on improving the socioeconomic and military ties with Saudi Arabia, UAE, and China. Military on its part played a lead role in countering the enemy's bids to isolate Pakistan and pushing it into economic chaos.

Another article titled "General Qamar Javed Bajwa: Pakistan's Army Chief who championed military diplomacy" indicates:
Pakistan witnessed eventful six years during General Bajwa's tenure. General Bajwa's proactive military diplomacy consolidated Pakistan's position both internally and internationally. With six years of leading an Army which brought Pakistan closer to Middle East, ensured peace in the border regions with Afghanistan, improved internal stability and contributed towards national development, General Bajwa's legacy as an Army Chief will be remembered both by the public in general and Army in particular. At the domestic front, his efforts for upholding constitutional values, national development, security and support during period of natural disasters remained the key highlights of his tenure as Army Chief.
One should appreciate what role of Pakistan Army under the leadership of COAS Gen Qamar Bajwa played for almost six years to mitigate the impacts of terrorism and everybody on earth acknowledged the successful Operation Radd-ul-Fasaad that was spread all over the country. All the past operations conducted by Pakistan Army against terrorists had concentrated on particular areas against a visible enemy and for a stipulated timeframe however, Operation Radd-ul-Fasaad was something different.
An article titled "The success of Operation Radd-ul-Fasaad lies in the kind-hearted but rock-solid leadership of the Pakistan Army" explained the nature of this operation as follows:
Those operations did pose a formidable blow to the terrorists. However, their sleeper cells within the country and the presence of their facilitators remained to be a bigger threat. Therefore, a number of kinetic and non-kinetic operations, big and small, were conducted, which made it possible to have vacated around a 48,000 sq km area from the hands of terrorists. Today we have not a single no-go area there. Besides, over 3 lakh IBOs were conducted under Radd-ul-Fasaad, which enabled the Army to confiscate more than 75 thousand illegal weapons and over 5 million ammunitions. The operation conducted by the security forces from time to time sent to hell hundreds of terrorists while thousands of miscreants were captured and put on trial; out of which 70% of terrorists got convicted by the court of law. "We are building peace in our country brick by brick; moving from relative stability towards an enduring peace" was the Chief of Army Staff, Gen. Qamar Javed Bajwa's unequivocal assurance to the nation.
A man should not be judged by his weaknesses but by his bravery, audacity, and mettle to accept them and we cannot find anyone in the history of the Pakistan Army of the stature that Gen Qamar Bajwa possesses in this regard.
Disclaimer:
The views and opinions expressed in this article/Opinion/Comment are those of the author and do not necessarily reflect the official policy or position of the DND Thought Center and Dispatch News Desk (DND). Assumptions made within the analysis are not reflective of the position of the DND Thought Center and Dispatch News Desk News Agency.