By Mati Ullah Khan
Living a comfort Life has always been tough and an uphill task for dwellers in this materialistic world; and it becomes even more challenging for people suffering from various disabilities.
In Pakistan, around one million people with disabilities reside, which are 0.48 percent of Country's total population of 207.774 million, according to the sixth population held earlier in 2017. Though the figure has been termed 'unrealistic' by even the Chief of Pakistan Bureau of Statistics.
But these disabled persons have been fighting for preservation of their due rights in the Country as they have to face discriminatory behavior in all spheres of life, a bitter reality which further augments their destined worries and persecution in the society.
Despite the fact, a few people also exist in the Country who are voluntarily endeavoring with full dedication for the rehabilitation and welfare of disabled persons. Falak Tanvir is one of them as having witnessed disability issues in her own family, she has dedicated her life resolving the issues being faced by hearing and speech impaired people in their routine life.
Falak Tanvir is an employee in Motorway Police; however, being specialist of sign language, she also interprets for deaf and dumb people. Currently, Falak Tanvir is also the Vice President of Shani Deaf Welfare Association, and the sign language interpreter in state-run PTV News.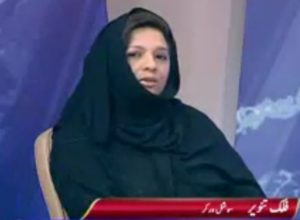 When asked by the Dispatch News Desk (DND) news agency that being an employee in Motorway Police, how she manages to engage herself in social work, Falak Tanvir narrated the story of her late parents, mentioning that since both of them were hearing and speech impaired, they had to endure great sufferings. She said that she could feel the anguish of hearing and speech impairment.
Falak Tanvir told that one of her brothers went missing in 1990 and when her parents reached a police station to lodge an FIR over the disappearance of their son, police didn't register the FIR. Falak told that in the absence of any interpreter in the police station, her parents failed to apprise the police about their grief.
"My parents passed away without seeing their son ever again, and I also don't know that where my brother is and how is he now," Falak Tanvir told with grieving heart.
Also citing a story of her hearing and speech impaired cousin who recently faced communication issues when he went to a Tehsildar Office for some property issues but returned empty-handed, Falak Tanvir demanded the authorities to appoint sign language interpreters in all government departments for disabled persons.
When asked that since her parents were hearing and speech impaired, how she learnt about everything, Falak told that though mainly sign language was used in her family but yet her elder brother used to teach her and helped her grow from a toddler to a school going child.
It is believed that marriages between first cousins double the risk of children being born with birth defects. Not only Falak Tanvir's parents were hearing and speech impaired but her brothers also have same disabilities but when DND asked her that whether her parents had cousin marriage? She replied that no, actually they were class fellows.
Falak Tanvir said that she is also the Vice President of Shani Deaf Welfare Association and also works with Sir Syed Deaf Association as sign language interpreter. She said that according to her, disabled persons need our attention to excel in all walks of life; therefore, she often offers her services for them as an interpreter whenever required.
Talking about road-related problems being faced by dumb and deaf people, Falak appreciated the Motorway Police, and she said that as disabled persons are also an integral part of the society, National Highway & Motorway Police (NH&MP) is striving to address disabled persons' issues while traveling on road.
Falak Tanvir told that she also prepared a booklet, aims at helping hearing and speech impaired people with signs while driving. She said that former IG National NH&MP Police Shaukat Hayat also appreciated her efforts and tendered his full support in initiatives taken to facilitate disabled persons.
She said that the Motorway Police is also mulling installation of signboards on roads for disabled as well as less-educated drivers.
When asked how long it will take for deaf and dumb people to get driving licence, Falak Tanvir said that it would happen through a due process. She said that non-possession of driving licence is one of the biggest issues, disabled persons have to deal with. She told that when his younger brother with hearing and speech disabilities went to acquire the driving licence, he was denied and even the medical board refused to approve it.
Falak said that a proposal has been sent to the Law Ministry for the issuance of driving licences for deaf and dumb drivers. She requested the federal government to take it into consideration as disabled persons also deserve equal treatment in the society. She said that we must take such initiatives which could empower disabled persons to make full use of their capabilities under conducive environment.
Falak Tanvir said that apart, she has also proposed a messaging facility through which persons with disabilities would be able to convey their issues by writing messages on 130. Likewise, she added that she has proposed monograms and dim lights in vehicles being driven by deaf people, saying that such initiatives could pave the way for issuance of driving licence to hearing and speech impaired people without much concerns.
In addition, she told that now courses are also being conducted through which motorway police officials are being imparted sign language interpreting knowledge as well.
Falak Tanvir said that like his predecessor, new IG NH&MP Syed Kaleem Imam is also very proactive and committed to further streamline disabled persons. She said that the new IG has permitted her to teach sign language to fellow motorway police officials in her department.