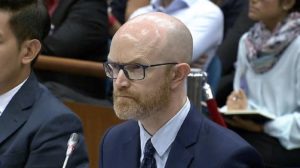 ISLAMABAD, Pakistan: The Vice President Public Policy APAC of Facebook Simon Milner has expressed his desire to work with the government of Pakistan to make efforts in addressing concerns about the use of social media for spreading hateful, provocative and extremist views.
In a meeting with the Foreign Minister Shah Mahmood Qureshi at the Ministry of Foreign Affairs in Islamabad on Wednesday, Simon Milner said that Facebook remained cognizant of its social responsibility.
The foreign minister welcomed Simon Milner to his first ever visit to Pakistan, and lauded the role of Facebook for development and progress of e-commerce in Pakistan, its contributions in facilitating people to people contacts across the globe and for spreading awareness among the masses.
Shah Mahmood Qureshi further underscored that the use of social media presents us with both opportunities & challenges.
Qureshi opined that his government firmly believed in the right to freedom of expression. However, he added that, it cannot be used to propagate hate and extremist ideologies.
The minister emphasized that it should not be used to hurt the sentiments of adherents of any religion. He said that all efforts must be aimed at preventing the spread of this content through social media that leads to hatred and intolerance.
The foreign minister also highlighted the Indian clamp down on internet and social media in Indian Occupied Jammu and Kashmir which was serving to conceal the facts of brutal suppression by the forces of occupation.