Monitoring Desk: Turkish President Tayyip Erdogan has won referendum with very close margin as 51% voters said "Yes" to change 1923 constitution and making Turkey a Presidential form of government state.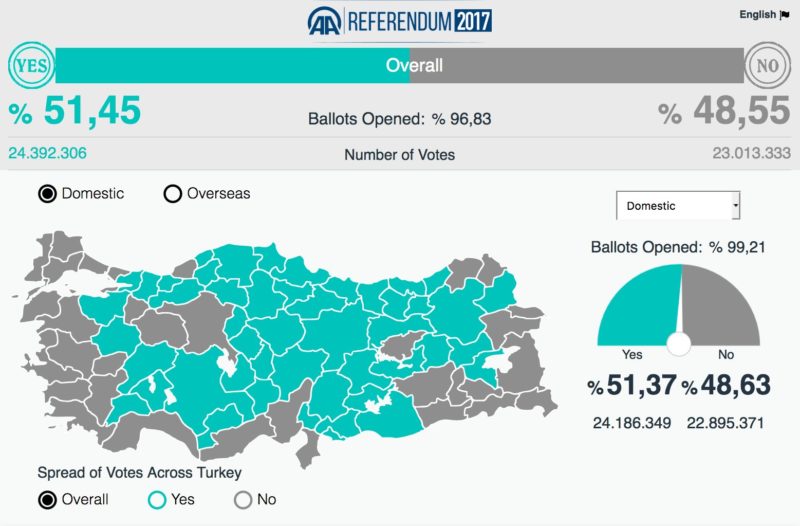 State run news agency Anadolu reported that 96% votes have already been counted.
Big cities including capital city of Ankara voted against Erdogan. Southeastern cities where Kurdish are in population also said "No" to sweeping new powers to Erdogan.
Sunday's referendum has changed the history of Turkey that passed a constitution in 1923 and fixed a parliamentarian cum presidential form of government. Now, Turkey will have no Prime Minister and all powers of parliament shall be used by President Erdogan.
European Union is conscious with referendum and European media is calling results as "socially engineered" and claiming that Turkey is moving fast towards totalitarian rule of President Erdogan who has bitter relations with Europe since last four years.
European media claims that Erdogan would be in his office until year 2029 after expected results of Turkish referendum.
President Recep Tayyip Erdogan strongly crushed opposition after a failed coup against him while his opponents claim that coup was design and planned by Erdogan himself to crush opposition in the country.
Referendum voting was stared early morning at 5 am and ended at 4 pm and 55 million people were eligible to vote in referendum.
According to Turkish media, turnout in referendum was around 86 percent.