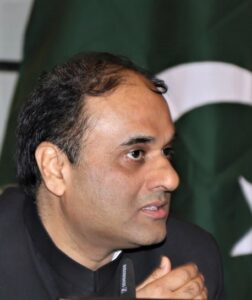 The High Commissioner of Pakistan to Dhaka Imran Ahmed Siddiqui has said that Pakistan and Bangladesh enjoy fraternal ties; however, the potential both the Countries have in the economic sphere yet remains untapped.
In an exclusive interview with Dispatch News Desk (DND) news agency, the High Commissioner, however, expressed hope that continuous efforts to promote people-to-people contact and Pakistan-Bangladesh bilateral trade cooperation will yield fruitful results soon.
The following is the text of the interview of Pakistan's High Commissioner to Bangladesh Imran Ahmed Siddiqui with DND;
When did you arrive in Dhaka? What is your impression about the country?
I arrived in Dhaka early this year. Dhaka is an important city for all Pakistanis. It is the city where the All India Muslim League was established which ultimately led the struggle for Pakistan. Dhaka's elders contributed immensely to the education and economic development of South Asia's Muslims. This, indeed, is a glorious chapter of our common history and we value it very much.
Bangladesh is a country of many attributes. Beautiful land and affectionate people with a surfeit of goodwill for Pakistan and Pakistanis, particularly among young Bangladeshis.
I am grateful for the affection which is traditionally extended to Pakistan by common Bangladeshis. Bangladesh is also held in high esteem and great affection in Pakistan, at all levels.
We appreciate Bangladesh's growth trajectory and hope that the country would achieve even more in the days ahead.
As Pakistan's High Commissioner, which areas are you going to particularly focus on?
Pakistan and Bangladesh are connected at many levels. These connections are visible whenever Pakistani and Bangladeshis meet anywhere. There is a need to not only strengthen these connections but also create new ones. So, the focus should be on people-to-people contacts in addition to strengthening government-to-government relations.
Prime Minister Imran Khan holds Bangladesh and the Bangladeshi leadership in high esteem. There are no specific checks on Pakistani visas for Bangladeshi visitors. There are education and vocational institutions in Bangladesh which want to connect with their counterparts in Pakistan. Similarly, Pakistani institutions want us to explore opportunities for collaboration.
The governments and diplomatic missions need to facilitate such connections. On our part, we are fully committed to this.
What is the status of Pakistan-Bangladesh bilateral relations?
Pakistan and Bangladesh enjoy fraternal relations. Wherever I go, I am reminded by my Bangladeshi sisters and brothers that ours is a fraternal relationship which temporary political obstacles cannot break and that I must always keep this in mind.
This sentiment is the most important asset for Pakistan in brotherly Bangladesh.
Prime Minister Imran Khan and Prime Minister Sheikh Hasina spoke on telephone in July this year. They discussed issues of mutual concern and agreed to further strengthen relations. Bilateral relations will further improve with the operationalization of stalled consultative fora.
Bilateral commercial relations are strong with the potential for further growth. Our effort is to facilitate frequent interaction between the two business communities including by organizing online interaction.
I had a productive interaction with the President, Federation of Bangladesh Chambers of Commerce and Industry (FBCCI) as well as the President, Dhaka Chamber of Commerce and Industry (DCCI).
I am sure our common efforts will lead to additional positive results.
We are also planning to translate books on cultural issues into Bangla to develop a better understanding of our common cultural values.
Next year, Bangladesh will be observing its Golden Jubilee. As Pakistan's representative, what would you say about it?
Pakistan has nothing but goodwill for Bangladesh and its people.
We are happy at Bangladesh's progress in the last few decades. We pray and hope that Bangladesh will charge ahead with renewed confidence and strength in all walks of life.
In view of the regional situation, Bangladesh's progress is a source of strength for Pakistan. We wish them well on their golden jubilee. I am sure this occasion will mark the beginning of a new era of reconciliation and positive transformation of bilateral relations.
What is the status of regional cooperation? Can Pakistan and Bangladesh work together to promote regional cooperation like ASEAN?
It pains us to see that a region that is home to one-fifth of humanity is unable to take joint positions even on many issues. You mentioned ASEAN which is one of the most significant examples in the context of regional cooperation. In ASEAN, larger states of the region worked very sincerely to resolve issues and create space for smaller regional states until a high standard of regional cooperation was achieved.
Sadly, in South Asia, we see a contrary pattern.
SAARC is an important forum. But there have been consistent efforts to block the holding of the SAARC Summit since 2016. At the same time, unilateral measures including in the Indian Illegally Occupied Jammu and Kashmir (IIOJK) have further vitiated the regional security environment. The brutalities being committed in IIOJK by the Indian forces cannot be ignored.
Our Prime Minister, in his first statement, had reaffirmed his commitment to regional peace and security and to redoubling efforts if there was a genuine desire for peace.
Pakistan and Bangladesh can work together to strengthen SAARC and facilitate the resolution of issues on the basis of justice and equity.