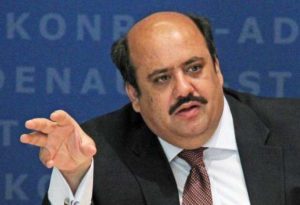 ISLAMABAD, Pakistan: A book launch took place at Quaid-i-Azam University (QAU) in Islamabad of a new book by Dr Zafar Nawaz Jaspal titled 'India's Surgical Strike Stratagem, Brinksmanship and Response'.
The Vice Chancellor QAU Dr Muhammad Ali was the Chief Guest at the book launch event at the School of Politics and International Relations (SPIR), QAU.
Dr Muhammad Ali lauded the effort of the well-known academician Dr Zafar Nawaz Jaspal by writing a book on a pertinent topic.
"It's a wonderful book by our very distinguished professor, and the most important thing is that he was able to write Pakistani perspective and tell the world that what is our perspective. Is there any truth in all these claims by the Indians," Dr Muhammad Ali said.
Other speakers like the Director General of the South Asian Strategic Stability Institute (SASSI) Dr Maria Sultan, the Director SPIR and Professor Dr Nazir Hussain, and Air Commodore (retd) Khalid Banuri also spoke on the occasion and shared their perspective on the book.
They praised the content and timing of the book by Dr Zafar Nawaz Jaspal.
"The book by Dr Zafar Nawaz Jaspal is an important contribution with regards to the body of knowledge which exists on the legal framework with regards to the predominant of surgical strike as a method of choice by India," Dr Maria Sultan remarks while speaking to the State-run TV Channel.
Commenting on the book, Dr Nazir Hussain remarked that "This is very timely on two accounts; one it presents the Pakistani narrative to the international community in an academic manner, not in a rhetoric manner, not in a journalistic manner but in a very hardcore academic manner with references and thoughts."
Talking to the state-run news channel, Dr Zafar Nawaz Jaspal said that "I am very much satisfied with this book because when I started working on it, at that time I started investigating whether it was a real surgical strike or a phantom surgical strike. But later on I concluded it was not, but then the Pulwama incident took place and the Indians crossed the border on 26th February. I narrated the 27th, u can say, dog fight. But I have seen in this book what I started from the very beginning what are the philosophies of constructs of the India's military doctrine."