London, United Kingdom: The Fourth Death Anniversary of Burhan Muzaffar Wani would be observed all over the world including Europe, North America, Australia, and South Asia.
Kashmiris would hold protests events in London, Brussels, New York, Ottawa, Washington and Toronto to seek the attention of the world against the Kashmiri genocide by the hands of Indian Armed forces.
Kashmiris believe that despite all pressure tactics to suppress the freedom movement, martyrs of Kashmir and their mission of freedom is alive and people will take it to its logical end and no one can stop Kashmiris from genuine struggle right to self-determination.
Burhan Wani, symbolizes the unrelenting resistance of Kashmiri people who are waging a struggle for the right to self-determination for the past more than seven decades.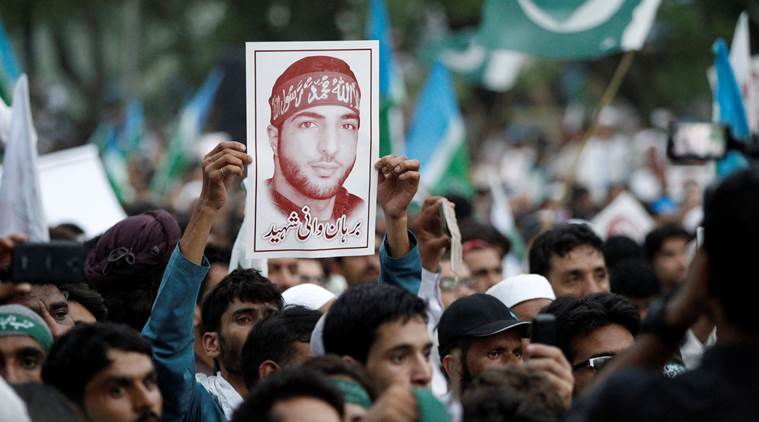 What do We know About Burhan Wani?
Burhan Muzaffar Wani was born in Dadsara village of Tral area in Pulwama district, Jammu and Kashmir.
His father Muzaffar Ahmad Wani is the Principal of a Government Higher Secondary school and his mother Maimoona Muzaffar is a Postgraduate of Science who teaches girls free of cost in her village.
Burhan had four brothers and sisters. His elder brother was martyred by Indian forces.
Burhan Wani wanted to become a doctor and had obtained more than 90% marks in his Class 8 exam.
One day Indian forces grabbed him on-road and brutally beat him up along with his brother Khalid and a friend for no reason. This incident shocked Burhan for all times to come.
Being a son of the well-educated couple, Burhan Wani decided to use social media as a tool to contest the writ of Indian Occupied Forces and became very popular with thousands of followers on social media platforms.
There was a remarkable increase in the anti-India rhetoric of Burhan's speeches, after his brother Khalid was martyred by the Indian Army on April 13, 2015.
The Indian Army claimed that Khalid was a militant sympathizer who had taken his friends to get them recruited and was subsequently killed in an encounter while the family of Khalid Wani alleged that he died in Army custody, claiming that his body showed no bullet wounds but clinical signs of physical torture.
Burhan Wani became an icon for Kashmiri youth through his social media warfare against Occupied Indian Forces and the state government imposed a bounty of ₹1 million on Burhan's head in August 2015.
Burhan Wani was martyred in an operation on July 8, 2016, along with two friends Sartaj Ahmad Sheikh and Pervaiz Ahmad. He and his friends were martyred in Bumdoora village in Kokernag area by a joint team of the special operations group of the Jammu and Kashmir Police and 19 Rashtriya Rifles.
Local people in a bid to save Burhan Wani resorted to stone-pelting over security forces but could not do more because stones could not match bullets.After their death, hundreds of villagers came out mourning the death and clashed with the police, CRPF and attacked army camps in the area.
A large crowd attended his funeral on 9 July. The crowd was estimated to number 200,000 by Indian forces while independent observers believe that half a million Kashmiris either attended the funeral or kept protesting in their respective areas when his funeral procession started the journey to graveyard.
As his desired shared by him with his family, his body was wrapped in the flag of Pakistan and he was buried next to his brother Khalid Wani.
Curfew was imposed in all districts of Kashmir and mobile phone networks were suspended.
The curfew was lifted from all parts on 31 August 2016.
More than 190 Kashmiris were martyred by Indian Forces in the unrest and over 15,000 Kashmiris were injured when security forces reportedly used assault rifles to open fire on protestors.
Over 12,000 Kashmiris were arrested in the next two months to snub protest in Indian Occupied Kashmir.