By Tusbeeha Kamran Cheema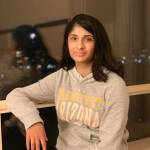 I had an opportunity to visit Prague last week to meet my aunt and I feel Czech people are quite like Danish people. My journey from Copenhagen to Prague was a good experience. Four days are not enough to judge any nation but I feel that the people in the Czech Republic are very kind and nice, and they have respect for everyone. I and my family were on a train, and we didn't have any place to sit, so few people said "just take my place, it's fine". But what I really noticed was that many people looked at us all the time. I began to wonder why they do that. And then I looked around the city.
I didn't really see many colored people. And there were not so many brown tourists. Then I realized that they were not used to see many black or brown tourists. On the other hand, many black and brown people live in Denmark that's why Danish people are quite used to see colored people. Many people in the Czech Republic have light and brown hair. I didn't really see other colors. And their style is very colorful, then in Denmark. I observed that Czech people are not good at English, Me and my family were always going around the city to explore many things. But we needed help many times so my aunt asked people on the street where the different places were. And of course, she asked them in English. And when I heard them, I kind of got a shock, because it was strange that so many people with so poor English. They mostly speak their own national language.
Their accents are very different than Pakistanis and Danish people. You don't really get the word or sentence in the first two seconds. And sometimes when we ask where is the bus or where is the metro, we hear that they can't speak English so they point toward the direction instead. Or sometimes they say some of the words or some of the sentences. Sometimes when they want to say, "just go there" then they say "there come to go". Ne and my family went for a walk every day. What I'm guessing is that there are few halal shops in the Czech Republic. But not in grocery stores where Czech people work. But one day I and my family were hungry so we found a kebab restaurant. So I wasn't really wondering about that anymore. Is the climate in the Czech Republic better than the climate in Denmark?
The climate is definitely warmer and drier in Czechia than in Denmark, so we have what's usually called "better weather". Also slightly colder weather in winter, so definitely more snow and less rain. Czechia is landlocked, so there is no seaside for some fun in the sun. The climate of the Czech Republic can be described as a typical European continental-influenced climate with warm, dry summers and fairly cold winters. Autumn is usually a little chilly and wet, and the Winters can be very cold, damp, snowy, often foggy, and sometimes the air can be quite polluted.
I wish to go back to Prague some other day to know more about Czech people and Czech soceity.