Bishkek, Kyrgyzstan: Collective Security Treaty Organisation (CSTO) is considering deployment of rapid response force in Central Asian countries bordering Afghanistan.
Showing grave concern over volatile law and order situation in Afghanistan, heads of Collective Security Treaty Organisation (CSTO) states met here in Bishkek.
Though gathering of heads of states of CSTO was officially called "informal meeting", the volatile situation in Afghanistan was discussed at length.
According to an official statement, the meeting was attended by President of Russia Vladimir Putin, President of Belarus Alexander Lukashenko, President of Armenia Serzh Sargsyan, President of Kazakhstan Nursultan Nazarbayev, President of Tajikistan Emomali Rahmon and President of Kyrgyzstan Almazbek Atambayev.
Statement further said that the participants discussed counterterrorism efforts and the consolidation of efforts to combat the existing threats.
According to unofficial details, heads of the CSTO member on Friday reviewed Afghanistan situation after US dropped its heaviest non-nuclear bomb in Nagarhar province of Afghanistan and regret of United States to become a part of Russia-sponsored peace initiative to resolve Afghan issue. Minus Belarus and Armenia, all members of CSTO are attending Afghanistan Peace Conference that is in process in Moscow. Turkmenistan, India, Pakistan, Iran and China are also present in Afghanistan Peace Conference along with four CSTO members.
Tajikistan, Uzbekistan and Turkmenistan share borders with Afghanistan where civil war is continued since 1979 and NATO forces are present in Afghanistan since 2001 but have failed to bring peace to Afghanistan.
Afghanistan situation is a constant threat to former Soviet Union states bordering this terror filled country.
Unconfirmed reports suggest that CSTO heads of states discussed possibilities of deployment of rapid response force of CSTO in countries bordering Afghanistan.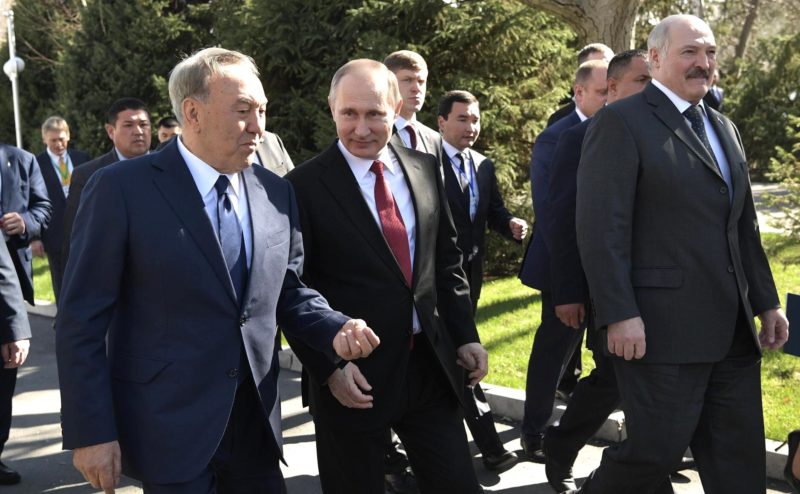 It may be mentioned that Afghanistan Peace Conference started in Moscow on April 14, 2017 in which regional countries in proximity of Afghanistan are trying to find political solution of Afghan issue and believe that there is no military solution of three decade long civil war in Afghanistan.