LAHORE, Pakistan: As many as 97 dead bodies have been recovered from the debris of PK8303, a Karachi-bound PIA flight which crashed on Friday afternoon in a residential area just before landing, according to the Inter-Services Public Relations (ISPR).
In a statement on Saturday morning, the ISPR said that so far 19 dead bodies have been identified from among 66 victims shifted to the Jinnah Post-Graduate Medical Centre (JPMC) and 31 victims in the Civil Hospital.
While the two survivors of the crash are under treatment in the hospital.
The PIA flight PK8303 departed Lahore-Allama Iqbal International Airport for Karachi-Jinnah International Airport with 7 Crew members and 91 passengers on May 22, 2020.
The Airbus A320-214 with Registration# AP-BLD/ C/n / msn# 2274 had its first flight on August 17, 2004.
The aircraft was under the use of Pakistan International Airlines (PIA) with flight number as 8303. It crashed on approach to Karachi-Jinnah International Airport (KHI), Pakistan on Friday, May 22, 2020.
The flight departed Lahore at 13:05 hours local time (08:05 UTC) and was expected to arrive at Karachi about 14:45 (09:45 UTC).
The aircraft was cleared to land on runway 25L. At 14:35 the flight crew radioed that they were going around and requested another ILS approach to runway 25L.
The controller instructed the flight to turn left heading 110 and climb to 3000 feet.
Four minutes later the flight reported they had "lost engine(s)" and subsequently declared a Mayday.
The controller cleared the flight to land with both runways (25L and 25R) available.
The aircraft crashed in a residential area named Model Colony, about 1360 m short of the threshold of runway 25L. The aircraft broke up and a large post-impact fire erupted.
In a press conference, PIA CEO Arshad Malik stated that the Ministry of Aviation would oversee an inquiry into the incident.
Message by PIA CEO Arshad Malik#planecrash #PIACrash

— Katherine (@Jinnah_Club) May 22, 2020

He claimed that aircraft was in perfect condition and was flying by following all Standard Operation Procedures. He said that it would take two to three days for completion of Rescue Operation because accident spot is in thickly populated and narrowly constructed area.
Pakistan Army under the instructions of COAS Gen Qamar Bajwa is busy in Rescue Operation.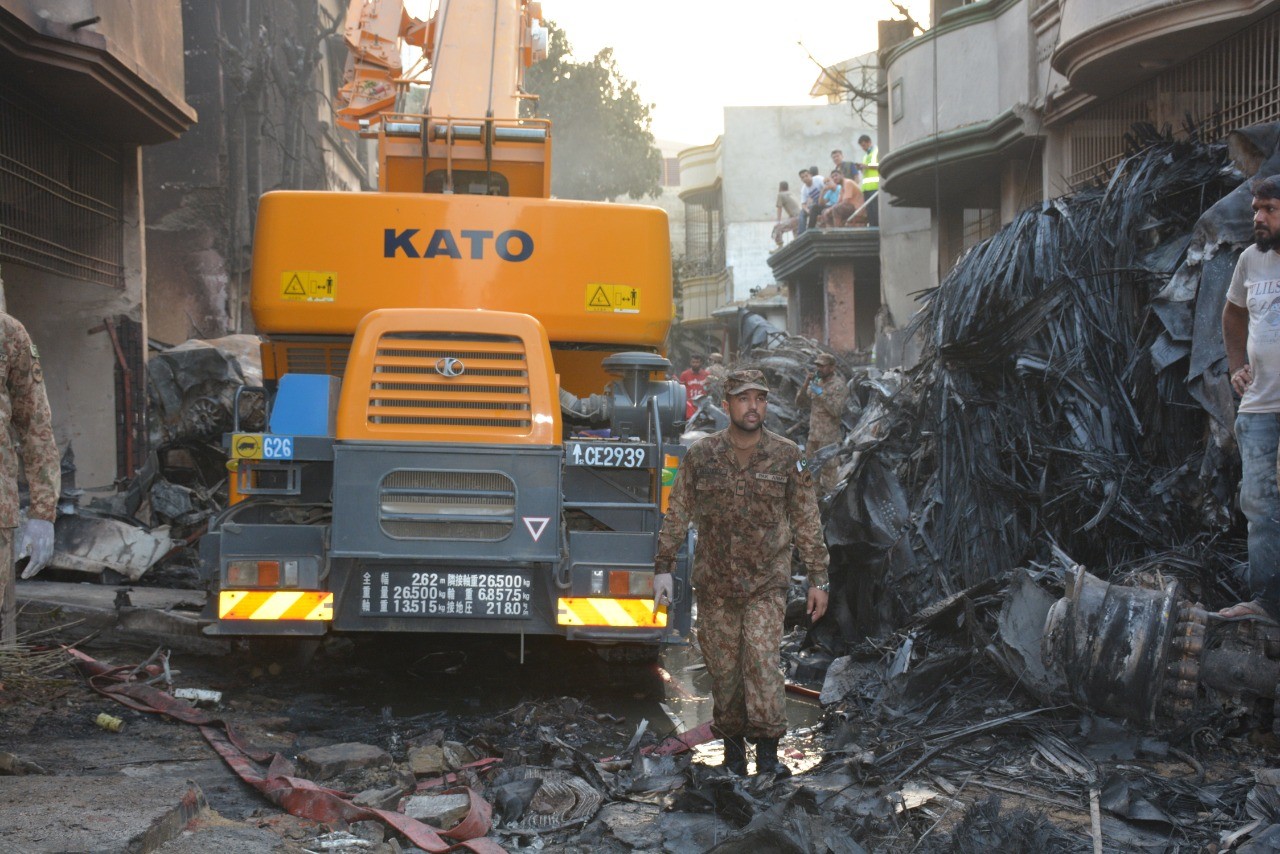 The Azerbaijan, United States, European Union, United Kingdom, Germany, Canada, Australia, Netherland, and Ukraine have expressed their condolences over an unfortunate accident.
#Ukraine is greatly saddened by the deadly plane crash today nearby Karachi. We express our heartfelt condolences to the Government and the people of #Pakistan in particular, the families of the deceased. Our thoughts and prayers are with all those affected by this tragedy.

— MFA of Ukraine 🇺🇦 (@MFA_Ukraine) May 22, 2020
We're deeply saddened by plane crash near #Karachi in brotherly #Pakistan. The news on the deadly accident on the eve of Eid al-Fitr broke our hearts. Our deepest condolences to those who lost their loved ones & People of 🇵🇰. May Allah give enough strength to bereaved families. pic.twitter.com/pTtdsZsE3N

— MFA Azerbaijan🇦🇿 #StayHomeSaveLives #EvdəQal🇦🇿 (@AzerbaijanMFA) May 22, 2020
Separately, President Azerbaijan Ilham Aliyev sent a condolence message to President of Pakistan Dr. Arif Alv.
Dear Mr. President,
I was deeply saddened by the news of the loss of many lives as a result of the crash of a passenger plane belonging to Pakistan International Airlines near the city of Karachi.
On behalf of myself and the people of Azerbaijan, I extend my deepest condolences to you, the families and relatives of the victims in connection with this tragedy.
Rest in peace!
Ilham Aliyev