Islamabad, Pakistan: "With aggressive interest rate cuts, policy support from the federal government and gradual opening up of the economy, the tide seems to have turned, with the economy showing better and swifter than expected recovery"
This was observed in a Webinar on Investment in Shariah-compliant Shares, Sukuk and Islamic Naya Pakistan Certificates through Meezan Roshan Digital Account held on Thursday.
Observation of Webinar includes:
The government has been successfully able to create a 'feel-good' factor, with the majority of leading indicators registering healthy YoY growths. Local cement/HSD/MoGAS were up 17/13/7%YoY in 7MFY21.
More recently, the demand for capital investment has sharply risen, with 2.5x increase in funding requests under the SBP's Temporary Economic Refinance Facility (TERF) since Oct'20 (total stock: PkR385bn).
Industrial activity has picked up owing to supportive GoP policies with LSM depicting 8.2%YoY growth in 1HFY21 (Dec'20: 11.4%YoY)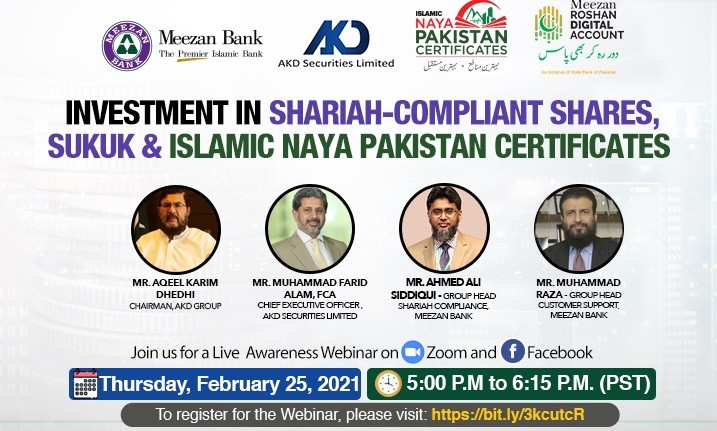 Webinar also indicated that risk factors to the economy include expected belt-tightening post resumption of the IMF program, weak agriculture output due to lower yields and acreage, and potential second wave of Covid-19 domestic infections.
Experts indicated in the Webinar that COVID-19 turned out to be a blessing in disguise for Pakistan. The country registered a Current Account (CA) surplus of US$0.9bn (0.6% of GDP) in 7MFY21 vs. a CA deficit of US$2.5bn (1.6% of GDP) last year
Higher workers' remittances (up 24%YoY, ~US$3.2bn additional inflows compared to last year) the key driver behind the improvement.
Risks to the outlook are fairly balanced with export outlook clearly positive (8.1%YoY growth in Jan'21, order book of Textile players extending to 6M)
No significant pressure on the PkR in the near term. Net funding surplus of US$3.5-4.5bn over the next two years where the Staff Level Agreement with IMF has already been reached.
Overall inflation outlook remains uncertain due to limited visibility on reforms under the IMF program.
The risks, however, are clearly on the upside with: i) pending utility price adjustments (every 10% hike in electricity tariff has an incremental impact of 41bps on inflation), ii) potential recovery in oil prices (a 5% increase in oil price raises our monthly inflation estimate by 19bps), and iii) spike in food prices.
In our base case, we expect headline inflation to average at 8.56%YoY in CY21, assuming a 5/10% increase in electricity/gas tariffs, respectively, effective from Mar'21.
SBP expected to hold interest rates in the near term. Greater focus on external stability as opposed to inflation targeting
Satisfactory fiscal performance considering the pandemic challenges.
The Federal gov't closed 1HFY21 with a primary surplus of 0.74% of GDP, marginally higher than last year (0.69% of GDP). Overall, the budget deficit, however, widened to 2.5% of GDP vs. 2.4% of GDP in 1HFY20.
More recently, higher than targeted FBR tax collection in Jan'21 (PkR363bn collected, +6.4% than budgeted and +12%YoY) provide confidence in govt.'s ability to pull off this year's target, benefitting from stronger economic activity and historically stronger tax collection in 2HFY21.
To this end, Government's tax reform agenda, which was put on the back burner due to COVID, is likely to gain firm footing along with IMF back in the picture and PTI-led coalition government likely to gain a majority in the senate easing out hurdles in lawmaking.
To this end, the Government is reportedly mulling to withdraw income tax exemptions to the tune of PkR100-150bn (0.2-0.3%of GDP).
Since touching a low of 27,229 points in March 2020, the benchmark KSE-100 index has returned 67% to currently stand at 45,363 points.
In the process, the PSX has become one of the best-performing markets in the world.
Parallels are drawn to 2017 when the market went almost 53k and then receded. This time, the situation could not be more different. Market P/E at peak stood at 10.4x while current P/E is just 7.0x.
Earnings growth despite COVID19 has been spectacular. Last quarter, the PSX depicted earnings growth of 47%YoY while this quarter, earnings growth has till-date clocked in at 21.2%YoY
Targeting 56k in CY21 where the theme will continue to be normalization / economic recovery