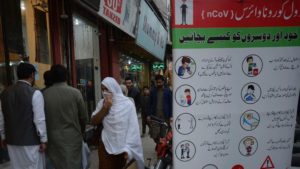 ISLAMABAD, Pakistan: The number of Coronavirus (COVID-19) Cases in Pakistan has mounted to 59,151 as of May 27 with 1,225 patients having succumbed to the disease while 19,142 having won the battle against it.
In the last 24 hours, only 8,491 tests were conducted throughout Pakistan mostly in Punjab 4,027 followed by Sindh with 2,327 and Khyber Pakhtunkhwa 1,134 tests respectively, a much lower figure as compared to normal days apparently due to Eid festivities.
Though the number of people infected by the Coronavirus continues to rise but a healthy ratio of 32.4 percent in terms of recoveries hasn't let the people plunge into a state of panic and much fear.
With 23,507 COVID-19 cases and 374 deaths, Sindh remains the worst affected province in Pakistan which though has also witnessed the highest number of recoveries – 8,515.
Punjab has so far recorded a total of 21,118 cases and 374 deaths while 6,185 people have now been recovered from the virus in the province.
In terms of deaths, Khyber Pakhtunkhwa has recorded the highest fatalities to date with 416 deaths. The northwestern province has witnessed 8,259 cases and 2,578 recoveries so far.
Similarly, Balochistan has recorded 3,536 cases, 42, deaths, and 1,156 recoveries, and Gilgit-Baltistan has 638 cases, 9 deaths, and 457 recoveries.
The Islamabad Capital Territory (ICT) has by now detected 1,879 cases. Of them, 18 resulted in deaths whereas 152 patients have now got recovered.
In Azad Jammu and Kashmir (AJK), 214 people have so far been tested positive for the Coronavirus, and 4 deaths and 99 recoveries have been registered.