DND Report
Pakistan Army beyond any iota doubt is one of the best armies in the world being weather-beaten and time-tested. Keeping an arch rival at its western border to its limits, going through the brunt of hybrid war, rescuing the population out of natural disasters like floods, earthquakes and even fighting against Desert locusts are some of the actions that have made serving cadre rock solid, swift and undefeatable. However, the foremost duty of any army is to protect the motherland and for that, it has to go through readiness for changing military scenario of the region and keeps its preparedness at the highest standards.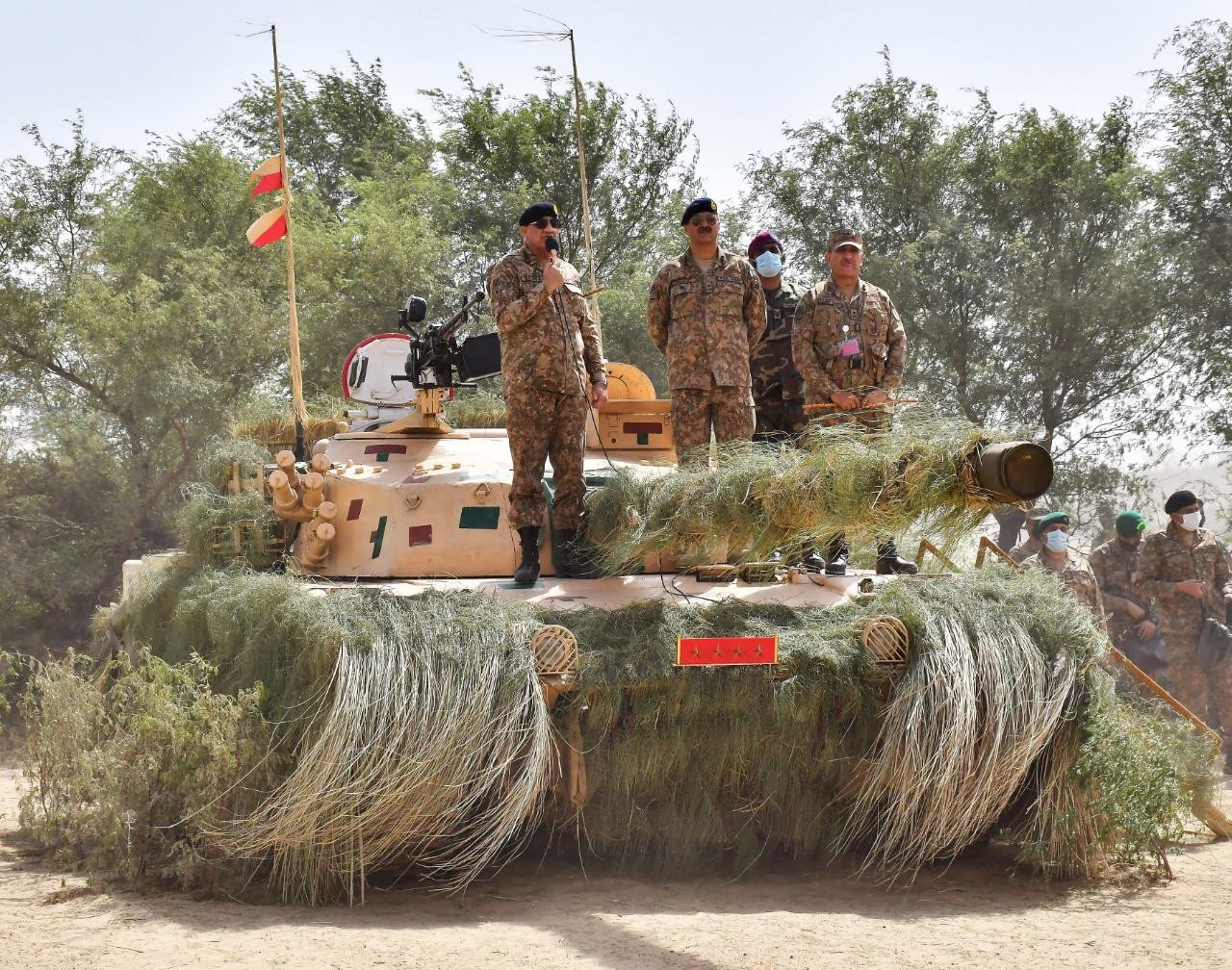 In the last six years, COAS Chief Gen Qamar Javed Bajwa on one hand proved himself as a 'terminator' to the enemies of peace, he at the same time is also credited for giving a befitting response to the aggressive postures of Pakistan's arch-enemy India. When India, already involved in weakening Pakistan through acts of terrorism, economical and 5th Generational Warfare conspiracies, resorted to seemingly decisive maneuvering against Pakistan in February 2019, the military leadership of the country came up with a well-thought-out strategy and swift dare-day-light response to Indian hostility that resulted in teaching the enemy an unforgettable lesson. Still, the Indians are licking the wounds inflicted by Pakistan on 27 February. Certainly, the credit goes to the Army leadership's brilliant military strategy that saved the South Asian region from an impending holocaust.
Abinandan's arrest, the befitting response to the enemy's provocations on LoC, and heavy losses inflicted on the Indian side proved to New Delhi as well as the world at large that Pakistan is capable of defending every inch of its territorial boundaries on the ground, in the air, and in the sea. At the same time, the leadership's role remained pivotal to effectively lodging protests against the changing of the special status of Indian Illegally Occupied Jammu & Kashmir, and is also becoming a forceful voice for the affected people of IIOJK.
The credit goes to Pakistan Armed Forces' combat capability, which has always knocked down the Indian attempts against Pakistan. Having ambitious plots to cross over the LoC, India could never succeed in its motives despite merely claiming about false and so-called 'surgical strikes.
Between 2014 to 2020, India did umpteen times ceasefire violations on the Line of Control, which were effectively responded to. As a result, India suffered heavy losses in terms of men and material; several of its posts were destroyed. Besides, a number of Indian drones were shot down along LoC. Resultantly, the 2003 Ceasefire Agreement returned after the Pakistan-Indian DG MO's successful mutual contact, which is still in place.
Pakistan while remaining in its limited resources not only successfully managed to maintain its defence capability despite unprecedented hikes in Indian defence budgets under which it amassed S-400 Rafael warplanes, most modern tanks and guns, nuclear submarines and missiles, but also Pakistan is continually bringing its defence capability at par through self-indigenization and modernization.
Combat Capability Enhancement
Despite the heterogeneity of challenges facing the country on multiple fronts and with limited resources in hand, Pakistan Armed Forces have never allowed any kind of lowering in its combat capabilities.
During the last five years, Pakistan has strictly followed the policy of self-reliance with available resources, and purchased new equipment from within the allocated budgets and upgraded the existing weapons and defence systems, particularly Pakistan Armed Forces accumulated their fighting capability on modern lines.
Air Defence
Effective air defence in today's modern world is nonetheless very important. Our Air Defence has destroyed the enemy's 71 warplanes in various battles. Keeping its importance in view, Pakistan Army has acquired anti-aircraft guns, LY-80 with 40 km-hit range, FM-90 with 15-km-hit range, and the 125-km-range gamechanger HIMADS HQ-9/P. This surface-to-air missile system has gained much significance that has strengthened Pakistan's air defence against any enemy attack. As compared to Indian air power, Pakistan Army has made its air defence not only strong but also impregnable.
Armored Corps
Armored Corps' role in the war is always decisive; Pakistan, therefore, has introduced the world's best 125-mm-gun VT-4 tank within the last 5 years. It has indigenously manufactured the brilliantly well-equipped Al-Khalid-1 Tank, besides T-80UD, T-85 and Al-Zarrar Tanks have been locally upgraded to modern-day technological requirements.
Artillery
Firepower in war is of greater significance; therefore, the induction of the Fatah-1 multiple-barrel guided missile launching system with a 120-km range, and the A-100 rocket system are milestone achievements for Pakistan Army. Besides, the acquirement of 53-km-range SH-15 guns has enormously enhanced Pakistan Artillery's firepower capability.
J-10 C/ Gunship Helicopters – Army Aviation
The acquisition of China's most modern state-of-the-art J-10 C aircraft is a significant success of Pakistan's military diplomacy towards strengthening Pakistan's Air Defence and enhancing its operational capability. Pakistan Air Force proudly inducted those warplanes on 14 March 2022.
Moreover, the force-multiplier Pakistan Army Aviation's endeavors are in the final stages of acquiring T-129 Turkish Helicopters and Chinese Z-10 Gunship helicopters. At the same time, the existing Aviation fleet has been upgraded with its maintenance arrangements on modern lines; so that the heavy burden of the foreign exchange ratio can be avoided. These modern helicopters will further enhance Army Aviation's capability and strength.
Pakistan Army Aviation has played a pivotal role in the war against terror. Proudly enough, it indigenously made its own Aviation Stimulators, which have greatly helped in saving billions of rupees from the National Exchequer.
DRONES CAPABILITY
Armed Drones
Pakistan has made significant headway in building its own Armed drone capability. A number of successful Armed drone test flights have been conducted. Subsequently, Shahper-2 and CH-4 drones have been used in the war against terror, which has greatly helped in eliminating the terrorists.
ISR Capability
In today's times, information gathering regarding the hideouts of both the traditional enemy and that of the terrorists is of greater importance. In order to get fully informed and put in place surveillance of the target area, Pakistan has acquired the capability of indigenously made drones as well as UAVs. In the process, Burraq drones, Shahper-II, Uqqab, Scout, Huma, Burraq UAVs, VTOL, have therefore emerged highly significant; these drones, along with the armed drones, are being successfully used to find out and destroy the terrorist hideouts.
Burraq Drone
Burraq drone, with 8-hour flight capability at 20 thousand-feet height is capable of destroying a target with 220-km per hour speed from up to 8-km distance.
Shahper-II Reconnaissance UAV
Shahper-II Reconnaissance UAV is capable of 14-hour nonstop-flight above 20 thousand-feet sea level.
Uqqab UAV
Uqqab UAV is capable of keeping an easy watch on a 150-km wide area both in the day light as well as during the dark of night, up to 8-hour nonstop flight.
Scout-1
Scout-1 shows live video of an area in a 10-km span; it is a hand-launched drone that can easily land at any place.
Scout-II
Scout-II is capable of surveillance of an area up to 5 km with a 40-minute undeterred flight.
Huma UAV
Huma is a tactical UAV, which can take off through a launch pad placed at any place and can be landed with the help of a parachute.
VTOL-1
VTOL-1 is capable of doing live surveillance up to a 5-km area with a 40-minute nonstop flight.
CYBER COMMAND
In this information technology age, cyber warfare is of enormous importance. Pakistan Army has therefore established a regular Cyber Command, which will certainly enhance the defence capability of the country for fighting this kind and type of war. Nevertheless, despite the acquirement of modernization and modern-day technology, the GDP ratio in the national defence budget remains low.
LAW DIRECTORATE
Rule of Law is very much part of the Pakistan Army and its leadership's vision; it substantiates materializing of anything while remaining within the bounds of the Constitution and rule of law. Owing to the significance of Lawfare, which is an important element of the Hybrid War, Pakistan Army established Law Directorate in the year 2020. This is an area that the enemy is using against us for years. So, in order to effectively counter it, Law Directorate has come into action; it is playing today a fairly significant role.
PERSPECTIVE PLANNING
Pakistan Army has also established Perspective Planning Division, so to face head-on modern-day challenges through evolving the best possible strategy response. Here, the best war strategists and brains are working day and night to assess the challenges facing the country, and to make doable strategies to meet those challenges. In addition, they are evolving plans to make Pakistan Army commensurate with modern-day requirements.