ISLAMABAD, Pakistan: The Closing Plenary of Pak-UK Education Gateway Virtual Conference to provide an opportunity to connect, rethink and reshape programs and priorities between the two Countries was held on Thursday.
President of Pakistan Dr. Arif Alvi, the Federal Minister for Education and Professional Training Shafqat Mahmood, the Chairman Higher Education Commission (HEC) Tariq Banuri, Britain's Deputy High Commissioner Mike Nithavrianakis, and other senior diplomats from British Council UK and Pakistan addressed the Conference.
While addressing the conference, Shafqat Mahmood acknowledged the efforts of the HEC and the British Council in executing this promising Rs 1.9 billion Joint Project, which in the current setting of the pandemic is of immense importance.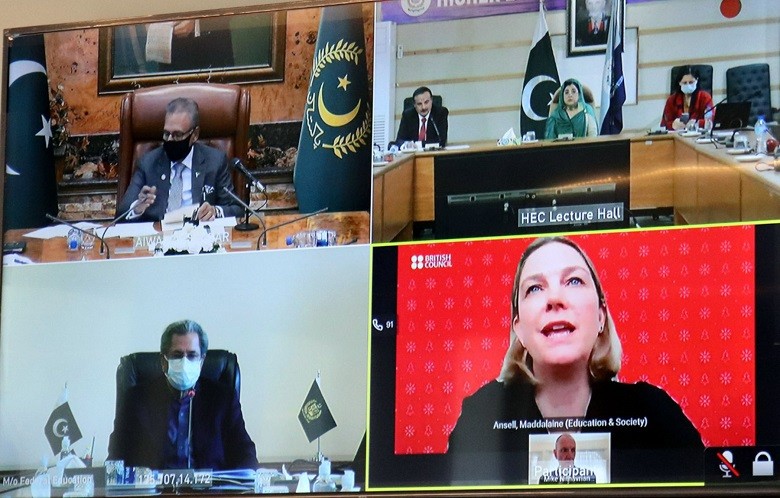 Shafqat Mahmood said that Pakistan's 150 million young people are Pakistan's greatest asset and by investing in our youth's development, the government aims to generate an educated workforce, build empathy and tolerance and rapidly improve Pakistan's position in the global market.
The education minister also commended the important role and cooperation of the Foreign and Commonwealth Office (FCO), UKaid, and the British Council to help Pakistan in achieving that goal.
The minister underscored that programmes like Pak-UK Education Gateway are an enabler for our Country's Higher Education Sector to establish standards for excellence in teaching and research, promoting transnational education, and to respect for social diversity and reciprocity.
Shafqat Mahmood said that the first open and distance learning policy of Pakistan's Higher Education Sector is being developed that will enable more than 200 Higher Education Institutions (HEIs) of the Country and help us empower our two million students.
The federal minister reaffirmed the complete and unconditional support of the government of Pakistan for the advancement of education in Pakistan and also expressed his deepest appreciation to the UK government for consistently lending Pakistan a hand in this pursuit.
During his closing remarks, President Arif Alvi appreciated the efforts of the Federal Minister Shafqat Mahmood and the Ministry of Federal Education and Professional Training for untiring efforts towards hybrid education and distance learning programs.