ISLAMABAD: Empire Properties, Pakistan registered trustees of leading International Developers CPIC, have signed a Memorandum of Understanding with China Civil Engineering Construction Corporation (CCECC) as the prospective contractor for the construction of China Pak Golf Estates, Gwadar's first luxury, gated Golf Community.
The $265 Million development is a milestone in the development of Gwadar and will deliver the emerging port city's most premier residential and lifestyle destination.
China Civil Engineering Construction Corporation Ltd. (CCECC) is a Chinese State owned Construction Company and was established in June 1979 under parent company China Railway Construction Corporation Limited (CRCC) the second largest construction and engineering company in the world.
CCECC's business scope expands from international contracting for railway construction to civil engineering design and consultancy, real estate development, trading, industrial investment and hotel management as well. The business activities of CCECC have spanned over 40 countries and regions and more than 20 overseas offices or subsidiaries have been established.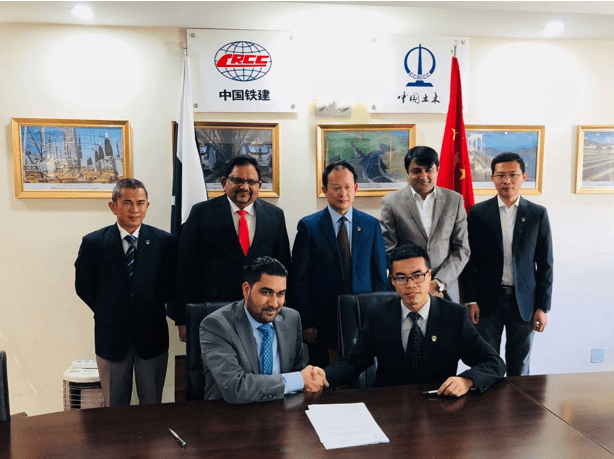 Commenting on the partnership Mr Wang Lei, Managing Director CCECC (Pakistan) said "It is a great honour to be working alongside a forward thinking international conglomerate like CPIC. China Pak Golf Estates is a ground breaking development for not only Gwadar but Pakistan and we are honoured to be a part of this monumental project and contributing to the growth story of Emerging Pakistan. CCECC are a leading global contractor with 39 years of experience in over 40 countries delivering high quality projects ranging from civil engineering design and consultancy to real estate development. We aim to deliver a timeless community in China Pak Golf Estates that will set a new standard to master community development in Pakistan."
Afzal Shah, CEO or Empire Properties said "China Pak Golf Estates will truly set a new standard to real estate community development in Pakistan and there isn't a better company we could be working with to deliver this grand vision than CCECC. I would like to extend a warm welcome to Mr Wang Lei and his team as we embark on this virtuous journey together. Our vision extends beyond developing Pakistan's finest communities, we will change the fabric of Pakistan's real estate industry by setting a new benchmark for integrity and transparency in a market that at times can be described as less than open. Our goal is to elevate the market to the same standards as established international markets.  This will result in the introduction of institutional investment which in turn will revolutionise the country's real estate sector and deliver the quality of life Pakistanis deserve".
CPIC are continually setting new standards in Gwadar for building luxury, sustainable and multicultural communities and only working with first class construction companies to ensure quality.  They are leading the way in terms of delivering credible solutions and international standards of service, through building trust and being transparent and sincere in their dealings.
Chinese State owned construction giant CCECC, sign MOU with Empire Properties to build Gwadar's first luxury Golf Community, China Pak Golf Estates