ISLAMABAD, Pakistan: The Chief of Naval Staff Admiral Zafar Mahmood Abbasi called on Prime Minister Imran Khan at PM Office in Islamabad on Tuesday.
During the meeting, the naval chief congratulated the prime minister on assuming the Office.
Professional matters regarding Pakistan Navy were also discussed in the meeting.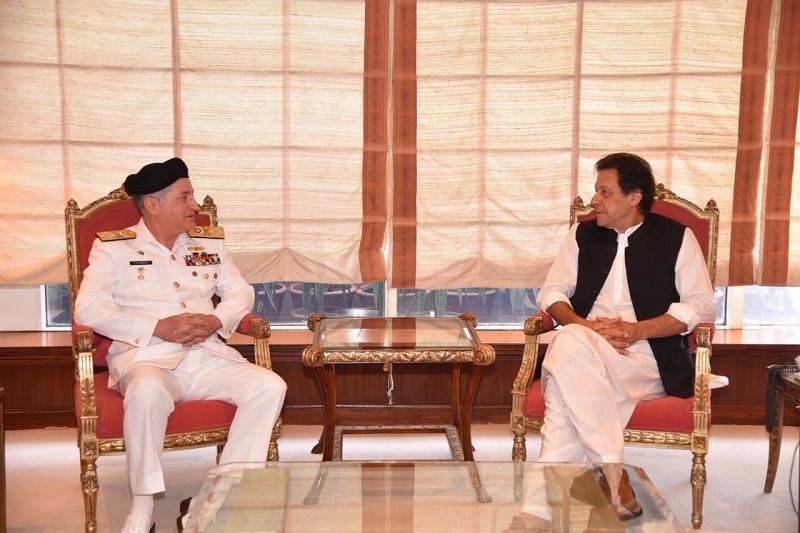 The meeting was held a day after the Chief of Army Staff (COAS) General Qamar Javed Bajwa met the prime minister and exchanged views on the Country's security situation.
The Chairman Joint Chiefs of Staff Committee (CJCSC) General Zubair Mahmood Hayat and the Chief of Air Staff Air Chief Marshal Mujahid Anwar Khan have also met Imran Khan following his swearing-in on August 18.
Earlier in the day, Chief Marshal Mujahid Anwar Khan called on Foreign Minister Shah Mahmood Qureshi in Islamabad.
They exchanged views on national security and foreign policy issues besides regional and international matters during the meeting.
Meanwhile, Prime Minister Imran Khan will preside over the Federal Cabinet meeting in Islamabad today in which eight points agenda including the political and economic situation of the Country will be discussed.
Likewise, implementation of the decisions taken in the previous Cabinet meetings will also be reviewed.