ISLAMABAD, Pakistan: The Center for Global & Strategic Studies (CGSS) on Monday organized an International Conference on "Water: Future War and Peace in Subcontinent" at Margala Hotel in Islamabad with an aim to highlight the increasing threat for future conflict with decreasing availability and
increasing demand for water.
The Conference commenced with the opening remarks of the Chairman CGSS Lieutenant General (retd) Muhammad Zahir Ul Islam who thanked the honorable speakers and participants of the Conference.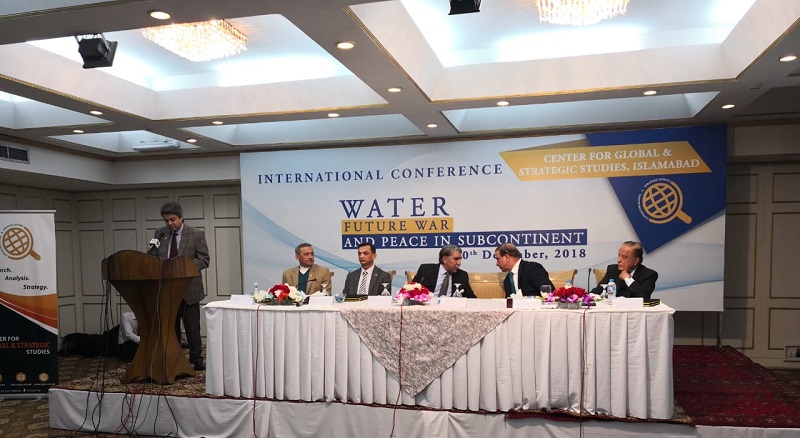 The Chief Guest of the Conference the Federal Minister for Law and Justice Mohammad Farogh Naseem presented a speech on "Water Sharing: A Critical Evaluation of the Indus Water Treaty (IWT)".
Farogh Naseem stated that Indus River is the longest river in Asia and 47 percent of it falls in the territory of Pakistan. According to the article 3 of Indus Water Treaty (IWT), there must be unrestricted flow of water. India is using this water for building its technical infrastructure. However, the requirement of Pakistan is to use this water for basic agriculture and domestic needs. Usage of water for basic agriculture and domestic use is more important rather for establishment of the infrastructure. So this is an international human rights issue. The problem lies in the implementation of Indus Water Treaty. India time and again threatens Pakistan to cancel the treaty, however, it cannot do so, as this is the only treaty which cannot be terminated without mutual consent. The present situation is alarming and demands the resolution of this conflict through IWT, otherwise IWT is merely a piece of paper and if this conflict is not resolved now, it can lead to a bigger conflict in the future. World Bank must also play its role in this regard. Disturbing the timings of water flow is violation and must be taken into consideration.
The Chairman Water and Power Development Authority (WAPDA) Lieutenant General (retd) Muzammil Hussain presented a speech on "Water Resource Management: Challenges & Opportunities for Pakistan".
Muzammil Hussain stated that there is no need to panic, there is no water shortage, there is only a need to manage these resources efficiently. He stated that data regarding water resources is important as it is essential for research and future hydel projects. He stated that Pakistan is a water stressed country as per capita availability of water is low and we need to conserve, store and manage our water resources. Along with this, we need to handle our population growth. It is our strategic compulsion to save and store water because of our pattern of use and rainfall in the country. We have a disoriented development planning and there is a need to change it for the success of our future projects. Currently, we do not have sufficient finances to build water dams but we have to come up with more innovative financial mechanism. According to the vision 2050, 20-million-acre land will be under irrigation. In the end of his speech, he stated that in June 2019, the diamar bhasha dam will be made functional.
The Chairman, Forte, Integrated Water Resources Management, Lahore Dr. Hassan Abbas presented his speech on "Lack of Water Resource Management: A Myth or Reality".
Dr. Hassan Abbas stated that we are the signatories of Sustainable Developments Goals (SDG's), therefore our future projects must comply with it. Indus delta is eroding and is going under the sea at the rate of 24 acres per day. He further stated that the independent flow of water is very important and we must return the water to the rivers. Pakistan can generate more from water than UAE can generate from oil and we should think globally but act locally.
The Former Chairman Planning Commissions Hydro Power and Alternative Energy Working Group Imtiaz Ali Qazilbash presented his speech on "Melting Glaciers in Himalaya's: A Growing Concern for the Subcontinent." He stated that Punjab has suffered the most from the water shortage. Government will start another series of projects under which 19 small dams will be built for efficient water management.
The Head of Department, Department of Humanities and Social Sciences, Bahria University, Islamabad Dr. Azhar Ahmed shared his views on "War on Water Crisis between India and Pakistan." He stated that according to the report presented by Economic Cooperation Organization (ECO) in 2030, 47 percent of global population will be living in highly water stressed environment. In my opinion, it is the responsibility of the scholars to provide the solution of peace and war. Water has promoted cooperation rather than war.
The Second Session of the CGSS Conference commenced with the speech of the Former Commander of Sri Lankan Navy on Maritime Security Governance in Indian Ocean Region Admiral (retd) Dr. Jayanath Colombage. He stated that insecurity of one country leads to insecurity of other states and spiral into an arm's race. Therefore, there is need to commence Confidence Building Measures in diplomatic and strategic areas. This is the best time to talk about this in South Asia. Insecurity of oil exporting Gulf countries is also a major concern for Indian Ocean. India-Pak mistrust is a major strategic concern, as both states are nuclear powers and both accuse each other of cross border terrorism. Large number of non-state actors in Indian Ocean is also an indication of maritime terrorism where terrorists are exploiting international borders and shipping. We need rule based maritime order where states have freedom of navigation and they respect international organizations and treaties. SAARC lacks in regional maritime strategy.
The Former Chairman of Karachi Port Trust Vice Admiral (retd) Ahmed Tasnim presented his speech on "Water – A Key Factor for Pakistan's Strategic Relations in the Region". He states that we need to first put our own house in order. We need to create awareness amongst the youth of Pakistan through our educational institutes. Mainstream media must broadcast programs based on economy of water. We must adopt a preemptive approach.
The Professor, Department of Environmental Sciences, Pir Mehr Ali Shah, Arid Agriculture University, Rawalpindi Dr Audil Rashid shared his views on "Water Resources Management: Climate Change Acceptance." He stated that we are the fifth most populous nation in the world and most vulnerable to climate change. Research indicates that there is no lack of water resources rather mismanagement of water. Rain is the life line of our survival.
The Ambassador of the Republic of Tajikistan Jononov Sherali presented his speech on "Water Resource Management: Implications for Future Direction." He stated that humans misuse the natural resources. Tajikistan has great water resources and hydropower potential. Water is a strategic resource of Tajikistan and is based on the basis of social and economic development and even national security.
More than 300 participants including water experts attended the Conference organized by the Center for Global & Strategic Studies.